How is mHealth App making the world better for Patients?
Sector: Digital Product
Author: Sweta Patel
Date Published: 01/21/2021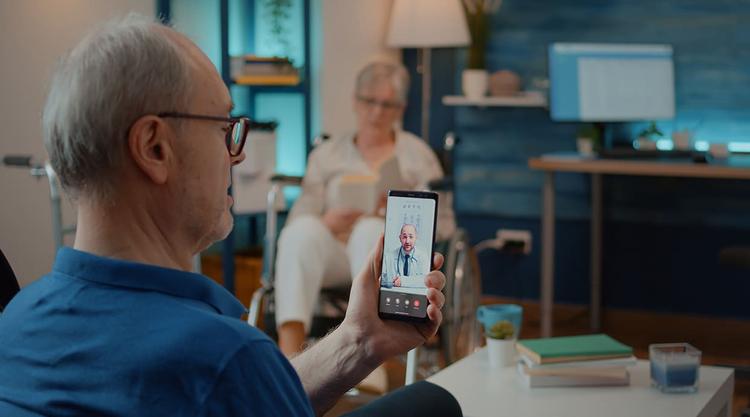 Healthcare is one of those industries that drastically changed and has transformed 360 degrees from what stood a few years earlier. The growth and maturity in this healthcare and medical sector involve a significant role in technological advancements.
Multiple factors have led to the precise growth of the healthcare market, which comprises high conventional healthcare costs, more funding opportunities for telemedicine, and a rise in diverse digital health users.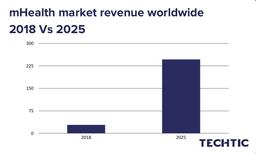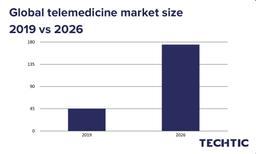 Reasons Why People like mHealth App or Software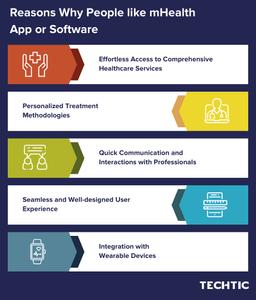 When it comes to HealthTech software development services and healthcare apps, it is all about offering useful functionalities with the friendliest approach. Let's explore the healthcare technology advancements.
1. Effortless Access to Comprehensive Healthcare Services
It is always useful to have access to advanced functionalities of healthcare services through your HealthTech App. However, even the fundamental features must be effortlessly accessible to the end-users. The majority of patients will not use a healthcare application that adds additional time to what they presently invest in caring for themselves.
So, as a leading Mobile App Development Company, we would recommend that whether it's about digitally booking an appointment or scheduling a diagnosis automatedly, a thriving mobile healthcare app is the one that offers simple access to all the essential functionalities.
2. Personalized Treatment Methodologies
Individuals prefer to have a personalized and customized treatment option that focuses on the specific needs and offers explicit output. For instance, a fitness conscious person in his daily routine would like to have a fitness mobile application with functionalities such as heart-rate monitoring, blood pressure checking, physical activity tracking, counting of steps, and precisely measure his quality sleep.
3. Quick Communication and Interactions with Professionals
The mobile healthcare applications should enable patients to interact with healthcare and medical professionals comfortably. Around 75 percent of hospital visits are incredibly fundamental and are manageable over the mobile phone or a video call.
As a HealthTech Software Development Company, we believe that offering a platform where both patients and doctors can connect, talk, or discuss can solve many communication challenges, saving many stakeholders' time and efforts.
4. Seamless and Well-designed User Experience
Modern consumers expect a flawless and smart user experience. Data shows that majority of the mHealth applications are not frequently utilized once downloaded. An insufficient user experience level is one of the significant reasons why most mobile health applications fail to make a convincing first impression. Not only have that, but more than 20 percent of millennials also delete a mobile app if it fails to provide a decent digital experience.
5. Integration with Wearable Devices
Wearable devices like health trackers and smartwatches are used extensively by diverse types of users. As per a Juniper Research study, the healthcare spends on wearables will reach around $60 billion by 2023.
Being a mHealth App Development Company, we suggest investing in developing a healthcare app that can, without any difficulty, be Integrable with wearable devices, which can surely be a profitable deal.
The wearable device can collect crucial health data like blood sugar, heart rate, tremors, sleeping patterns, and bodily activities. This data can help patients explore more about their health and fitness routine offering better control on day-to-day physical activities.
Challenges While Enabling HealthTech App Development Services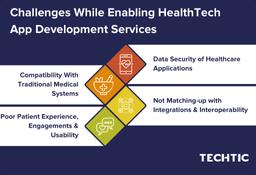 1. Data Security of Healthcare Applications
The healthcare applications gather and manage a massive amount of data continuously. This data requires safeguarding so that it does not go to hackers. Thus data protection and security are some of the significant challenges faced by the HealthTech Software Development Companies.
2. Compatibility With Traditional Medical Systems
The traditional enterprise systems are not always companionable with the newest technologies. Thus, the legacy system misses on synchronization with the modern techniques, and the fact is many global nations still depend on out of date technologies.
3. Not Matching-up with Integrations & Interoperability
It is very imperative to design and offer the best app fitting features along with stressing on the application usability. However, as there are numerous types of mobile phones and operating systems used by people worldwide, integration and interoperability issues with the devices always exist.
4. Poor Patient Experience, Engagements & Usability
With so many companies investing in healthcare applications, there are multiple alternatives to choose from for users. However, it also relies on what types of mobile apps and technologies are used by healthcare clinics. In this scenario, the significant objective is how you can engage the patients, such that they keep on coming back to the mobile app and use it repeatedly.
Key Benefits of Customized HealthTech App Development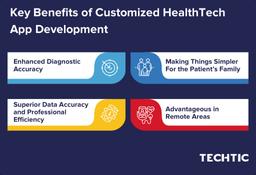 1. Enhanced Diagnostic Accuracy
The healthcare apps, with their specific features, enhance diagnostic efficiency and help in decision making. Since the medical professionals and patients are connected remotely through the app, it turns simpler for the doctors to understand the patient's current health condition and offer the medical treatment accordingly. With Customized HealthTech Software Development, mHealth apps can easily monitor the symptoms, and as things are automated, it leaves minimal space for any errors.
2. Superior Data Accuracy and Professional Efficiency
As all the medical information related to the patients and treatments are storable in one place, it simplifies access to personal devices and mobile phones. This scenario boosts medical treatment speed at any time, avoiding consequences faced by the doctors in an emergency, which further increases their professional efficiency.
3. Making Things Simpler For the Patient's Family
The healthcare apps make the lives of patient's families much more at ease now. Since the mobile healthcare apps offer direct communication with the medical professionals, the progress reports are easily shareable with the patient and his family leading to continuous monitoring of the patient's health status.
4. Advantageous in Remote Areas
The modern healthcare apps are even useful in areas far from professional medical services, such as a super-specialty hospital. In these cases, the quick check on the essential health metrics through the medical app avoids rushing to the doctors each time.
Wrapping Up
People expect swift response time, saving on costs and efforts while experiencing healthcare treatments. On the other side, the mHealth apps are working on the right track of transforming the medical industry by making it easily reachable and accessible for all.
As a leading Healthcare App Development Company, we have successfully developed and delivered valuable mHealth Apps and Softwares for our esteemed clientele. If you have similar requirements, we can always connect on a quick call and discuss your technology projects.