Top 6 Prototyping Tools For UI and UX Designers 2021
Sector: UI/UX
Author: Nisarg Mehta
Date Published: 01/18/2021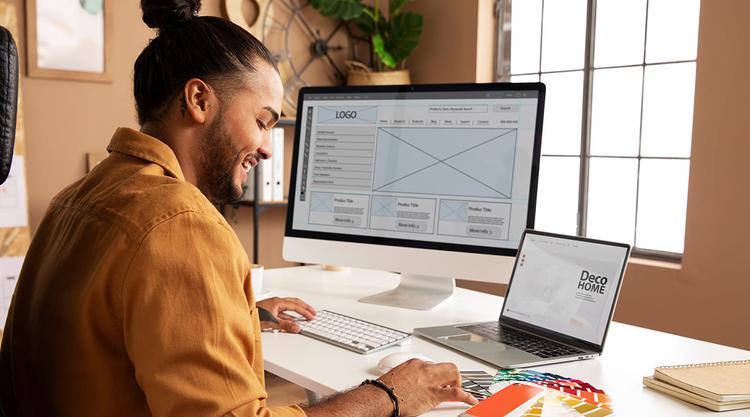 There is no single software that will serve all the requirements, be it visual design, structure, illustrations, interactions, or animations. It can be a bit complex and tricky to pick from the best ones currently accessible in the market.
Today, brands have limited time to make a sturdy impression as a visual appeal can be evaluated in around 50 milliseconds. Around 73 percent of businesses readily invest in design to assist their brand stand outmatched to the digital competition.
Adobe reported that more than 70 percent of organizations are now building 10x the number of design-based assets than they did in preceding years. This makes the requirements for digital product design tools highly apparent.
Best 6 Product Design Tools for UX Designers
The tools we are about to showcase will be devoted to diverse facets of a design process. As a leading mobile app development and UI/UX development company, we are right here to assist you with these product design preferences based on our present and past experiences while handling design-based projects.
1. InVision
An inVision is a preferred tool for facilitating prototyping, collaboration, and precise workflow. It enables you to resourcefully create interactive mock-ups right for your design projects and their wireframes.
Why digital product designers love it
Its strength is its collaboration functionalities, and it's built into the fabric of the product. Product designers can take a precise set of interface designs, tie them together to create a clickable prototype, get quick feedback, and handle the complete design process within one integrated product platform. InVision product design tool is at the center of many designers' workflows.
Pricing
One functional prototype is absolutely free. Paid plans then initiate from £10.44/US$15 every month.
2. Blobmaker
Blobmaker is a valuable graphic design tool to assist you in swiftly produce casual, exclusive, and organic SVG shapes. As a Mobile App Development Company, we recommend such design tools for elite projects.
Why digital product designers love it
Product designers adore using thematic design components to create branding, detach content on a page, and add backgrounds or compare to interface elements. This design tool makes it effortless to do without having to fuss with your pen.
Pricing
It is an absolutely free generative design tool.
Read More: How to build a Contagious Digital Product?
3. IconJar
IconJar is an icon management application that enables you to store, search, preview, utilize, and export your icons in one solitary place.
Why digital product designers love it
The tool lets you manage and deal with icons of any format, be it SVGs or PNGs, and as a bonus, you can quickly drop in icon fonts. It will generate SVG's and get all characters as individual symbols relatively than having to use tender cheat-sheets.
Pricing
You can try this design tool for 14 days without any costs. It costs $9.99/month on SETAPP.
4. Sip
Sip is an advanced color picker tool created for product designers that facilitate you to gather, well-organized, and edit diverse colors. It offers you the capability to share various colors with everyone and connect them amid the other specific workflow tools.
Why digital product designers love it
Similar to fonts, colors are a significant part of any product designer's workflow. Keeping well-organized and enthused by your color palettes is where Sip works exceptionally well. The tool backs nearly each color format believable and has immense helper applications that work on your complete operating system and browser of selection.
Pricing
It costs a total of INR 879.99 per device.
5. Figma
This specific Figma tool is filled with design functionalities you already adore with exclusive developments such as Vector Networks and Arc tools. A step further, Figma enables your design ideas into reality. It doesn't require installation or export and can be used on cloud software.
Why digital product designers love it
Figma is a swift and rapid tool to work on design projects. Its files are updated, and it's simple to share designs across the company through this tool, so collaboration is effortless.
Pricing
Figma pricing commences at $12.00 per month for every user.
6. Adobe XD
With this Adobe XD the tool, you can share your story with designs that feel like the actual thing. It is an all-in-one UI/UX design tool that enables wireframes and used to animate, prototype, and collaborate designs.
Why digital product designers love it
Using Adobe XD which is a one-stop application through which any professional can open a design and instantly seize what the end experience will feel like. Adobe XD facilitates product designers to work resourcefully and collaborate more efficiently with their teams.
Pricing
Adobe XD pricing starts at $9.99 per month for every user.
Read More: 10 UX Design Tips for eCommerce Websites to Explode Your Sales
Select Precise Prototyping Tool for Software Development
From straightforward Wireframing tools to all-inclusive prototyping suites, we hope this roundup offered in the form of popular UX/UI prototyping tools on the market in 2021 will be useful to you. With our experience as a UI UX Design Company, the best prototyping tool is the one that enables the precise needs for your diverse projects at cost-effective pricing.
Looking to Hire Product Designers
Relying on the organization the product designer is hired at; their roles may differ to some degree across every Web Development and UI Design Company. As a top Product Development Company, we define our in-house product, designers' tasks, which cover the following responsibilities.
Planning the ideal user journey
Collecting user feedbacks utilizing diverse methods
Analyzing user groups from the design viewpoint
Running and facilitating A/B tests
Sketching product concepts, creating mock-ups and wireframes.
Designing prototypes and precisely testing them
Working with developers to sync the needs of both ends
Ensuring product design and related marketing materials are consistent
Maintaining and sustaining documentation on the product's design
Wrapping Up
Being a leading digital product development company, if you require any assistance figuring out which tools are the most fitting for your project, our digital product design team will be ready to assist you. Working as a UX Design Company, we recommend these design tools for enhanced performance on your projects in hand.