User Experience (UX) Design Tips and Best Practices for eCommerce Websites
Sector: Digital Commerce, UI/UX
Author: Kishan Gediya
Date Published: 10/12/2020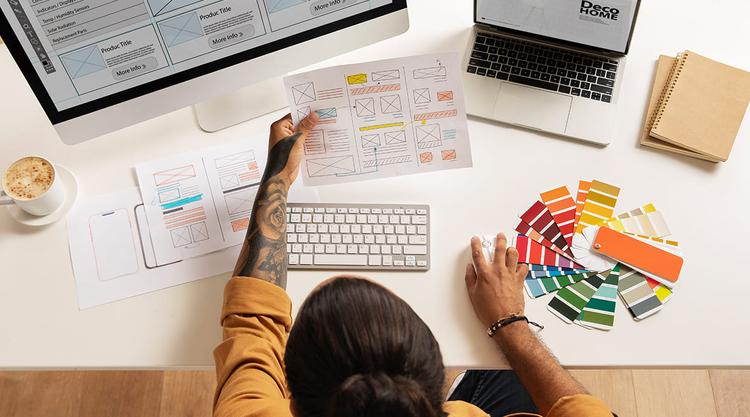 Did you know that for every $1 you spend on your UX design, you get a return that is anywhere between $2 and $100?
Yes, that's the power of UX or user experience as we laymen know.
What is User Experience (UX)?
The UX (User Experience) is what they feel when they see the site. UX is a term that has its meaning in a much broader way than that of the UI.
The internet is all about getting the attention of your users. From a business owner's perspective, you have to always assume that your audiences are using an app or a service other than yours and then find ways to lure them to your app or products.
Today, your app or website does not compete with your competitors in the niche but with every other app, you could think of. Your app is against Netflix, Amazon, Youtube, Instagram, Facebook, Spotify, and more.
This becomes all the more crucial when you own an eCommerce store.
So, how do you intrigue your customers and retain their interest in using your eCommerce website or an app?
Well, we are about to find out.
10 UX Best Practices Designers Have to Keep in Mind for eCommerce Website Design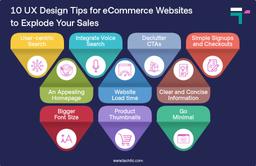 To optimize your eCommerce website for better traction and reach, we have curated a list of proven UX strategies. eCommerce development is all about effective UX designing.
So, check them out below.
1. User-centric Search
As a business owner and techie, you would have a good understanding of how your website or app works. But on the other side of the screen are laymen, who hardly have accessed your website or an eCommerce store for that matter.
To help them get used to your website and for sales to happen on it, you need to develop a user-centric search tool. Now, this is intuitive, suggestive, and super-resourceful for visitors to find what they are looking for.
2. Integrate Voice Search
What if I told you that over 50% of all online searches will be voice-based in 2020? Yes, with smartphones becoming smarter and smart assistants like Alexa taking care of our requests, it's highly effective (and inevitable) to integrate voice search functionalities on your eCommerce app or website. Voice searches are easy and people who know what they want can instantly place orders.
Do you want to miss out on that?
3. Declutter CTAs
Though 70% of small-business websites don't have a CTA (Call To Action), there are those websites at the other end of the spectrum that clutter web pages with them. Too many CTAs distract visitors from shopping and frustrated customers would only abandon your website and never come back. When you design your website, think of your target audience and plan your skeleton with the right number of CTAs placed strategically.
4. Simple Signups and Checkouts
A lot of transactions are canceled or abandoned at checkouts because this is where most websites ask visitors to sign up. People are hesitant to create another account on a new eCommerce store anymore. They want guest privileges. And most businesses also show hiked-up shipping costs during checkouts, further pushing customers from abandoning shopping.
So, keep your navigation simple and allow visitors to checkout as guests. Or, use social sign-ins for quicker signups.
5. An Appealing Homepage
Homepage dictates the credibility of your company and determines if your visitors would stay back and shop. So, come up with a very effective and minimalist homepage that oozes credibility and authenticity all over. Implement concepts like color psychology and design hierarchy for effectiveness.
6. Website Load time
52% of your visitors are more likely to be loyal to your website if its load time is swift. Meaning, people are not ready to wait for your eCommerce website to open and load. There are quicker websites with lesser page load times and higher conversion rates. To fix this, install solid plugins that cut out several codes and triggers that delay page load times. Keep your backend clutter-free and you would see the difference.
7. Clear and Concise Information
All your efforts in designing a good-looking website would go futile if the content you put on your eCommerce website is misleading or poor. It instantly deprives your website of credibility. To tackle this, come up with clear information about what your products are, what your website is about, the pricing, product descriptions, and more. Present them in a legible manner and seamlessly take your customers on a journey.
8. Bigger Font Size
It's a known fact that most of the interactions today are from a smartphone. And a smartphone has a screen size smaller than other devices people use. And there are elderly people with vision problems using them, too. To accommodate the needs of everyone and make your eCommerce website more accessible, replace smaller fonts with bigger ones. They also improve the aesthetics of your website.
9. Product Thumbnails
Product thumbnails are essential not only on the products page but the checkout page as well. Oftentimes, people are confused if they have ordered the right product. Such confusions could delay their purchase or even redirect their attention. To avoid this, simply present the product image on the checkout page for them to be sure of their purchase.
10. Go Minimal
You could choose to put all information on one page and make it look cluttered or you could brainstorm and go minimal. Minimal websites are the coolest websites today and they psychologically take our minds away from the chaos in our lives. They reassure us of good things and push us to be more confident and surer about our purchases. For stress-free shopping, minimalism is the way.

Wrapping Up
Apart from these, you should also implement hamburger icons for added features, gesture controls of devices, and personalization to further sustain the interests of your visitors and push sales.
Now, we understand that this could all be daunting in the first instance. But this is eCommerce website development. When you hire magento developer, you can't be sure if they implement all the best practices.
That's why we recommend getting in touch with an expert eCommerce development service provider like us to get the best website rolling in the market. We are an elite eCommerce development company that has proven time and time again with our remarkable works.