We're a team dedicated to digital change
.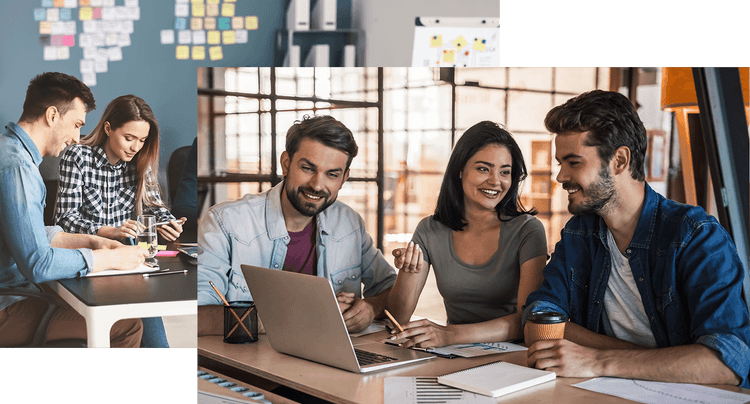 We're a team with a mission to constantly evolve with the best tech stack and the most innovative team. We help our customers solve their business problems with elegant digital products and have a great time building them.
Surpass Goals
We strive to understand the challenging areas of the businesses that we work with.
Make Positive Changes
Our goal is to always achieve a positive impact in the digital arena.
Work with Integrity
We prioritize integrity with our customers, coworkers, and stakeholders in order to establish trust and interpersonal relationships.
Always show integrity by showcasing uncompromising moral principles.
Drive innovation
Respect is at the core of our DNA. Our team has managed to create a respectful environment for one another as well as for our customers.
We believe in emerging talent and we strongly promote youthfulness to keep ourselves current and constantly innovating, learning, and evolving.
The dream team
.
Technology is an ever-changing world. We've built a team of industry-leading professionals; who are adept at cutting-edge skillsets. Our clients have trusted our team of over 100+ professionals.

Nisarg Mehta
Technology Expert

Jitendra Mehta
Chief Financial Officer

Abhishek Singh
Delivery Manager
Jyoti Bharti
Sr. HR Executive

Zil Shah
Director of Sales
Kruti Shah
Senior Business Analyst

Radhika Patel
Digital Marketing Executive

Kishan Gediya
Project Manager

Brinda Fadadu
Project Manager

Mukesh Purohit
Project Manager

Mihir Dudhia
Tech Lead (Web)

Anil Sharma
Tech Lead (Web)

Maulik Doriya
Tech Lead (Web)

Pratik Pujara
Tech Lead (Mobile)

Ronak Yadav
Tech Lead (Open Source)