How AI is Revolutionizing Process of Fintech Industry?
Sector: Digital Product
Author: Chintan Bhatt
Date Published: 10/05/2020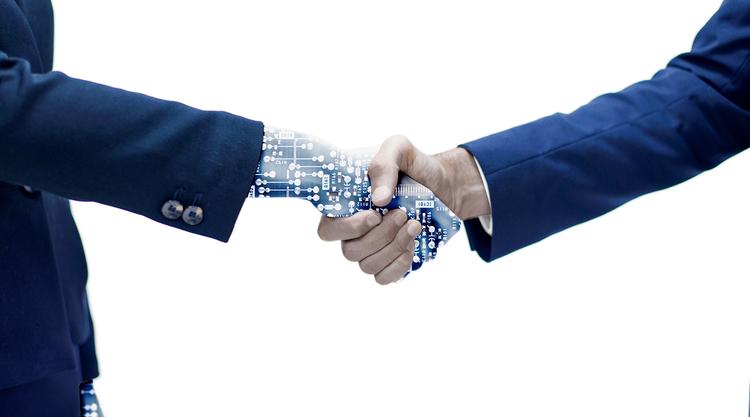 They say matches are made in heaven. In the line of butter and jam, cookies and milk and music and road trips, the next sweet thing to join this bandwagon of a list is Artificial Intelligence (AI) and fintech. We have no intentions to sound cheesy but such is their relationship – complementary.
AI has been a key player in the prolific growth of the fintech across the globe. If close to $135.7bn was raised by fintech firms last year, it has to be because of the incorporation of AI in this sector. The ability of systems to harness the power of data and make it more meaningful has opened up newer and improved possibilities in fintech.
If you're still unconvinced about the role of AI in Insuretech; one of the arm of fintech , the value of AI underwritten insurance premiums will exceed $20 billion by 2024, up from an estimated $1.3bn in 2019. As AI continues to evolve, we could estimate the direction and scope of growth of fintech companies as well.
And this post is all about recognizing the innumerable ways the technology along with its subsets – machine learning and deep learning – are fueling the industry's growth.
So, let's get started with our extensive list of 4 ways AI is making its presence felt in the fintech industry.
4 Ways AI is Revolutionizing Process of Fintech Firms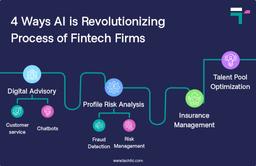 1. Digital Advisory
Digital advisory sounds fancy but it's nothing but artificially intelligent bots capable of taking informed autonomous decisions helping you out with your concerns with respect to the fintech industry. To understand better, let's classify this into two –
Customer service
Chatbots
1. Customer Service
The implementation of bots in the customer service segment allows companies to offer personalized services such as loans, insurance policies and more based on the data of an applicant.
2. Chatbots
Chatbots, on the other hand, are deployed for post-sales services such as answering any questions or queries regarding policies, loans, dues, stuck payment, requesting payment, merchant-vendor disputes and more.
2. Profile Risk Analysis
Artificial intelligence is all about making systems go through chunks after chunks of data and gather valuable insights. That's why they are most ideal for conducting profile risk analysis by companies. This can happen in two distinct ways –
Fraud Detection
Risk Management
1. Fraud Detection
Leveraging the potential of predictive analytics, AI-powered systems can accurately go through an applicant's historic data, credit records, repayment history, health statuses, driving records and more and detect how genuine their application or requirement is. This completely removes manual intervention in conducting background checks and still making errors in adjustments. With AI, there is no scope for errors.
2. Risk Management
Risk management is crucial in fintech companies associated with trading and stock markets. An AI-powered system could offer game-changing insights on when to buy and when to go short. Other applications of risk management also include risks associated with merchants, money laundering, regulatory, cybersecurity, data privacy and more.
3. Insurance Management
Insurance is a very complicated segment for laymen. From finding the right policy to getting claims and reimbursements processed, a lot of paperwork and processes have to be endured. The worst part is that all these have to be gone through by policyholders after something terrible has happened to them.
As fintech further moves towards humanizing its approach and practices, AI-enabled systems will be able to better take care of claims, reimbursements, policy recommendations and more with the help of automation.
4. Talent Pool Optimization
This has to be addressed as the picture mostly painted online is that automation would take up jobs. Upskilling and skills becoming redundant are some of the most common problems companies are facing today.
As this plague continues to creep into businesses, the one thing that employees fear could be the very element to save and empower them. With the right AI-based systems such as HR portals, databases and algorithms, companies could accurately predict
the time an employee is most likely to quit the company
gauge the overall morale among teams and team members
the right time an employee or a team requires upskilling
the exact skill the team must be learning
identify and fix gender-based wage gaps in companies and pave the way for equal pay regardless of bias and more
Wrapping Up
Evolution is part of the process and we should stop seeing AI as an agent of doom. We are surviving a global pandemic because of AI and its allied technologies. In fintech especially, the role of AI has been crucial like how you read just now.
Going ahead, its role will only become further indispensable. If you're someone who intends to ride the AI wave in fintech, we suggest you opt for fintech app development. The idea you have in mind demands to take a tangible shape and you need just the right fintech app development company like ours to get started.
Our fintech app developers are the best of the lot who would work on making your idea the next big thing in the fintech sector. Our fintech app development services are what you need to become the next unicorn. So, if this very thought excites you, let us remind you that fintech application development is the way forward.