Top Fintech Trends in 2021 and Beyond
Sector: Digital Product
Author: Chintan Bhatt
Date Published: 08/24/2020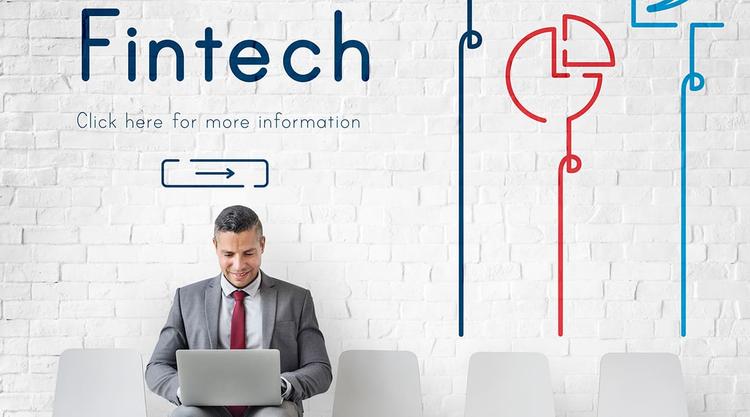 Did you know that there are close to 12,000+ fintech startups around the world and increasing as we speak?
Fintech is officially now a disruptor that is influencing every other convention and market it is touching. With the help of some of the most contemporary internet concepts, tools, and technologies like artificial intelligence, machine learning, Big Data, data science, deep learning, Blockchain, and more, fintech is changing the way things have been working so far.
For those of you who didn't know, according to Goldman Sachs, the fintech industry is now worth $4.7tn.
With each passing day, businesses and companies across the fintech sector are realizing new and advanced implementations of this technology, further pushing the boundaries and barriers of its potential. Over the years, we have seen fintech seeping into newer avenues and helping people solve diverse concerns in terms of lifestyle and business operations. And this year, experts anticipate that this will only continue further.
From our expertise and experience, we have analyzed and curated some fintech trends for the year 2021. Let's find out what they are.
Top 6 Fintech Trends for 2020-2022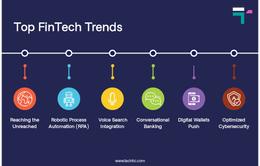 1. Reaching the Unreached
Whenever we speak of disruptive technologies and concepts like blockchain, on-demand economies, and more, the focus mostly lies on the advantages they are likely to bring to the working class and cream of the society.
Any light has hardly been shared on what such technologies would do to people who really need such technologies and their associated benefits. But that's not the case with fintech as several companies are trying to reach out to people who are in dire need of financial and banking services.
In rural and urban areas where financial challenges are real, fintech is anticipated to enter and make a difference. This is bound to happen as according to a report from the World Bank, close to 1.7 billion people still don't have access to or are not part of a substantial financial system.
With fintech's capabilities being just right, we could expect fintech services trends like this to expand to these market segments as well.
2. Robotic Process Automation (RPA)
Sounds like complex jargon, right? But trust us, RPA has already happened at significant levels across fintech domains and you and I have already established contact with artificially intelligent systems capable of taking autonomous decisions. In the coming months and years, further automation is forecasted in the fintech industry to optimize efficiency and curb the introduction of errors in datasets and processes.
Manpower will be utilized for higher purposes and some of the most redundant processes like customer onboarding, security checks, reporting, compliances and more will be taken care of by the machines. Also, background verification for repayment and loans will be made more airtight with the implementation of RPA as predictive analytics can predict in detail the likeliness of an individual or a company to repay loans.
Let's take a view on one of the Fintech projects which are developed by Techtic.
3. Voice Search Integration
Voice search is the future. Most of us already have a virtual assistant in our houses and workplaces in the form of smartphones, speakers, smart gadgets, and more. In 2019 alone, the number of digital assistants across the globe was close to 3.25bn. Over 72% of the people in the US use voice search to seek certain information.
With over 50% of all searches being dictated, we can tell that this is bound to seep into the fintech sector as well. As far as banking or finance is concerned, voice search could be deployed by fintech apps to execute tasks on getting credit balance, overdue, due date, request statements, initiate service requests, check market conditions for investments, pull up insurance policies, and plans and more.
Voice search can also be used by fintech brands for promotions and campaigns by targeting specific keywords. Voice search optimization can be done during fintech app development.
4. Conversational Banking
As technology connects more people, there are also people who prefer texts and messages over calls. This trend is anticipated to catch up in the fintech space as well. Conversational banking is what we call this implementation, where people avail fintech services by chatting with a bot, interacting with a human over emails, texts, and tickets, and then availing required services.
This interaction can happen over network-operated text messages, instant messengers, social media platforms, emails, in-app chat systems, and more. As banks and fintech companies try to humanize their brands, this will be a significant step in the process.
5. Digital Wallets Push
Digital wallets are silently rewriting conventions. In testing times like the pandemic where contact with the outside world and people were limited, what came to the rescue for transactions was the concept of digital wallets.
In the coming months, we forecast that this trend will only continue to rise as people find it extremely simple to use one wallet to make transactions across several platforms. With refunds and returns of cash becoming simpler on wallets, it is only adding convenience to customers. Fintech companies will look to roll out their own distinct wallets or partner with ideal digital wallet companies to facilitate seamless transactions.
6. Optimized Cybersecurity
This is going to be a priority for several fintech companies as every day, there are newer threats waiting to exploit the tech vulnerabilities of companies, users, and their devices. With and years. Fintech dealing with some of the most sensitive information and details like credit balance, money, money's worth, and data, cybersecurity will go on full-throttle in the coming months.
Not just that, fintech is also incorporating IoT in several instances, where devices communicate with each other. In such cases, exploiting and making brute-force entries into these devices become doable for hackers. That's why cybersecurity will be on the top list of to-dos for major market-players and other companies.
Wrapping Up
So, these were some of the trends we know that will become mainstream in 2020 and 2021. How many do you think are swiftly plausible? Do share in your comments. Also, let us know what will be some other fintech industry trends based on your expertise and experience.