How Has Travel and Tourism Industry Changed After Covid-19?
Sector: Digital Product
Author: Abhishek Singh
Date Published: 08/27/2020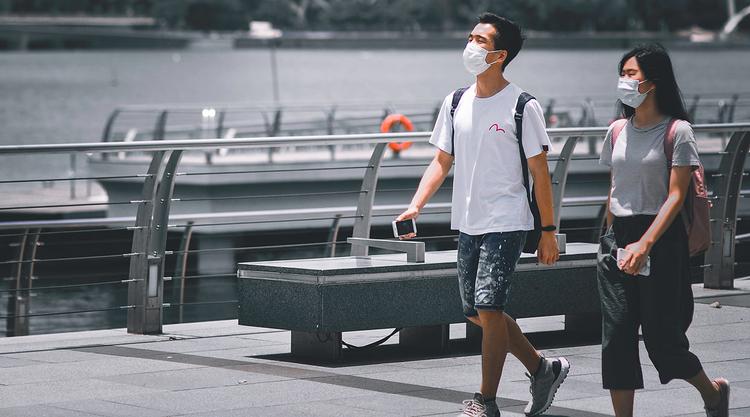 Books, movies and other pop culture's portrayed 2020 as a game-changing year in human evolution. They visualized flying cars, teleportation and an advanced civilization thriving together but nature had been quite different in her approach. She has always known the way forward. Contrary to anything portrayed, this year has been a colossal disaster with several companies and industries crumbling right in front of our eyes.
With the onset of the viral pandemic, we have seen people, businesses, lives, lifestyles and more suffer and go through undesirable consequences. Out of which the worst impact has been on the travel and tourism industry.
Several of our travel plans were charred and we have been forced to sit in the confinements of our homes. Life for the last six months has only been around throwback photos and plans for the next few years, in anticipation of tourism resumption.
If we have had it bad, people in the travel and tourism industry have had it worse. According to the World Travel and Tourism Council, the industry recorded a loss of close to $2.1tn in revenue and 75m jobs.
The CEO and President of the US Travel Association has also shared that the impact of coronavirus in the US has been 7 times the impact of 9/11 attacks. Such an impact has been mainly because of severe lockdown restrictions imposed in several countries and them closing their borders for entries and exits.
From the airline industry to the other allied sectors like accommodation, travel and tour operators, food and beverage outlets and restaurants, amusement parks and cinema halls to anything remotely associated with tourism have all been severely affected.
And this impact is not just sudden but lasting. For the next couple of years, people traveling to different frontiers would be still sceptical about contracting the disease until a proper vaccination is released.
Statistics of Coronavirus Pandemic on Travel and Tourism Industry
1. Two of the most prominent destinations in Paris – The Eiffel Tower and The Louvre – were shut in March.
2. 97 out of 217 destinations opted for total or partial closing of its borders during the pandemic.
3. From close to 100,000 flights per day in January, the number has fallen to around 29,400 in the month of April.
4. Some of the most popular hotel chains like Marriot and Hilton have furloughed their employees.
5. Asia has the highest number of job losses because of the viral outbreak with close to 60m in estimate and North America in the third with an estimate of 10m job losses.
6. Close to 69% of the Americans have changed their travel plans entirely because of the pandemic.
7. Around 29% of the Americans are choosing destinations they could drive to as opposed to flying.
How Airlines have been affected?
Airlines are the primary sources of connections between countries for passengers. While there are seaways available, they are slightly more inclined towards the leisure side of traveling. Airlines facilitate business travel, leisure travel, pilgrimage, tourism and more. According to The International Air Transport Association, the global airlines revenue is estimated to fall by around $252bn. This is approximately 44% below the numbers reported in the year 2019.
Some of the most popular airlines like United Airlines and Delta reportedly had only two months of cash before the onset of the pandemic. Not just that, the US Travel Association predicts that even domestic travel will fall by 45% compared to 75% of the international travels. This marks an unemployment rate of 51% during this time and several experts also estimate that businesses in several parts of the country might not make it past this year in terms of operations.
How Hotels have been affected?
Hotels are the next big sector attached to the travel and tourism industry. Most of the visitors to a new country or a destination resort to a hotel or an AirBnB for their accommodation needs. However, the hotel industry has also been immensely affected because of the viral outbreak and lockdown restrictions.
Read More: Why Mobile Apps are Preferred over Web for Travel and Tourism Industry?
Italy, which suffered one of the deadliest consequences of the virus, witnessed a 96% decrease in hotel bookings. This is followed by China with 68% and the US with 56% decrease in hotel bookings.
As far as hotels are concerned, there is also the fact attached that they need to be maintained regardless of whether there are bookings or not. From public areas to private cottages and rooms, machinery and equipment have to be run and maintained at any given point of time, which further requires staffing and their salaries.
According to the class of hotels, upper upscale hotels have been severely affected followed by luxury hotels and upscale hotels. On the other hand, AirBnB has recorded a slight increase in its bookings because of smaller radius travels within the range of 25 miles. Several visitors who arrived to countries before or during the pandemic are resorting to AirBnB accommodations for their quarantines.
How Cruise Liners have been affected?
A $150bn industry that employs over 1.7mn people across the globe has had it equally worse. With the CDC imposing no sail orders, cruise owners have had their ships docked from March 14. Until September 16, the popular Royal Caribbean Cruise has no intentions to set sail for some major destinations.
Collectively, the major players in the cruise industry such as Carnival, Royal Caribbean and Norwegian have all reported close to 70% losses in their revenues. Unlike the hotel and airline industries, cruise liners are not eligible for government aides as most of them are not enterprises registered in America.
How can businesses prepare for the post covid-19 era?
If you are associated with the travel and tourism industry, you would know the impact of the virus across the globe. But like every cloud has a silver lining, this is the time to reformulate several operational strategies. This includes taking this time out to reinvest in technologies that would facilitate lead generation, conversion, retention, optimize customer experience, and more.
Read More: How to Build Travel App with best MVP Features – Complete Guide
The most ideal approach would be to bring in digitization to your operations by rolling out an app or a website. An airtight travel software solution is what you need to help seekers plan their trips in the coming months better. Travel app development allows your target audience to plan their vacations and tours for the next year. The earlier you reach out to your people, the sooner you could retain them for long.
The competition is dull currently and all you need is foresight on your plans. Investing in travel management software will also help you streamline a lot of processes and bring in automation, where you could declutter manpower and utilize them for only specific tasks.
How does the future look for the travel industry?
Honestly, people are looking for the lockdowns to end and borders to open up as several thousands of them across the globe want to leave their confinements and live their vacations. The future only looks promising for the industry with the addition of a layer of hygiene in the process. Hotels, airlines and all tourist-related outlets and services must follow hygiene protocols and social distancing practices to ensure the curbing of the virus.
With several countries announcing the opening of their borders for economical benefits and people being ready to travel because of the virus' psychological impact, bouncing back will happen though not immediately.
Wrapping Up
Like we said, strategic planning for tomorrow today can help your travel and tourism business get back on its feet pretty soon. If you intend to get an app developed, you could reach out to a travel app development company like us.
Read More: How much Does it Cost to Build Travel App/Portal for Bookings and Reviews?
We work with handpicked travel app developers who understand the industry like no other. Get in touch with us and let's recover together.