5 Reasons the Tourism Industry needs Mobile Apps Over Web
Sector: Digital Product
Author: Abhishek Singh
Date Published: 06/01/2020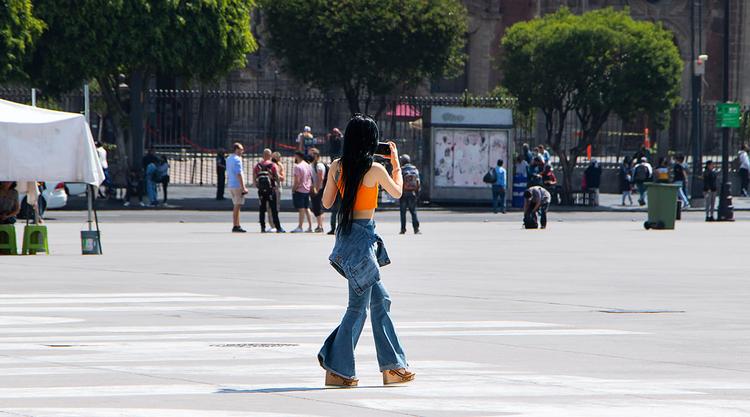 The customer cycle in the travel and tourism sector is very different. Unlike other market segments, where you have a problem and you look for a reliable solution to it in the form of a brand, travel is meant to be a leisure activity.
When you're looking for a carwash center, your tastes and preferences don't come into picture at all. Your only focus is to get the job done. But that's not the case with travel and tourism, is it?
Firstly, you're confused about which destination you intend to go. If you're going with friends, the choices are different. And if it's a family tour, it's completely different. Also, travel plans are impulsive. Tons of travel plans are made and executed while hanging out casually with friends.
The reason we're pointing out multiple scenarios is because they all lead to one thing – instant access to information when it comes to traveling.
When you're with your friends deciding if you need to go on a hiking trip to the Grand Canyon National Park or Yosemite National Park, you want to get instant results from wherever you are. You don't want to wait to reach your computer and look for hotels or flights or if possible, book tickets. You want instantaneous information on all the basic things you need to travel to.
Techtic built a seamless platform SHOKAS mobile app for visitors of the Caribbean, including an online booking portal allows you to Discover, Book, Save and Enjoy amazing Food and Activity experiences for the Caribbean.
That's one of the reasons why the accessing of travel information through apps has increased significantly. According to a report by Travelport, 58% of users today use their apps to book flight tickets and 53% use apps to book accommodation.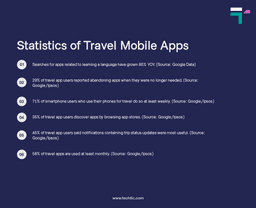 Let's look some of Digital Trends in Travel and Tourism Industry
Searches for apps related to learning a language have grown 85% YOY. (Source: Google Data)
29% of travel app users reported abandoning apps when they were no longer needed. (Source: Google/Ipsos)
71% of smartphone users who use their phones for travel do so at least weekly. (Source: Google/Ipsos)
35% of travel app users discover apps by browsing app stores. (Source: Google/Ipsos)
45% of travel app users said notifications containing trip status updates were most useful. (Source: Google/Ipsos)
58% of travel apps are used at least monthly. (Source: Google/Ipsos)
Why exactly are apps preferred over Web for Travel?
There are multiple layers to this question. For instance, there is no generic concept definition of a mobile application for travel. Consider that there are mobile applications to help you:
Book hotel and flight tickets
Check hotel and flight prices
Book travel experiences (honeymoon, solo, bike rides, nature retreats and more)
Check and book travel packages across diverse destinations
Access travel guide experiences and more
Despite these diverse approaches to handling travel and tourism requirements, you can narrow down the advantages apps offer over their online counterparts into a handpicked few factors.
Let's understand them in detail.
5 Benefits of Mobile App for Travel & Tourism Industry
1. Easy & Fast Booking Process
According to Travelport, 39% of users experienced swiftness in accessing information or executing a task with mobile apps.
For instance, apps are the ideal choices for all last-minute plans and impulsive travel decisions. When you make a plan, you involuntarily pull out your smartphone, open the native application for travel and check your details from room and flight availability to whether the place you intend to go has ATM centers.
Apps are designed for this day and age, where instant gratification and experience is key.
2. Use Modern Technologies
Almost every app that rolls out in the market today is powered by some of the most disruptive technologies like artificial intelligence, machine learning and data analytics. These together trigger a very specific concept called recommendations.
As you keep using the app, you generate more data. The backend algorithms use these chunks of data to understand more about you and your tastes.
It's similar to your Apple Music, which recommends you songs and artists that you are more likely to enjoy. With the recommendation engine, apps suggest you the places you can go where you will enjoy better, efficient modes of transportations (understanding if you're a person who saves money or saves time), activities you would like and more.
Travel recommendations are blessings because sometimes, you only have the budget in mind and you wouldn't mind assistance in helping you pick a place. What else could do it better than a precisely functioning algorithm?
Apps are also designed to make your bookings easy by automatically retrieving prices or information based on your historical data.
For instance, if you've been flying with the same airliner for the last few times, it is more likely to pull out pricings on that airliner before presenting you with options. 17% of users share that these recommendations make them prefer apps over websites.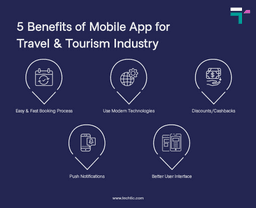 3. Discounts/Cashbacks
Who doesn't want to save while traveling or at least making travel plans? With discounts and cashbacks, companies ensure they retain their customers. In the form of coupon codes and referral schemes, these applications ensure we save substantially when we're booking tickets, rooms or both at the same time.
4. Push Notifications
Push notifications are personalized messages companies send to engage with us in unique ways. While sometimes the push notifications are all about insights on new destinations, sometimes they also send us specific coupon codes, rewards or discounts.
With the help of push notifications, we are also encouraged to complete that transaction we abandoned due to multiple reasons. Besides, push notifications also give us crucial pieces of information on:
The status of our trips – cancelled or rescheduled flights
Updates on our loyalty points
Price fluctuations of a particular airline we were looking at
Discounts or flash sales that are available only for a limited period of time
Information on seat availability, fast running out of seats/rooms and more
5. Better User Interface
Customer experience is one of the major advantages offered by apps. With their user interface, they offer convenient navigation; usability and functionality that help us get things done within minutes.
A well-designed application seamlessly takes us through the cycle of conversion from a visitor to a lead to a customer. Apps allow us to sort our search results, compare them, check them out individually, make better decisions and check out easily with the help of cards or digital wallets.
One of the other crucial aspects here is that apps today also feature reviews from other travelers to increase the credibility quotient of hotels, flights, destinations, packages and others. Reviews are some of the biggest decision influencers today because we want to ensure our travel is not just safe but worth it, too.
Does Your Travel Business Need an App?
This is a rhetorical question because your business does need an app. There are two reasons for this –
There are less travel mobile applications today in the market, making it ripe
The advancement in technologies allows you to pull off everything we've mentioned earlier.
When you develop a travel mobile app with all these incorporated, you are entering a lucrative zone. You are simplifying some of the most strenuous of the tasks for your customers with your travel app.
Imagine the struggle involved in booking a hotel room in a different country in a different continent. This is the real world problem your app would be solving.
And with the increase in location independence of modern-day workforce and the implementation of mobility solutions at work, the bridge between traveling for business purposes and leisure has significantly decreased.
Wrapping Up
So, if there's a right time to venture into a travel-based app service, it's now.