5 Best Digital Product Design Books
Sector: UI/UX
Author: Abhishek Singh
Date Published: 06/23/2020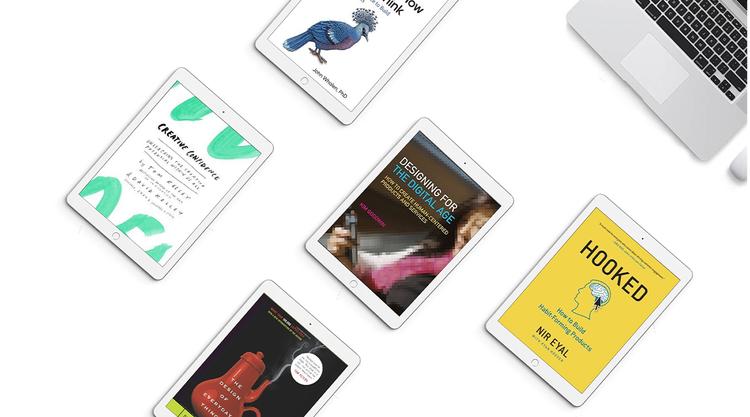 In a world that is increasingly becoming dependent on the digital space, businesses are bound to shift their focus as well. Whist, the idea and the product development remain the key element, design plays a critical role to drive consumer behaviour.
With the neck-wrecking competition amongst venders and service/product providers, product design has become a defining element that gives the business an edge.
This makes the role of a product designer more and more important in the system. From identifying and understanding business goals to ideation and execution, product designers are the makers of the heart of the product.
What is Product Design?
Digital Product designing in the simplest words is creating the blueprint of the application! Designing a simple or we can say user-friendly design that showcases the services and product line in the most effective manner, is the job of a digital product designer. This is communicating the business goal in the most effective manner.
In this regard, the prime example of simple and elegant digital product design is 'Amazon's online presence in different segments.' It is easy to understand, incorporating everything that is relevant to the user and also makes sure that all the required products/services are shown clearly.
5 Must Read Books for Every Digital Product Designers
In this blog, we will be sharing a list of books that a digital product designer must-read.
Creative Confidence by Dave and Tom Kelly
The Design of Everyday Things by Don Norman
Hooked: How to Build Habit-Forming Products by Nir Eyal
Designing for the Digital Age by Kim goodwin
Design for How People Think by John Whalen
Each one of these has a specialized focus that benefits specific skills involved in the process.
1. Creative Confidence by Dave and Tom Kelly
The reason this book is listed as number one is to spur your creativity. Since a digital product designer's role has a lot to do with coming up with a creative solution to an existing business problem, the first thing that tops it all remains, 'creativity'. And, you don't have to look anywhere beyond this book. This book can be your go-to book to get your design thinking running!
The founder of the global design company IDEO and a professor at Stanford University, David M. Kelley and his sibling, Tom Kelley, have written the famous book, 'Creative Confidence'.
The Kelley brothers have written extensively on creativity drawing inspiration from real-life projects. The book is a perfect catalyst to get your creative juices flowing!
What to expect from this book?
Quoting a line from the book here that made sense in the context of digital product development, "Thinking inside the box: few boundary constraints can spur your creativity." Page-127. It's an easy and entertaining read, so get started!
2. The Design of Everyday Things by Don Norman
You cannot miss out on reading this one! It is a perfect combination of design meeting our everyday needs from the lens of logic/science.
Sir Donald Arthur Norman or commonly known as Don Norman is well known for his best-selling book, The Design of Everyday Things. Besides being the director of the Design lab of California and an author, he is a renowned American researcher and a professor.
The books aim to explain the art of bridging the gap between a consumer and user with the help of efficient design.
The Affordance Concept in design is given, with elaborated examples in the book. It is one of the attractive elements in the book. It also provides in-depth and elaborated explanations of various other technicalities/technical terms that are involved in designing.
The art of creating customer-centric designs, making every design element visible, planning the execution, design thinking, and so much more is detailed into the narration of this masterpiece.
What to expect from this book?
Here's a rather famous phrase from the book, which gives a greater message in limited words: "Good design is actually a lot harder to notice than poor design, in part because good designs fit our needs so well that the design is invisible." – Don Norman
3. Hooked: How to Build Habit-Forming Products by Nir Eyal
The well-known silicon valley investor and lecturer is the author of the book- Hooked: How to Build Habit-Forming Products. This one focuses on a key job of a super digital product designer that is creating a design that sells or to be more precise is addictive to the user. What makes some products rather hard to put down whilst others struggle in viewership and even to gain users? This book has the answer.
The book combines the three key elements in defining user behaviour towards your products, that are technology, psychology, and product. 'The Hook Model' can ease your struggle in creating a perfect blueprint for a digital product. With the help of the insights from the book, you can easily get into the right thought process to creating the perfect product design, therefore, making you a star in your UI/UX development firm.
What to expect from this book?
The book explains the insights and scientific aspects of the design in the easiest way possible, making it a perfect read for all product designers. It also provides great tips to keep yourself motivated and driven.
Social media platforms like Facebook, Twitter, Instagram, TikTok, and Snapchat have mastered the hook model. They have grown commendably in the past few years, and people's engagement on those channels will keep on rising over time.
4. Designing for the Digital Age by Kim Goodwin
"Creating a customer-centric experience."
A lot has been said on this, and we continue to hear the same while working on a product for any and every business. This book is just right to get your thoughts in-line to achieve just that! Since we are focussing on the 'Digital' product designer, this best-selling book cannot be missed out on. The author, Kim Godwin, is a renowned design consultant for many companies across the globe.
'Designing for the Digital Age' is your guide to designing a human-centred product design! This is the perfect one-word summary that defines this book.
What to expect from this book?
From bringing together a design team to finishing the design, this book hasn't missed out on any aspect of the process of designing a product. Also, the 'why' behind creating a customer-friendly design is explained at length in the book.
The book is insight-led, sufficiently stuffed with examples to help you understand better, also emphasising on the part research plays into the designing.
5. Design for How People Think by John Whalen
This one's rather scientific, and uses the concept of brain science to help build designs that are focussed at people. This book is centred at the research process that is required before the process of product designing is initiated.
The book called "Design for How People Think" gives extensive explanations about best practices that have proven highly efficient in the past when it comes to product design. Backed up with reasons, observations, and research techniques, the book leaves the reader with a clearer picture of how best a digital product design can serve the user.
What to expect from this book?
This book will answer your questions that include:
How to enhance the user experience?
What tools are commonly used in the industry?
How does consumer psychology work, and how can we use these insights into our product designs?
Which one are you going to pick up first?
The steps of digital product development and designing include: identifying business goals, analysing the market, ideation, feasibility analysis, designing followed by testing and updating the prototype for pilot runs and final launch. This can get exhausting and to be a star digital product designer in a best UI/UX Development Company needs to be on the top of each one.
These books are all focussing on different key elements involved in reaching that goal of being and staying top-notch as a digital product designer!
Apart from digital product designer's professional experience, a distinguishing factor that makes a product designer highly efficient is reading. Not just reading, but reading the right books from the best of the authors that have had proven success in the domain.