Travel Mobile App Success Story: How Airbnb Did It?
Sector: Digital Product
Author: Abhishek Singh
Date Published: 01/25/2021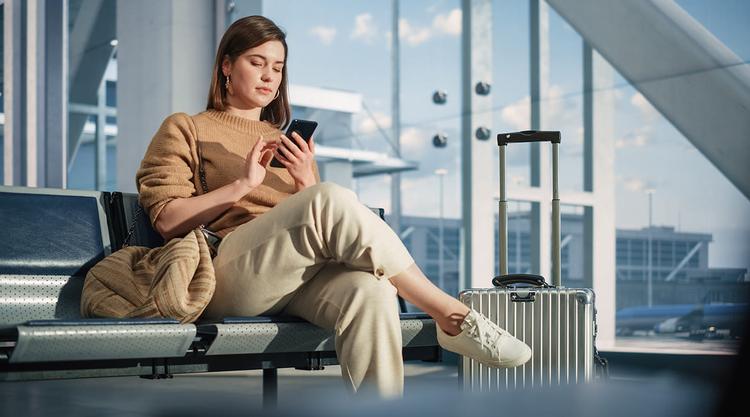 Reading any success story helps identify how the business moved from low chances to more favorable advantages. Here we are looking at how an inspiring idea fire-powered with the hire of Travel Software Developers, knocking the doors of success.
Yes, Airbnb – a Travel App connected their idea with travel technology. A highly-skilled Travel App Development team uncovered the missing dots. It's inspiring how an admired startup idea benefits society through a Travel Software Solution powered into a digital platform.
A complete revamp of Trip Platform, where you can reserve a homestay, book a genuine local experience or book your favorite regional food online along with enjoying great features offline.
The best example of developing an ideally healthy travel culture with more than 800 million guests hosted tells you the success mantra. More than 100,000 websites cite Airbnb offices worldwide, and it has upgraded its offices in more than 220 countries and regions since the launch in 2008.
Brilliant Idea and the Foundation of Airbnb Success Story
Two young unemployed folks, Brain Chesky and Joe Gebbia moved to San Francisco. They went through tough times of their life hardly having the resources to pay the rent. They were looking for extra funds to manage the monthly expenditure.
A new idea began when these two found all the hotel rooms were booked in the city. So they wanted visitors to stay at their apartment to attend the regional conference. This idea took shape when Travel app expert Nathan Blecharczyk joined the two friends and launched the site in 2008 and gradually saw the 800 guests signing up for the Democratic National Convention in Denver.
Idea Made Live and Subsequent Stages in the Success Story
Let's move ahead when Nathan focused his entire time on Airbnb, and all the three were jobless to start a travel business. They had in mind that others would be in similar situations where the idea of offering air bed & breakfast can operate well. They developed a website airbed&breakfast.com to allow the property owners to list their spare room on their website.
Only a few dozen were willing to get listed on airbed&breakfast.com, and hardly two to three travels were registered. Three more founders of the Airbnb Travel Tech app joined hands with young folks. They thought to upgrade their Travel app and simplify the payment module.
How Airbnb Successfully Did It with a Travel Mobile App?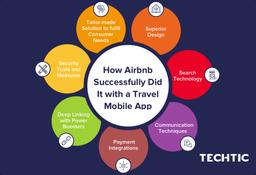 How Airbnb Successfully Did It with Travel Mobile App?
1. Tailor-made Solution to Fulfill Consumer Needs
When you visit the Airbnb site from your mobile device, you will receive recommendations to download the travel app. Every interaction made with this App is the proof of efficiency generated by experts who developed the Travel Tech Software Solution synchronizing the modern technology.
Airbnb team's travel management software was designed to help users save time and money efficiently. Airbnb found the way by working with the Travel Tech Software Development team. The major reason behind why customers use Airbnb for all their travel booking needs is the word of mouth publicity, which does a lot more than it seems to suggest in this digitally dominated world. These factors have made this application a favorite Travel app for their customer's next traveling occasions.
2. Superior Design
According to the statistical report, smartphone users are forecasted to grow by several hundred million in the next few years. When your customers are ready to embrace the new technology, we need to fulfill them with a superior design, nothing short of brilliance.
Travelport reveals speed, functionality, relevance, and notifications are the reason why people often book travel and accommodations through a mobile app. A staggering 90% of the users in the united states spend time in the apps rather than on the website.
Airbnb travel app saves its users' precious time right from the initial sign-up and links them to the desired results with a precise Travel Tech App Solution. Google experts recognized this immense work of app developers, and their team received Material Design Award in 2016. There was no compromise on the typography and visual appeal while giving a rich user experience. The travel app framework was successful in both Android and iOS versions.
3. Search Technology
As a Travel App Development Company, we suggest that you need an app with a search algorithm powered by Artificial Intelligence that precisely analyses the user requirement of location and relevance.
Not only do they travel app developers throw attractive discovery experiences to draw users, but most importantly, the travel app saves the search Travel App Development Company results for all future destinations.
Travel App Development equipped with advanced filter engines in search options always comes in handy without remembering the minute details.
4. Communication Techniques
Travel app developers build notifications to create lasting impressions. Travel app push notifications are sent automatically to hosts who do not respond to the guest's request.
Another benefit of hiring Travel Software Developers is the real-time chat tool. It helps the hosts and guests to communicate with each other on the Airbnb travel app instantly.
Travel Tech App Development company looks for ideas to improve the travel app like sending a common text to multiple hosts and adding advanced engagement options.
Travel industry software solution should come with multiple communication facilities when planning a vacation or a trip.
5. Payment Integrations
When you're traveling passion explore the globe at large, your travel app needs to integrate multiple currency features to meet the desired expectation. Currency integration strengthened the payment solutions.
Travel app developers of Airbnb also integrated PayPal, Apple Pay in iOS app, and Google Pay for Android app.
When it comes to travel, your travel app should intelligently fetch the best prices for the given listings.
6. Deep Linking with Power Boosters
The real difficulty is to guide people to their desired content across various devices and cross platforms. The technique is to convert up to 6X of its visitors to the app page. You can read the detailed analysis of the study published by Branch.
Call it mobile app developers expertise – yes, to convince one visitor to install across every possible digital platform is smart work.
7. Security Tools and Measures
Hire Travel Mobile App developers to get manifold benefits when it comes to privacy settings. Any message or information that includes the user's contact details is automatically deleted by Airbnb messaging system.
App developers also use cookies and similar technology to provide a customized experience to the users and help detect specific fraud types.
Customer engagement features like the Pixel tags and web beacons integrated into the Travel app help measure the response interactions done by Airbnb and the users.
Travel Tech Software development ensured safety and secured data collection technology. Travel app server logs help to improve the user experience and delivery of Airbnb services.
Launch of 'Experiences' & 'Airbnb for work'
When your travel idea translates into a master-stroke travel app that has satisfied customers, you move forward to another chapter in making yet another success story. A similar case was with the Airbnb travel app as in February 2018, launched 'Airbnb for Work' and also enabled 'Experiences' for all corporate needs.
The Future Plans of Airbnb
Travel app developers are looking for more meaningful updates to connect with their travelers. Airbnb is planning to provide transformative benefits of personal, local, and authentic travel to every traveler's family.
Travel app developers work in close coordination with the young folks to layout the future plan ahead.
Updates include personalization, offering new travel categories where travelers can book a vacation home, unique home, bed & breakfast or Boutiques, and the currently offered categories of a private room, entire home, and shared space.
The team of travel tech experts is planning to design trips that integrate world-class hospitality. Airbnb Plus and Beyond will soon be unraveled by Airbnb.
Travel app added a Super host program and new guest membership program.
Wrapping Up
Business success was not a mantra for a travel app like Airbnb. Their commitment and idea manifestation with the assistance of a Travel Tech App Development Company made it look effortless.
Want to develop a similar travel app that makes success follow your footsteps? As your thoughts took the right flight by landing on this page, now make it count. We are a leading Travel Tech Software Development Company and have delivered successful travel app development projects for our varied clientele.