Travel App Development Guide: Cost, Benefits, Features Types of Travel App to Consider
Sector: Digital Product
Author: Abhishek Singh
Date Published: 12/21/2020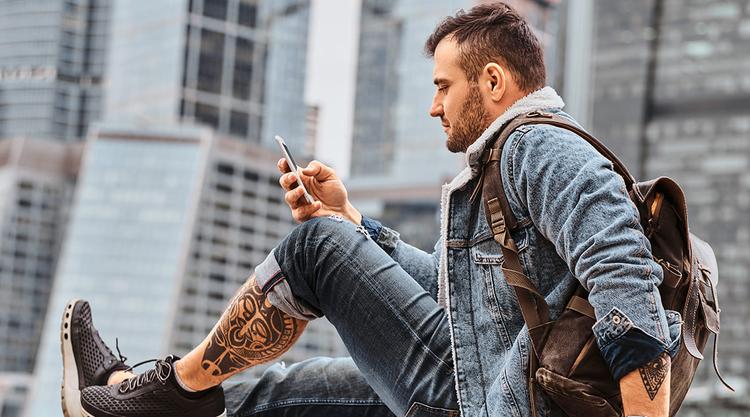 With swift transformations in technology, the world is turning into a smaller place. Both local and global traveling management is getting much simpler than before.
So, are you precisely in the process of planning a travel app development project for your tour and travel business? The current time is crucial, impacted by the COVID-19 crisis and meanwhile, you must go mobile to enable a modern-day travel business.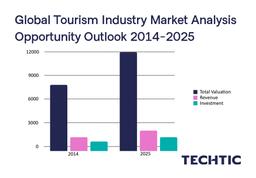 Types of Travel Management Software and Mobile Apps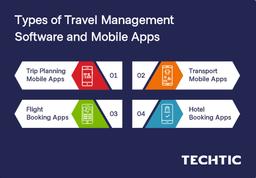 1. Trip Planning Mobile Apps
These categories of the app offer all travel features such as travel booking, taxi booking, hotel booking, itinerary planning, flight, train & bus bookings, and much more.
Examples: Expedia, MakeMyTrip, and Yatra.
2. Transport Mobile Apps
They assist users in finding information on nearby transportation routes. These applications utilize geolocation functionalities to track user location and offer the nearest transportation choices.
Examples: Uber, Lyft, Ola, and Taxify.
3. Flight Booking Apps
This application category assists traveler's book flight tickets online, compares travel costs, and digitally pays for tickets with real-time information.
Examples: Kayak, Hopper, Skyscanner, and Kiwi.
4. Hotel Booking Apps
Accommodation applications enable users to view, book, and pay for rooms online. It has more functionality, including reviews, ratings, a digital check-in facility, and electronic keys.
Examples: Airbnb, Booking.com, Hostel World, and Oyo Rooms.
How to Develop a Travel Tech App Solution? [Complete Six-Step Guide]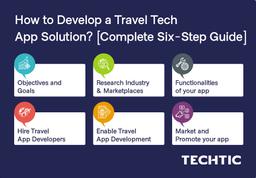 Step 1: Define the objectives and goals for your app
The initial stage is deciding on the category of application for traveling. If you desire it to be a profitable app for travel, you must define the core objectives and your app goals.
You may decide whether you want an application for hotel bookings, travel planning, tour guide app, an app for precise backpackers, transportation app, or any other category.
Step 2: Researching the industry and marketplaces
One needs to do extensive industry and market research after deciding the app goals. Explore and discover the top traveling applications in your niche. Research their key features and functionality, what is exclusive about them, and what they have mislaid.
Even research the target audiences and customer responses towards them. This research will assist in getting the right perspective and how you can beat your competitors.
Step 3: Decide the functionalities of your app for travel
Decide on the app functionalities and features precisely essential to prove the best usages for your users. Doing this task will determine what your end users need and how you can influence them to your travel app.
Step 4: Hire Travel App and Software Developers
At this step, you can commence finding professionals and hire travel app developers. We would recommend hiring a mobile application development company to have the right, certified, and practiced resources.
A step further, they would have a dedicated team for your project, including project managers, mobile application developers, UX/UI designers, and testing professionals.
Step 5: Enable Travel App Development
After hiring the team, you require to discuss and explain your necessities to them. A skilled developer would understand even if your concept is not extremely clear. He might even propose some vital additions and alterations to your project.
Step 6: Market and Promote your app to travel
No matter how exclusive and exceptional it is, any application cannot thrive if you don't market and promote it on suitable platforms. You can digitally market your app so that the target audience explores it and becomes aware of its features.
Essential Features in Travel Software Solution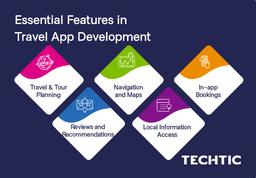 1. Travel & Tour Planning
This functionality of a trip planning application enables the users to plan their journey in an orderly style. The users can effortlessly search for a destination, facilitate trip schedules, gain knowledge from travel tips, gets details of travel activities, and book e-tickets.
2. Navigation and Maps
Travelers feel secure and safe with maps and navigations as they won't get lost during their travel journey.
3. In-app Bookings
This functionality enables users to make bookings for flights, hotels, trains, and cabs on the go by a single application. This feature includes travel deals and offers, which will give your app an added benefit over others.
4. Reviews and Recommendations
Users look for consistency when booking a hotel room, transport, and other travel services online. Reviews and recommendations will assist them with it. You can't build a travel guide application without this functionality.
5. Local Information Access
The users will love to try regional food, popular local markets, and watch local activities. Your application can provide information about all these activities and local emergency contacts should also be reachable in your mobile app.
Functionalities in Travel Tech App Solution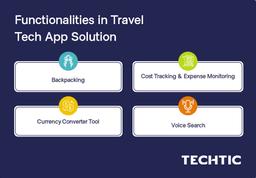 1. Backpacking
Backpacking functionality in travel apps is in drift these days, enabling travelers to access your app with cost-effective travel preferences, like reasonable accommodation and transport facilities. Your app with this feature can assist backpackers with low-cost stay, transport, a smart search of different local places, and local food items. This particular functionality also helps translate the regional languages and informing the backpackers about weather conditions.
2. Cost Tracking and Expense Monitoring
Most people find it complicated to monitor and track their expenses during a travel journey. Your application can work as an expense tracker app that assists them keeps tabs on their overall travel spending and compensations.
3. Currency Converter Tool
While traveling to other nations, travelers tend to make errors while making payments as they miscalculate or overrate the currency's value. In such scenarios, a functional tool within your app converts currency on a real-time basis.
4. Voice Search
Around 55% to 65% of travelers are open to voice search. Why wouldn't people be fond of merely telling Siri or Alexa to facilitate their online travel bookings?
Benefits of Travel Industry Software Solution
1. Easy Accessibility
The mobile apps give immediate access to the users, while it is annoying calling numerous travel agents and explaining to them your travel requirements. With the help of travel apps, you can book tickets online in no time.
2. Effortless Maintenance
Mobile apps can be easily maintained and sustained when matched to manual travel bookings. A mobile app development company can track, support, and update all the data.
3. Advanced Customizations
With the alterations in technologies, the business also requires to transform some functionality in a mobile app. Thus, mobile apps are to be shaped-up to meet your customers' diverse requirements and trends.
Total Development Cost of Travel Tech Software Solution
Selected travel application development company
The diverse platforms such as Android, iOS, or React Native
The overall app size depending on the features and functionalities you require
Number of professionals working on your mobile app development project
Frequent maintenance, up-gradation, and scalability prospects of the project
By and large, the total cost of getting a travel app developed by a professional and proficient travel tech development company may range from $7,000 to $9,000 +, relying on the things referenced above.
Wrapping Up
As a leading Travel Tech Software Development company, we think that an inclusive digital transformation of travel firms is the primary trend for 2021 within the Covid-19 pandemic. Whether a travel organization or a Travel Tech App Development Company is involved with new business plans, everything is linked to personalization and customizations of travel apps. We are a top travel app development company, and you can effortlessly hire a travel software developer's team through us.