Essential Features and Functionalities for an On-Demand Home Services App
Sector: Digital Product
Author: Hemant Kumar
Date Published: 12/17/2020
We are so much tiring with our professional and family lives that there isn't much time to manage everything simultaneously. However, innovative on-demand technology has utterly revolutionized the internet. Here, the question arises what exactly are these on-demand services and their categories? On-demand services are something that you can choose and get delivered while being in your home's ease.
Types of On-Demand Home Service App Solutions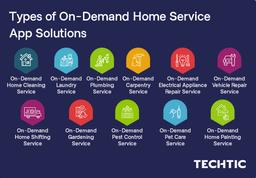 On-Demand Home Cleaning Service
On-Demand Laundry Service
On-Demand Plumbing Service
On-Demand Carpentry Service
On-Demand Electrical Appliance Repair Service
On-Demand Vehicle Repair Service
On-Demand Home Shifting Service
On-Demand Gardening Service
On-Demand Pest Control Service
On-Demand Pet Care Service
On-Demand Home Painting Service and many more household services
User Panel Features for an On-Demand Home Services App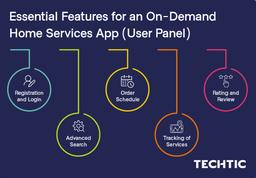 1. Registration and Login
The users can be quickly registered into the app using their credentials. When they need any of the services, they can log in and order the required services. You can make them log in with the use of their email or directly through social network credentials.
2. Advanced Search
As there are multiple home services, this feature has to be incorporated in the app for filtering the options directly from the services list as per the user's selection and diverse preferences.
3. Order Schedule
With this functionality, users can quickly schedule the timing for the order. They can even opt to reorder or reschedule or cancel the services as per their requirements.
4. Tracking of Services
Users can easily track their service by GPS tracking software integration, which is accessible in the application. For instance, if the user ordered a plumber, they can monitor his live location where he has reached, and they can assess his arrival time.
5. Rating and Review
This is an essential feature because the hiring or purchasing decisions of other customers will rely based on preceding reviews.
Admin Panel Features for an On-Demand Home Services App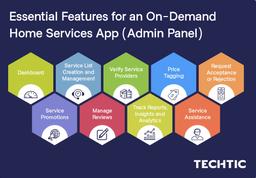 1. Dashboard
This feature offers the admin direct access to track or monitor everything like the number of orders, transactions, canceled orders, and rescheduled orders.
2. Service List Creation and Management
Admin can create the required service list and easily manage them by adding or removing the offered services.
3. Verify Service Providers
With this feature, the businesses can effortlessly verify the service providers and handle their details.
4. Price Tagging
With this functionality, the admin can add pricing to every service and added costs.
5. Request Acceptance or Rejection
This functionality enables the admin to accept or reject the order as per the obtainable vacancies.
6. Service Promotions
Offering deals, discounts, or service promotions to customers makes them reward from the brand.
7. Manage Reviews
Admin can manage the customer feedbacks by review and rating feature. He can warn the service providers in scenarios of customer complaints.
8. Track Reports, Insights, and Analytics
Admin can track the analytics and access business insights by downloading reports on a consistent basis as per requirements.
9. Service Assistance
You should offer all the information on using the application, ordering the services, accessing offers by vouchers and codes.
Integrations Features for an On-Demand Home Services App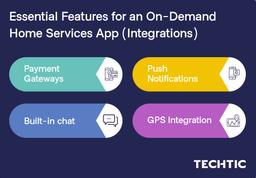 1. Payment Gateways
Every application must offer multiple payment choices like digital payments, credit cards, PayPal, cash on delivery to steer more customers.
2. Push Notifications
It is a vital feature as it reminds about offers, new services, deals, and discounts along with successful or failed payments.
3. Built-in chat
This integration allows immediate communication between the users and the admin. Users can get all the information and answers for their doubts on time with this chat option in the app.
4. GPS Integration
With this functionality, users can monitor and track the orders with the current progression of their placed orders.
Cost to Build an On-Demand Home Service Application
It would cost around $7,000 to $9,000 with committed professionals building your app with a time frame of approximately 8,00 to 9,00 hours.
Wrapping Up
Considering the successful scenarios of the on-demand technology, if you plan to get an on-demand app developed, we say that it's the precise time. At Techtic, being a leading On-Demand Delivery App Development Company, we have been fruitfully building On-Demand Delivery Solutions and profitable on-demand apps that are transforming people's lives. Let's discuss your next innovative idea for creating an On-Demand Delivery Application.