Augmented Reality (AR) in Travel and Tourism industry
Sector: Digital Product, Future Tech
Author: Abhishek Singh
Date Published: 11/26/2020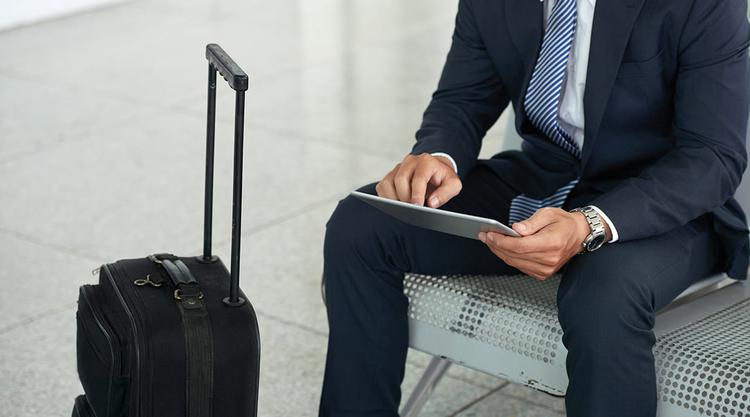 One of the most underrated technologies, Augmented Reality or AR has potentials that have hardly been harnessed and utilized by diverse industries.
From offering an immersive experience to users to giving them adequate information about services and brands, AR technology makes way for retention like no other. Currently, the value of the Augmented Reality (AR) and Virtual Reality (VR) industry stands at around $18.8bn.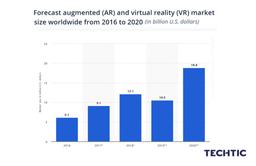 Augmented Reality (AR) and Virtual Reality (VR) market size worldwide from 2016 to 2020.
Not just that, over 70% of consumers feel that AR might overtake Virtual Reality or VR in the coming months and years. And by 2022, AR app download counts could number to over 5.5bn.
Though numbers appear promising, not many companies and businesses actually adopt AR technology for their business growth. This is particularly true in the travel and tourism sector, where AR can bring in a wave of revolution through creative apps and experiences.
If you own a hospitality or a travel business and intend to make your venture big in the coming months, here's our exclusive guide on how AR is impacting the travel and tourism sector. This will give you an idea on how you can go about implementing AR tech for your business.
How Augmented Reality is Changing the Travel and Tourism industry?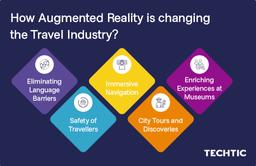 1. Eliminating Language Barriers
This is the age that is witnessing the rise of digital nomads and global citizens. With them contributing to the majority of travel and tourism revenue, they are a force to be reckoned with. However, one primary hurdle they face is the language barrier. A French traveller finding it hard in Japan to an Australian finding it difficult in Austria, language is simply a barrier. But with AR tech, these barriers can be shattered creatively through real-time translations. An AR-based travel app development can get this job done.
2. Safety of Travellers
Travellers are people who are most probably visiting a destination for the first time. What accompanies the excitement of being in a new place is paranoia surrounding it as well. Safety is a huge concern for such visitors from different parts of the globe, especially solo travellers.
With AR, optimum safety of travellers can be ensured with giving them real-time information on crime-prone areas, emergency services in the vicinity, administrative offices, police stations and more.
3. Immersive Navigation
Another layer of ensuring safety to travellers is making sure they don't get lost in a new place. With AR, this can be avoided as users can download AR maps of their destinations on their devices and use immersive navigation systems to navigate through cities and avenues and have a safe yet enthralling city adventure. An effective travel software solution is required to accomplish this.
4. City Tours and Discoveries
For most travellers, public transportation works best to visit local places of interests and spots. When AR is implemented through apps, travellers can have an advanced solution to find out local hidden gems, popular city destinations, public transportation schedules, nearest stations or stops, carpooling facilities and more. They can also experience how a place looked like in the past through AR tech and learn interesting trivia about the place they are in.
5. Enriching Experiences at Museums
Museums are treasure chests of information but most travellers don't get to experience museums to their fullest because of several barriers such as the lack of a guide, language concerns, crowded museums and more.
But with an AR-powered travel management software, experiences at museums can be more enriching through real-time videos, holograms, stories and more about an exhibit. Through interactive content, visitors can witness wars and floods before their eyes and have a one-of-a-kind experience, letting them appreciate their travel better.
How Augmented Reality is Changing the Hospitality industry?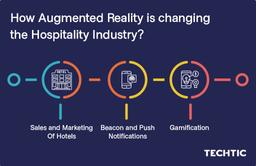 1. Sales and Marketing of Hotels
With the travel and hospitality industry gradually resurging, sales and marketing is crucial as of now to win back clients and customers. That's why you should implement tech like AR to creatively connect and engage with your audience, drive them to your website and convert leads to consumers. Immersive visualizations, storytelling, narratives and more could be integrated for this.
For instance, customers can use an AR version of your restaurant's app to see in real-time the fries or pies they would order and get tempted instantly.
2. Beacon and Push Notifications
Restaurants and hotels can attract potential visitors and customers seamlessly by utilizing the beacon technology. These small Bluetooth devices can transmit messages and push notifications wirelessly to people in its proximity. To attract customers, you can send out AR-based videos, personalized deals and more to them. You can partner with several travel brands for more exposure and conversions.
3. Gamification
Gamification and AR are a match made in heaven. Fun, creative and immensely captivating, gamification can be incorporated with AR for unlimited potential. For instance, hotels could use an AR app to welcome guests with their favourite idols and superheroes. Or better, they can have mini-games for their kids to offer them a memorable experience. Through small treasure hunts, hotels can also offer guests discounts or free meals for uncovering hidden virtual treasures, simultaneously giving them a tour of their premises as well.
Wrapping Up
What do you think? Creative inputs, right?
AR is a fun space but is also a futuristic technology and requires optimum levels of creativity, experience and interaction. That's why we suggest you approach a trusted travel app development company like us for your travel-based AR app development.