7 Ways Data Analytics in Healthcare improve Patient Care
Sector: Digital Product
Author: Sweta Patel
Date Published: 09/24/2020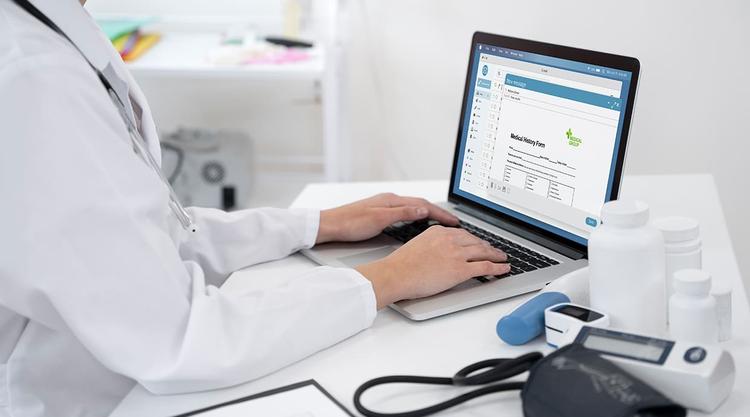 Data analytics has always been part of the healthcare industry. However, the intensities and the volume at which they were utilized were less. When you visited a doctor a couple of decades back, they would have looked at your health records stored offline on files, your lifestyle, eating habits and diets and considered several other parameters to offer you the best treatment procedures.
That's one of the primary reasons we all had (still have) family doctors we still go to because nobody understands our body and its conditions like they do.
Cut to now, what has drastically increased is the volume at which we generate data and their sources. Today, we have several systems, mechanisms and devices in place that have opened up newer avenues for doctors and healthcare practitioners to understand about us, our shortcomings and health conditions.
Ever since we started adding data touchpoints wherever we could, we have unlocked several layers in our healthcare delivery systems to get information and insights that remained hidden for so many years.
Data is at the fulcrum of healthcare services today and right from cancer detection and insurance claims, data analytics serves a lot of purposes in healthcare. This write up is all about shedding light on the ways data analytics has been improving healthcare over the last few years.
How Data Science in Healthcare improve Patient Care?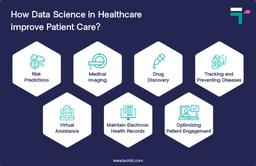 1. Risk Predictions
According to Mordor Intelligence, predictive analytics is anticipated to witness a significant upsurge in its CAGR between 2020 and 2025. Not just that, a US-based research collaborative – Optum Labs – has compiled electronic health records of over 30mn patients to implement predictive analytics tools to anticipate risks and complications.
Besides, several intelligent algorithms and bots are already lending their arms in accurately predicting risks in the health of people through access to patients' historic data and other parameters. Cancer detection, benign tumors turning malignant, genetic disorders, cardiac arrests, genome sequencing of viruses are some of the few areas predictive analytics is being implemented at.
2. Medical Imaging
Like you know, there are several types of medical imaging today such as X-Rays, CT scans, MRI scans and more. If you think, doctors today manually have a look at the imaging and diagnose our diseases and complications. This leaves a certain gap in the fact that microscopic deformities or abnormalities go undetected to the naked eye.
But that's not the case with an algorithm trained by data analytics and machine learning. They can pick up the smallest of the irregularities and offer detailed insights on their impact on our bodies, paving the way for one of the most precise diagnosis and treatments.
3. Drug Discovery
One of the most significant applications of data science is in the process of drug discovery. It times like the pandemic, this becomes all the more crucial to restore normalcy as early as possible.
With the help of data science, it has become comparatively easier for us to synthesize and develop drugs for various diseases. Through patient metadata, studies on mutational attributes of viruses, their evolution and even their simulation of response to antibodies and more, these time-consuming tasks are becoming increasingly faster now.
4. Tracking and Preventing Diseases
Another blessing in the healthcare sector is the onset of wearable technology. Through smartwatches, FitBits and other wearable medical devices in the market, health can be monitored 24/7 and real-time statistics can be accessed.
These devices also come with their own healthcare apps, where healthcare app development company make use of the latest concepts to track and prevent diseases in real-time. The data these devices collect are stored on the cloud and can be made accessible to doctors, who can pay attention to increasing levels in blood pressure of a patient and immediately deliver healthcare treatments required. GPS-enabled asthma inhalers are also out to study pollution levels and patient conditions across geographical locations to optimize treatment procedures.
5. Virtual Assistance
Perhaps the most accessible and practical solutions out there, virtual assistance has significantly decreased physical footfall in clinics of late. Healthcare app developers have rolled out apps that connect patients and doctors virtually and they can communicate, get consultations, diagnosis and treatment virtually over video/voice calls. For the elderly and severely sick patients, this is a boon.
6. Maintain Electronic Health Records
Electronic health records have become more advanced than ever. They have metrics or parameters such as patient demographics, medical history, allergies, recent laboratory test results and even data from any wearable devices they use. These digital records arrive as a centralized solution, where doctors from across the globe can access and retrieve patient files and immediately know their patients for precision diagnosis. According to research, the US has witnessed a massive growth of 94% hospitals adopting electronic health records standards and implementations.
7. Optimizing Patient Engagement
Healthcare analytics is one way to push engagements between doctors or clinics and their patients. With this, healthcare practitioners can send reminders about health assessments and tests when they are due, send appointment details to them on time, reschedule appointments and tests, real-time notifications when they skip their regular consultations or tests and more.
Hospitals and clinics are also exploring creative and gamified ways to engage with people so doctors and people both play a vital role in the maintenance of health.
Wrapping Up
So, these were the vital ways data analytics has been proving immensely influential and useful in the healthcare sector. With healthcare analytics, possibilities are just endless. And if you are someone who has a revolutionary idea to implement data science in healthcare and pave the way for a healthier world, this is the ideal time to get started.
To complement your vision, you need a custom healthcare app development company that offers the most seamless healthcare app development services to turn your idea into an inevitable product in the healthcare space.
For that, you need to get in touch with us.