Role Of Healthcare Industry in Covid-19 Pandemic
Sector: Digital Product
Author: Sweta Patel
Date Published: 09/04/2020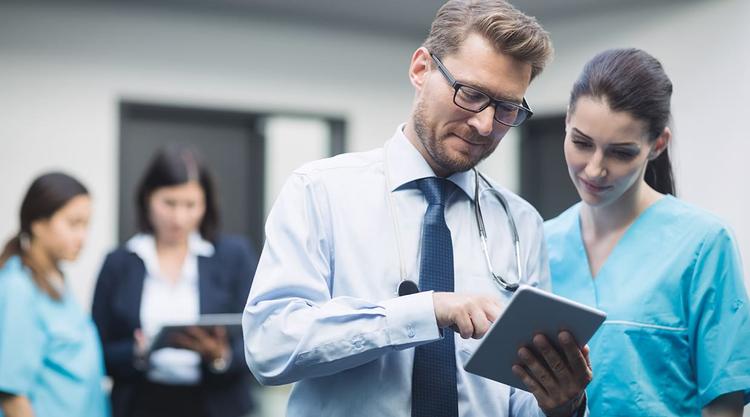 It would be hard to imagine a world without technology. But what would be harder is healthcare without the impact and innovation brought in by technology. Medical tech is one of the most crucial sectors today and we are sure that most of us would have experienced the good aspects of medical tech at one point in our life.
With viral diseases cropping out of nowhere and bringing in a dynamic rift in our lives, we can't be completely sure how things would have panned out if medical technology hadn't been in place. Hypothetically speaking, the contagion even could have become a deadlier pandemic with losses equivalent to the Spanish Flu.
Thankfully, that's not the case as we had (and have) tons of tech-driven ventures, implementations and concepts reforming healthcare in ways unimaginable. We have technologies like artificial intelligence, blockchain, machine learning, robots, chatbots and more assisting doctors and frontline warriors deal with the pandemic in the most effective ways possible.
And this write up is dedicated to shedding light on such developments in the healthcare sector and their roles during the pandemic.
8 Ways Technology has Improved Healthcare Industry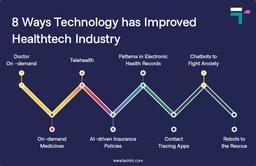 1. Doctor On-demand
This is one of the most beneficial aspects of technology in healthcare. Doctor on-demand is when you have a tech interface or healthcare software solutions like a website or an app and you have access to doctors in your vicinity. These doctors are profiled based on their specialization so you could easily reach out to doctors you need attention from.
This allows people to contact and get consulted by doctors without leaving their homes. Through the features of your smartphone, healthcare industry software and the powering technologies like artificial intelligence, machine learning, recommendations, camera features and more, doctors can immediately attend to your needs.
During testing times like the Covid-19 situation, people can get consulted by doctors from their homes and avoid coming into contact with people. Doctors could virtually connect, understand their symptoms and offer their evidence-based solutions.
Even before the onset of Covid-19, doctors have been implementing doctor-on-demand practices. According to research, it is also found that this led to a decrease in hospital admissions by 16%.
2. On-demand Medicines
Another layer to this is on-demand medicines, where prescriptions from doctors can be shared with online pharmacies and medicines could be delivered to our homes. This has been highly beneficial in dealing with the pandemic, especially during self-quarantine instances.
3. Telehealth
Another application of the concept is telehealth, where patients could get consulted through a phone call. Instead of risking stepping out and waiting in hospitals until they were called, telehealth allowed people to schedule appointments and show up right in time or get consulted through a phone call.
For those of you who didn't know, telemedicine is expected to become a $175 bn industry by the end of 2026.
4. AI-driven Insurance Policies
By the end of 2025, it is anticipated that the average spend in the AI in the healthcare sector would reach $2452.7 mn. The onset of the viral disease drove home the point that the situation could be tackled not individually but collectively. Each of us were responsible for our actions and their consequences on others. And to an extent, we have all been supportive of each other.
Joining the bandwagon of collective support were also insurance companies who were quick in anticipating the expenses involved in treatments, testing and diagnosis of the virus.
By implementing artificial intelligence, data science and machine learning algorithms, several companies updated and rolled out policies that included Covid-19 protection. Anticipating the questions and queries surrounding such inclusions, they were also quick to update their chatbots with adequate responses.
The incorporation of tech was precise to the point that they could profile their customers based on their age, pre-existing conditions and bring in other parameters and selectively include and exclude the coverage.
5. Patterns in Electronic Health Records
Electronic health records are digital records of our health and its associated details. During the pandemic, moves to study specific patterns in coronavirus outbreak were executed to see the evolution of the virus and anticipate instances of mutation and offspringing of newer symptoms.
Based on this, patterns were shared to the frontline warriors across the healthcare industry to carry out specific isolation and treatment procedures to patients. This was more beneficial to people with travel history to Covid-19-prone countries and them transcending geographical barriers and environmental conditions.
6. Contact Tracing Apps
Contact tracing apps were highly resourceful in the fact that they facilitated better social distancing among people. Healthtech app developers were quick to identify a requirement and roll out an appropriate app.
In a lot of countries, these contact tracing apps revolved around people signing up on them and voluntarily submitting specific pandemic-related details. This included their basic details, travel history, any specific Covid-19 symptoms they're experiencing and more.
With Bluetooth technology, the app consistently kept looking for other people who used the app and when people with self-declared symptoms came closer, the app alerted. Both the devices also communicated data with each other to facilitate contact tracing in case one of them turned out to be Covid-19 positive.
7. Chatbots to Fight Anxiety
Apart from the deadly virus, what we have all been fighting was also anxiety and paranoia surrounding the disease. The fear of contracting the disease was more than the suffering from the virus. To tackle this and pave the way for a calmer mind and mental health, companies released chatbots to help people differentiate between symptoms of flu and that of coronavirus.
Through screening procedures and supporting algorithms, chatbots relieved people of their tensions and anxiety on the disease. Several chatbots out there also helped people deal with their mental states of mind because of sudden isolations, social distancing, rattling of businesses, livelihood and more.
The adoption of chatbots in healthcare would reach to an extent that this would become a $317mn industry by 2023 at an estimated 21.10% CAGR.
8. Robots to the Rescue
People who visualized robots as doomsday causing entities were in for a surprise as robots were fighting in tandem with doctors and frontline warriors in taking care of patients. Several robots were deployed alongside staff to execute tasks like checking temperatures, assessing blood pressure, delivering hand sanitizers and more.
These eliminated the need for a dedicated resource to perform redundant procedures and channelize them towards tasks where things mattered more. Besides, robots were also deployed to sanitize places, remove rubbish, collect disposed masks and more.
Wrapping Up
Healthcare has been immensely benefited by technology. If we were able to detect, synthesize and study the virus in a very short span of time, it is completely because of technology. With vaccination also under development, we can be sure that the role of technology in medical sectors is on the right track.
If you intend to complement the healthcare industry and offer your own healthcare solutions to fight pandemics and medical emergencies, we recommend you get in touch with a healthtech development company like ours to get started.