IoT in Healthcare – Benefits, Challenges, and Features
Sector: Digital Product, Future Tech
Author: Abhishek Singh
Date Published: 05/09/2019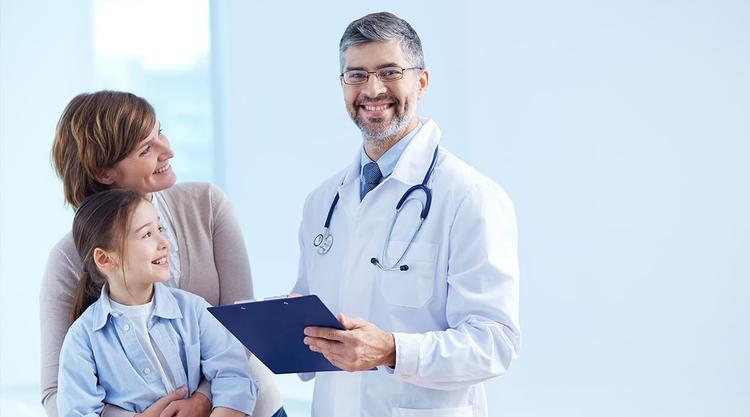 Internet of Things (IoT) is a new term for many so let's first understand how it is useful for mankind in the healthcare sector. It is a network of connected devices that collect data in real-time. In very simple language, a wristband that can track your daily activities, as well as the nature of sleep in real-time, is IoT.
Our experts at Techtic Solutions have reinvented new possibilities with the help of IoT technology, and it has been an overwhelming experience. We strive to improve the business model and increase the sales channel with the help of technological advancements. We proactively approach the requirements of every business and cater to their needs in the best possible manner.
IoT- Introduction in Healthcare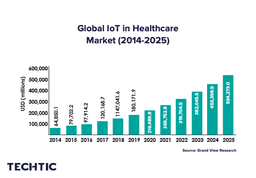 IoT can provide efficient healthcare benefits via introduction as a concept and platform.
Often, patients don't get timely medical attention which may adversely affect patients' health.  There are several reasons for the delay in treatment like inability to identify the diseases, avoiding heavy fees of doctors, living in the remote area, etc. Most of the time, people are not aware even if they are suffering from a severe illness until an untoward event happens.
IoT can alarm patients about any upcoming threats to their health even if they are not regularly monitored by doctors. For example, IoT can monitor the heart rate, blood pressure of patients suffering from cardiovascular disease. In the same manner, diabetic patients can keep track of their sugar levels daily for effective medication.
In hospitals, IoT can be very effective to attend and assess patients regularly. Due to increased population growth, it is very difficult to control the illness but each patient can be treated in the best manner with the help of IoT. These IoT healthcare devices can also reduce the cost of treatment to a great low.
How does IoT Technology help in Different Sectors in Healthcare?
Healthcare is one such sector that has never seen ups and downs, especially after technologies like IoT took over its progression.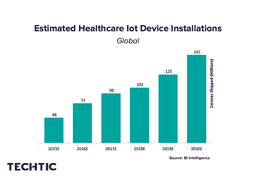 1. IoT for Hospitals, Doctors
Apart from health monitoring of patients, IoT devices are even advantageous for hospitals and doctors in enabling medical procedures. Doctors and hospitals can be able to attend to the patients in an effective manner compared to current traditional methods. While the rapid population growth is of major concern in the contribution of increased illness and other health issues, the introduction of IoT in the healthcare market may help to meet the requirements.
Effective management and deployment of healthcare professionals at diverse locations can also be evaluated on a real-time basis through IoT applications. IoT devices tagged with sensors are utilized for monitoring and tracking medical equipment.
IoT devices further assist in hospital inventory control, environmental tracking, frequent checking of device temperatures, and controlling humidity. Doctors and hospitals equipped with IoT can easily keep an eye on the real-time conditions of patients who are suffering from life-threatening diseases.
According to the National Broadband Plan, using Remote patient monitoring (RPM) coupled with electronic health records (EHR) will save $700 billion healthcare industry over the next 15-20 years.
2. IoT for Patients
The IoT-enabled devices in the healthcare domain as wearables such as fitness bands and wirelessly connected devices such as heart rate tracking cuffs offer patients quick and frequent attention.
Furthermore, such devices with Healthcare software solutions can be used for day-to-day calorie count, glucose monitoring, have access to exercise metrics, track blood pressure changes, and much more.
Due to regular and effective monitoring of patients, emergency conditions like cardiac arrest, diabetes, heart failure, asthmatic attack, etc. can be kept under control. The medical reports of patients including radiographs, ECG reports, blood sugar levels, etc. are stored in the web cloud and can be retrieved with the latest gadgets like mobile or tablets whenever needed.
IoT can save many lives by sending emergency alerts to doctors and subsequently patients can be rendered timely treatment.
It is a common observation that all the advanced medical devices and facilities are not available in clinics or hospitals. With the use of the Internet of medical things or the internet of things in healthcare applications and the latest technologies, one can easily share medical reports with other facilities immediately. In such a manner, IoT can reduce the overall time and cost of treatment, thereby ensuring more effective treatment and a better prognosis.
3. IoT for Physicians
By utilizing home-based health monitoring devices and medical equipment enabled through IoT, physicians can monitor patients and track patient data more efficiently. They can monitor patients' responses to medical treatment plans or enable instantaneous medical consideration in an emergency situation.
4. IoT for Health Insurance Companies
Insurance companies can use data gathered through health tracking devices for their claim procedures. This health data will allow them to find fraud claims. IoT devices offer complete transparency amid insurance companies and customers in the claims management processes. It also ensures data security and enables data-driven decisions in insurance-related operations.
5. IoT for Business
IoT is indisputably altering the business processes, especially for Digital Healthcare Startups with its varied applications in the healthcare industry. IoT has business applications in the medical sector that are advantageous to involved stakeholders connecting patients, families, pharmacies, healthcare staff, hospital facilities, and insurance service providers.
Benefits of IoT in the Healthcare Sector
Real-time Reporting and Monitoring – Monitoring and real-time reporting of health status through IoT-based connected devices can save lives in scenarios such as heart failure, asthma emergencies, or the rapid rise of blood pressure.
Data Collection and Analysis – IoT devices can assemble, report and investigate real-time information and reduce the storage of raw data across healthcare facilities.
Medical Assistance Remotely – In emergencies, patients can swiftly connect with a doctor who is away or at a healthcare facility with mobile healthcare applications.
Drug Management – Many IoT Startups are focusing on trimming down the cost of introducing new drugs and diminishing the damaging effects of the fake drug industry.
Tracking and Alerts – On-time notification or alert is crucial in enduring medical conditions. Healthcare IoT devices report and transmit alerts to medical professionals through mobile applications and intelligent sensors for quick actions.
Better Connectivity and Affordability – IoT can smartly automate healthcare workflows with mobility solutions and enable seamless communications at a cheaper cost across healthcare organizations.
Research – IoT medical apps can be utilized for research as it collects and fetches large amounts of healthcare data and insights.
Applications of IoT in Healthcare
Here are some noteworthy IoT applications in healthcare:
Wearables – IoT has also facilitated wearables and devices, which have made patient's lives easy and convenient.
Moodables – They are head-mounted IoT wearables that direct low-level current to the human brain, which refreshes the mood.
Blood Coagulation Testing – IoT-based medical devices have the capability of real-time tracking and testing of blood coagulation, which assists in retaining the patient's activities.
Hearables – They are modern hearing aids that have totally altered the techniques to enable people with hearing problems.
Ingestible Sensors – They are pill-sized sensors that track the medicinal treatment in our body and alerts if there are any loopholes.
Smart Glucose Monitoring & Insulin Pens – People with diabetes can utilize these medical devices to monitor glucose levels and frequently report the status to their doctors.
Smart Hospitals – Implementation of IoT in the healthcare industry helps to build smart hospitals, which further brings enhancements in involved stakeholder engagements, remote and monitoring of care, and innovative workplace methodologies.
Robotic Surgery – Robot-assisted surgery enables medical professionals to execute multifaceted surgeries with more accuracy, suppleness, and control than is likely with traditional approaches.
Digitally Coordinated Treatment of Chronic Disease – Medical IoT is altering out-of-date practices, bringing new ways for both medical professionals and patients. We have chosen the most prevalent and digital IoT devices used for supporting the treatment of some chronic diseases.

Apple Watch provides heart rate monitoring.
ADAMM (Automated Device for Asthma Monitoring and Management) provides asthma monitoring.
Apple introduced an API to its watches for Parkinson's disease monitoring.
Many IoT-enabled devices will be introduced for cancer treatment monitoring and recovery from depression in a quick time.
IoT- Future in Healthcare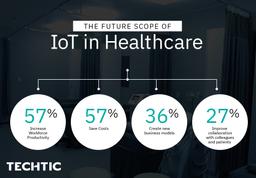 1. Implementation of IoT in Smart Devices
Based on one of the surveys, IoT will be connected to almost 200 billion devices by 2020 which shows a tremendous rise in its popularity compared to 15 billion connections in 2015.  The reason behind this unbelievable surge is the adoption of smart devices like mobiles, laptops, smartwatches, wrist bands, etc.
2. Cognitive Computing
We are aware that a machine cannot think like humans. However, in this case, we are referring to understanding, reasoning, and learning. By understanding, a machine can establish a model of relationships and concepts between data. By reasoning, we can expect a solution from the established model without separate programming for each trouble. By learning, it can gather knowledge from stored data.
IoT has great potential in healthcare and many companies are working to find a new way to use this technology to help our medical world. The IoT industry is expected to grow to $8.9 trillion in the year by 2020 according to the IoT statistics. (Source: Statista)
Challenges of IoT in Healthcare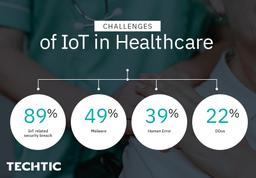 1. Data Privacy and Security
The biggest challenge for healthcare in IoT is data privacy and security. The IoT mainly works on the transfer and storage of massive data. If any breach is recorded by hacking, then it can be used against the doctor, hospital, or patient. The hackers can also create fake IDs to purchase prescribed medicines to misuse them further.
2. Performance of Device
Most people have different devices, hence the integration of IoT in different devices is also causing problems as it may affect its performance. The different devices connected through the IoT networks must be compatible with each other for the successful process of data transfer, analysis, and retrieval.
3. Database Management
Doctors or hospitals are storing huge numbers of data of patients and sometimes it becomes difficult to manage the database. Not maintaining this database responsibly can pose a great risk to a patient's life if any manipulation takes place due to any kind of error.
4. Cost of IoT System
Furthermore, IoT can save time and cost of treatment for patients by helping to diagnose correct disease, however, at the same doctors and hospitals need to invest a huge cost to facilitate IoT in their facilities.
How healthcare has been impacted by IoT in Technology?
Despite the challenges in implementing IoT in healthcare, we must understand that the technology is already leaving a positive impact on the healthcare sector. If you didn't know, this is what the tech is doing to the sector:
1. Real-Time Remote Supervision
The devices are connected to consistently monitor the vitals of patients. Every second, data is generated and transmitted among the devices to optimize patient care in hospitals. This is not only reducing the manpower needed to take care of the large volumes of patients but is eliminating the chances of human errors as well. With automation, doctors can be alarmed whenever the vitals of any of the patients drops.
2. Counterfeit Medications
The healthcare industry is plagued by counterfeit medications. Dealing with the lives of people, medications are consumed blindly by patients upon doctors' prescription. Hardly do we have the mindset to check their authenticity and this is the advantage counterfeit medicine manufacturers have. But IoT is dealing in the most efficient way possible through apps, QR codes, and implementing blockchain in the IoT supply chain as well.
3. Blood Pressure Check
With the rise of wearable devices, IoT is also helping patients keep their blood pressure levels in check. Whenever the level rises, the wearable devices sense it and notifies the user to take medication. This greatly reduces the chances of cardiac arrests too.
4. Manage Depression
Not just physical health, but IoT is taking charge to tackle mental illnesses like depression, too. With the help of user-generated data on moods and behavior, the backend algorithms keep a track of them and share them with the users in a visualized format. They also detect sleep patterns and suggest activities as remedies. This is still in its beta stages but is promising for the future.
Wrapping Up
No one can stop IoT technology from growing despite its challenges and limitations. IoT has already created a large impact in healthcare and no one will deny this reality. There is a huge demand for IoT in healthcare to connect every patient all over the world to doctors and hospitals.
It's a matter of time when the healthcare industry will be run by advanced IoT technologies and will be treating patients from every corner of the world in less time and cost. Many giant tech companies are already attempting to make IoT and Healthcare a winning noble combination for the betterment of human beings.
If you want to explore more options, Techtic Solutions can help you out in building an advanced healthcare system. We use the top IoT frameworks to create bespoke Internet of Things applications as per the requirements. We would love to understand your business model and assist you with your requirements.
So, if you're an IoT development company or an IOT development business aspirant, you now understand the potential of this technology. The pros seamlessly outweigh the challenges. No matter how futuristic these sound, it's a matter of time when the healthcare industry will be run by advanced IoT technologies and will be treating patients from every corner of the world in less time and cost.
Many giant tech companies are already attempting to make IoT and Healthcare a winning noble combination for the betterment of human beings.
We look forward to getting in touch with you soon.