10 Best Reasons for Selecting Shopify for Ecommerce Store
Sector: CMS Development, Digital Commerce
Author: Kishan Gediya
Date Published: 01/23/2017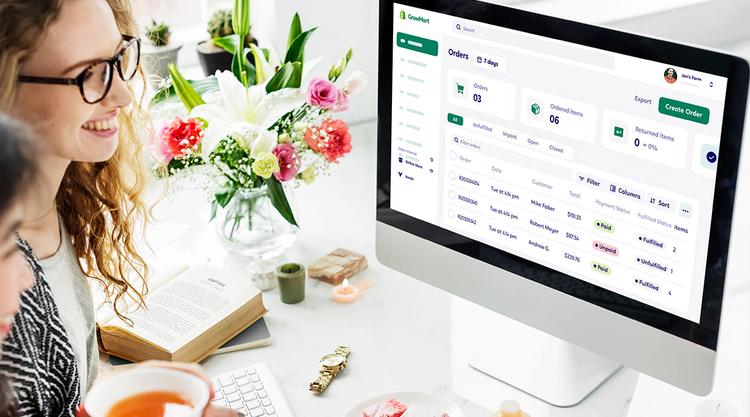 We all know that the present time is the modern period of technology. The custom of traditional shopping is going down and online shopping is getting more and more popular all over the world.
There are many platforms that let you for creating an online store. The most famous platforms for e-commerce businesses are Magento, woo-commerce, Shopify, and various others.
Let first discuss Shopify's total revenue. As per data of statista.com, Shopify generated over 900 million U.S. dollars in merchant solutions and around 642 million U.S dollars in subscription solutions in the fiscal year 2019.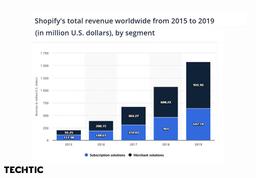 Shopify total revenue worldwide from 2015-2019 : Source: Statista.com
How Does the Shopify eCommerce Platform Work?
Shopify primarily is a cloud-based tool that works based on a monthly subscription model. Those who go for it gain access to the admin panel, through which one can provide details of the store, promote the store, including products, and facilitate order processing. It's quite user-friendly that anyone with the least technical expertise can get used to within no time.
It provides an extensive range of free and paid templates. All these templates come with significant editing tools that can be used for making the concerned theme meet well with the store brand.
All in all, Shopify can be an excellent way for all those who want to open an eCommerce store, but with less technical proficiency.
Advantages of Shopify eCommerce Store
The following advantages make Shopify significant.
It is quite user-friendly with a smooth user-interface that anyone with the least technical expertise can get accustomed to.
Shopify subscription ensures utmost security and customer support for the complete help of the store owner.
It is thoroughly customizable, providing an extensive range of free and paid templates for catchy store designing.
One can set up a store easily, in almost no time.
Sites developed on Shopify are known for their excellent loading speed.
Shopify offers extensive and highly powerful marketing tools, high-end SEO specs, and eCommerce analytics.
The payment gateway of Shopify is highly reliable and easy at the same time.
On a concluding note, Shopify is the most hassle-free way to start an eCommerce store in no time, without worry about security and other aspects. In this era of the eCommerce revolution, it's a highly recommended option for all those who want to start their own business.
Shopify has built up its own importance and here we are giving you the 10 best reasons for selecting the Shopify eCommerce platform.
Top 10 Reasons for Selecting Shopify for Ecommerce Store
1. Shopify is Reasonably Priced and a Breeze to Use
Shopify is basically an easy-to-use E-commerce platform for those people who wants to create their online business quickly as well as economically without the worry over lavish and servers cost for development.
Being a completely accommodated platform means we catch to center totally on the design of your website in its place of coding and files, which fallout into faster turnaround times and a small price to you when connected with other projects of E-commerce.
2. Endless Design Options
It is known to all that first impersonations count a lot. Shopify makes it cooler for you to stimulate and excite your visitors with a pretty store. If you want to consider a more custom slant than a normal theme, then you rather have a variety of possibilities. Whether you'd just like to be assisting in setting up your store or making small changes in the website design, they are just a click away, call, or email.
3. Unmatched Technical Support
A persistent and alert technical support service is very important while you run an online process. If your website goes down or a sum gateway stops operating, it's very important you can get in touch with someone no matter what time of the day, which is a great benefit that Shopify has. Hence, you can just call up the team on their toll-free numbers or can also do the live chat with an online operative.
4. Dynamic Marketing
From an online marketing viewpoint, Shopify makes it simple for you to correct the peak essential elements of your website so that it can be search engine friendly. You can contribute the page titles, unique URLs, make pages visible and invisible as well as redirect the pages where obligatory. This gives you the innumerable flexibility for optimizing your e-commerce store the means you want it.
5. Built-in Speed as well as Security for Hosting
One of the tests of running an online store is that you have double requirements from your hosting: You require it to be screaming fast and to be splendid safe if you are processing credit cards. For each extra 10th of a second that a customer waits for your page to load is the next that they may leave and go to another.
6. Around the Clock Security
Shopify finance many pounds into guaranteeing that their platform is safe and pursue to PCI rules and regulations. Security is ever more vital and when store owners are taking client's credit card particulars for making acquisitions. It's essential you're PCI obedient and your website displays "HTTPS" when users come for processing their orders. Thus, Shopify takes care of all these things.
7. Mobile eCommerce
For an eCommerce platform, a mobile feature is very vital. Shopify contains built-in mobile e-commerce shopping cart features and presents your online shop efficiently on a mobile phone.
8. 1500+ Applications for more Functionality
Shopify is very alert and has all types of apps to meet your requirements to increase the functionality of your online store. The tools or apps include social media, inventory management, customer service, reporting, accounting, etc. All these can help to mechanize many things in your business processes.
9. Shopify Roundup
Shopify circumstances itself is an economical platform and inspires its society of Shopify developers and designers to support code. It has a number of economical packages to select from with rates starting from $9 per month.
10. Hosting and Backup Options
Shopify will host your online shop and bounces you an unlimited amount of bandwidth. Hence, they manage the whole hosting process and allow you to focus on other important shares of your business like products and advertising.

Wrapping Up
Shopify is clearly an ideal choice for aspiring eCommerce store owners who are looking for instant, ready-made solutions. But if you're looking for aspects like growth, scalability, and more and see a solid future for your business, we recommend you go for custom Shopify website development.
They offer you more liberty and allow you to get your website designed the way you want to in terms of business, market, customer requirements, and other aspects.