Top 5 Android Mobile App Monetization Strategies
Sector: Digital Product
Author: Nisarg Mehta
Date Published: 01/13/2017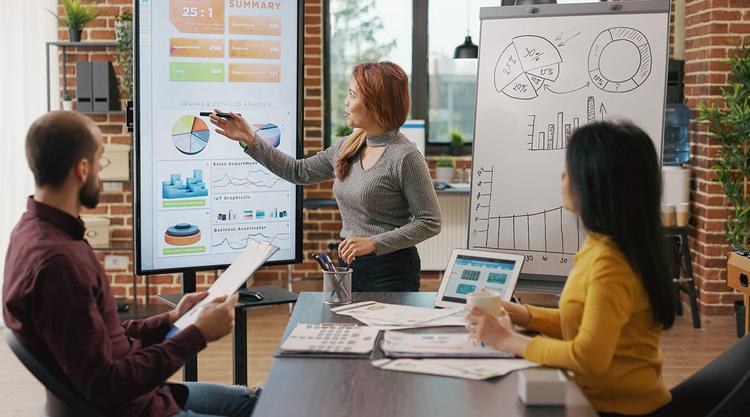 Though the App Store made $ 14 billion over Google Play previous year, now the 50% of mobile vendors prioritize the Android over iOS.
All thanks to the decision of Google for introducing the 85/15 income split for subscription apps and let developers for processing the transactions of payment.
Let discuss Google Play app revenue worldwide. As per data from statista.com, Google Play generated gross revenues of 29.3 billion U.S. dollars through mobile apps in 2019 which is 4.5 billion more from previous year.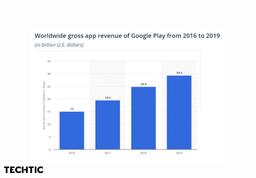 Worldwide gross app revenue of Google Play Store from 2016-2019 – Source: Statista.com
The Google Play might shortly outpace the App Store together in terms of revenues and downloads. Lets first discuss what is app monetization and how do i monetize my app?
What is App Monetization?
The rolling out of smartphones is one of the best things to have happened in this century. Apart from offering newer ways for people to connect, smartphones coupled with the power of the internet, have also allowed people to make money in newer ways.
App monetization is one such way, where developers have a good avenue ahead of them to make good money. For those of you who didn't know, app monetization is a concept that allows a developer to make money without requiring users to pay for their app.
There are several strategies you can implement to make money out of your apps but the starting point is to offer it for free. Customers still are skeptical about paying for an app before using it and according to this statistic from The Verge, over 98% of Google Play's revenues stem out of free apps.
How do i Monetize my App?
Like we mentioned, you could monetize your app in several ways. From advertisements to freemium models, you could implement one or many strategies to generate revenue from your apps. But at the fulcrum of all this lies the ultimate truth that your app has to be good. Good in terms of aesthetics, functionality, credibility, purpose and more.
If even one of this doesn't get implemented, monetizing your app is going to be a challenge.
Here we are giving you a list of 5 winning strategies for the Android App Monetization.
Top 5 Winning Android Mobile App Monetization Strategies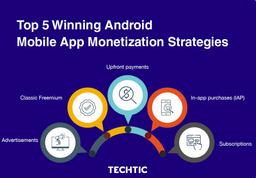 1. Advertisements
This year advertisement posters will make app stores and publishers by the $52.1 billion richer. Promoting and monetizing the Android apps with advertisements is a part of cake as Google Play gets 100% additional downloads than the App Store and bans the software of ad blocking.
Well known applications which include the casual games and streaming services makes the honest money on advertisement impressions. If you think of taking the advertisement approach, the keep in mind those new entries of Google Play with 25,000 active users make a small over $ 700 in monthly revenues which renders into the 300 thousand impressions or $2 for 1,000 impressions.
With the each per click you will earn in between the 0.5 $ and 3 $ from each conversion. The method is frequently selected by the companies that partner with other brands by sponsorship for promoting their products as well as services.
In this case, though, you must develop a niche app with a precise target audience, craft high-quality banners and select the right time for displaying the promotional content because the smart targeting improves the engagement by at least 60%. In addition to this, you should also make certain that your standard income per user cover the maintenance expenses as well as software development.
2. Classic Freemium
We all know an app is free to download but it's some features are available only for the paid users. Dark Sky, a well-liked weather app which offers the hyper right weather forecasts, was launched on the Android in the month of May.
While its version on iOS falls in the paidmium category but the Android users can download it for free of cost. In spite of getting varied reviews from Android users who feel the app monetization plan were inequitable, Dark Sky remains at the 5th top gross weather app after the 7 months of its launching.
3. Upfront payments
Though the iOS users carry on to spend 400% over Androiders, going "paidmium" still makes logic on Google Play as the Minecraft: Pocket Edition and Bully: Anniversary Edition grasp the 1st and 2nd spot on the chart of the top 50 paid apps correspondingly.
The model, though, has numerous downsides. You require endorsing your application a lot and doing your most excellent for delivering worth to users. In sort to attain the goal, you might turn to paid promotion, money off your app as well as give confidence users to rate it by review plugins and gamification.
4. In-app purchases (IAP)
The US 50 best grossing Android apps utilize the IAP model. Such apps offer convincing functionality for free and charge for extra features such as in-app currency, artifacts allowing users to unlock more game play as well as the custom settings.
In mobile games there is a task is to create an app "free to play" however "pay to win". Here is what happened in the Pokémon Game. This game registered over 550 million downloads and worldwide made $ 470 million. With the opening of the egg hatching alternative in early of December, developer of the game Niantic overhauled their monetization strategy. It was like this if you want to grasp uncommon pocket monsters then you have to purchase incubators to hatch a lot of eggs as you can. Finally, thanks to the new characteristic, the game has climbed up the download charts and carries on to make $ 2 million in daily revenues.
5. Subscriptions
Though the model is frequently overlooked by the Android developers and publishers who follow traditional app monetization strategies, subscriptions typically bring 200-300% more income than paid downloads and advertisements banners and 50% more income than in-app purchases. This strategy is provided you to create high-quality content, as well as will help you in maintaining the user engagement after the innovation wears off.
Wrapping Up
So, I am sure that you now have a complete understanding of some app monetization strategies. If you are someone who is looking to make money developing apps, this is the right time to delve deep into this.
Developing an app is technically challenging and there are several business and logical factors involved before your idea reaches a user as an app. That's why we recommend you get in touch with us with your idea to get a solid app developed. Our quality mobile app development services will ensure your app fetches you revenue from the strategies we've discussed so far.