7 Reasons to Hire Shopify Developer for your online store
Sector: CMS Development, Digital Commerce
Author: Kishan Gediya
Date Published: 07/22/2021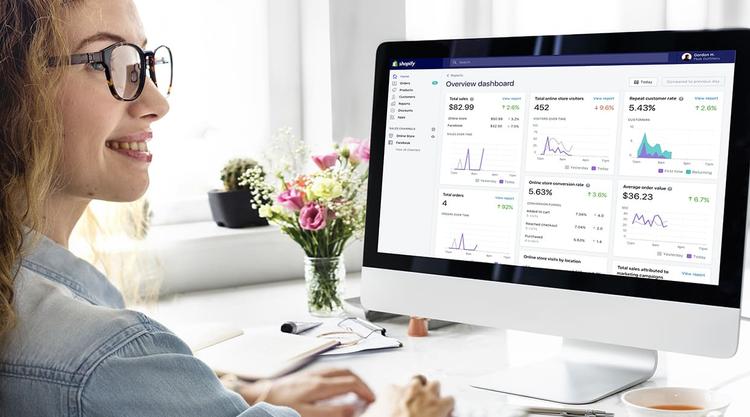 Shopify is a precise eCommerce platform that helps you build an online store supported by modern tools. It assists you in finding new customers, steer sales, and helps in enhancing your business digitally.
Shopify has around 11 percent of the eCommerce market share globally. And it enables more than one million businesses in more than 175 nations worldwide.
Also, the total number of shoppers who purchased products online from Shopify merchants saw a boost of 52 percent from 2019 to 2020.
All these statistics suggest that You can build an online store on the Shopify eCommerce platform with an experienced Shopify developer for facilitating new business opportunities, whether you have got new concepts or are exploring fresh approaches to make money digitally.
Read More: What are the unique features of Shopify you need to know?
So, the Shopify platform can turn your offline business into an online store and you can continue serving consumers without missing any sales opportunity. If you already have an online store, you can still bring your business to Shopify, no matter which eCommerce platform you are utilizing presently.
You can quickly set up your online store with the assistance of a reliable and proficient Shopify development company or hire professional Shopify developers.
Why should you select Shopify?
Shopify is an explicit platform with all the eCommerce and point of sale functionalities you require to commence, operate, grow and mature your online business. Here are some of the significant features and functionalities why you should choose the Shopify platform for flourishing your eCommerce store.
1. SEO-Friendly and Fast Loading Speed
Shopify comes with numerous SEO-friendly features, which help in driving new business opportunities and benefit your online store.
Furthermore, by facilitating mobile-friendly themes, optimized images, and avoiding immense-sized sliders, Shopify allows your online store to have a fast loading speed.
2. Marketing Tools with Wide range of App Store
Shopify marketing tools and apps extend the functionality of your online store. They are straightforward to enable. Furthermore, these apps will assist you in marketing your Shopify store, help increasing sales, rewarding your consumers online, managing inventory and shipping to generate more profits.
3. Security and Reliability
A significant benefit of Shopify eCommerce Development is its security measures and higher reliability. Today any online store has to be safe with its financial and personal data. A Shopify store is entirely secure for your shoppers, with 99.8 percent uptime assured by Shopify.
4. Quick and easy setup with third-party integration service
Due to the third-party integration services, you can integrate and improve your Shopify stores with specific third-party APIs. Shopify development companies also provide bespoke integrations that are tailor-made to your precise business and development needs.
5. 24*7 Customer Support
The dedicated support team of Shopify is accessible 24*7 through live chat, phone, and emails. You can engage in Shopify community discussion forums and converse regarding marketing, accounting, and much more to get assistance.
6. Support Multilingual and Multi-Currency
Today, consumers can explore an eCommerce store, and precisely checkout, in their chosen currency and language.
Merchants can facilitate selling in multiple currencies through Shopify Payments and easily enable numerous languages.
What is the Role of a Shopify Developer?
A Shopify developer's primary role is to develop a useful and competent online store for steering sales opportunities. They tailor the user interface of an eCommerce store based on the defined brand benchmarks and enable system integrations for diverse components. Let us understand more, how a Shopify developer can be helpful.
An experienced Shopify web developer is skilled at launching and sustaining online stores on Shopify and has complete Shopify's admin system know-how.
The role of Shopify developer should comprehend the technical capabilities for web development, involved design elements, and work on Shopify's strengths with its powerful platform.
They should even be capable of tailoring the online stores by custom visual elements, enabling setup components, working on visual branding, and facilitating theme customizations.
Senior Shopify developers should be experienced in diverse programming languages, have advanced coding skill-sets, and build full-stack web applications. They should also have an acquaintance with open source software vital to developing a multi-channel store experience. Take a look at the responsibilities of Shopify developers.
Key Responsibilities of a Shopify Web Developer
When you are looking to hire the best Shopify developer, you must know, what does a Shopify developer do.
Develop an exclusive and customer-friendly web portal
Integrate and blend required components of a business
Make coding alterations that are essential and requisite
Program the portal as per business and market requirements
Enable marketing tools, platform APIs, and third-party Shopify apps
Craft store templates that blend with needed business plugins
Optimize the store for utmost performance and needed functionalities
Make sure the web portal is SEO-friendly and well optimized
Seamlessly connect the store with social media sites and platforms
Test, debug, and track the store performance frequently
Technical support and coordination safeguarding business from failures
7 Reasons to Hire Shopify Developer for your online store
A well-structured and user-friendly website always boosts the reliability of your Shopify eCommerce store. Let us, see the reasons below, why you should hire Shopify Developer.
1. Create a custom website (not-so-obvious looking online store)
Shopify expert developer allows commencing of developing and designing for your online store, is the precise way through custom Shopify development services. You can customize your website on Shopify based on the different sellers, product brands, and item categories.
Hire a Shopify developer or a development team for building highly customizable Shopify eCommerce stores, enable custom Shopify themes, plan for Shopify migration and get professional outcomes.
2. Empower your store with third-party APIs
Enhancements to your present Shopify online store become evident once your business attains needed growth in product sales and visitor volumes. So, you require external components to deliver and improve your performance levels for further maturity.
By enabling Shopify third-party API integrations such as accounting, shipping, inventory, ERP, CRM, marketplaces, marketing tools, payments, and social media, you can quickly empower your online store with the help of a proficient Shopify developer.
1. CRM Integrations
For enabling tracking of customer engagements applicable to your online store and precise data integration within the CRM, you can better analyze and provide enhanced business experiences. The list of leading CRM includes Zoho, HubSpot, Zendesk, and Salesforce.
2. Marketing Tools Integrations
Based on the customer data your Shopify store gathers, you can blend numerous marketing tools such as MailChimp, within your eCommerce store. With custom API integrations, you can tailor and personalize marketing campaigns as per customer preferences and behaviors.
You can integrate other marketing tools through Shopify including Omnisend, Klaviyo, Drip, Privy, SmartrMail, Sendinblue, GetResponse, and MailerLite.
3. Marketplace Integrations
Suppose you require hosting other online sellers on your Shopify platform. In that case, you need 3rd party API integrations, which assist in explicitly migrating the product data, product pictures, and catalogs amid other online marketplaces like Amazon and eBay.
These marketplaces offer your online business an added place to sell, which impacts the buying decisions of online shoppers and boost sales.
4. Inventory and Accounting Integrations
You can effortlessly utilize integrated inventory management tools to sync orders and shipping databases. Also, third-party APIs help to sync customer order information to the accounting systems without any human interventions.
3. Make code changes
You can easily edit your theme code to make extensive alterations to your eCommerce store. The files that enable a theme contain Liquid, which is the explicit templating language of Shopify. These files incorporate HTML, CSS, and JavaScript.
With proficiency in HTML and CSS and acquaintance with Liquid, you can make code edits and technical changes in your eCommerce store. If you don't have HTML, CSS, or JavaScript expertise, you should hire Shopify developers to add custom features and code.
4. Boost site performance consistently
A Content Delivery Network (CDN) is a set of several servers spread across the world. It enables the content delivery load by the server nearest to your visitor's geographical location, facilitating local and swifter user experiences.
Visual content leads to slow performance. However, Shopify conveys the CDN when your assets such as product images, banners, JavaScript, and CSS have been altered to sustain consistent performance levels.
Your infrastructure and hosting can also impact your online store performance; particularly while higher operational days, and more visitor traffic. In this scenario, Shopify Plus can assist as it possesses an average uptime of 99.98 percent.
Furthermore, a mobile commerce strategy has been quite significant in the current scenario. You should frequently test and optimize your mobile site performance.
Even Pop-ups can slow down your website page's overall loading time, however, there are options to smartly use and present them.
Utilizing a carousel feature for top-selling products directly on your website's home page can lead to speed challenges, as data is being pulled from the product pages and showcased in the form of thumbnails.
Issues arise when a product picture is pulled from a product page in a bigger size than required. The bigger-sized image leads the browser to scale it down in the form of a thumbnail. Effectively working on this scenario can improve your overall page load time.
5. Provide comprehensive development
Dedicated Shopify development can manage new ideas or enable renovation of present web portals. The objective is to build an online store that is professionally developed and designed to meet your business requirements.
Shopify developers can assist you to craft robust and sales-oriented online solutions. The senior developers or a team of Shopify expert developers can enable everything from strategy to development to design your eCommerce portal.
Shopify customization services are bespoke to capture more web traffic and sell your products online. Ideal Shopify developers know this fact and understand that diverse businesses have their exclusive requirements. And so they customize development packages to meet the defined business objectives in your decided budget.
6. Enhance customer experience
As per Walker's study, customer experience will soon go beyond product and price as the significant brand differentiator.
Delivering an excellent eCommerce customer experience incorporates crafting applicable, momentous, and unforgettable events for customers, interpreting brand loyalty.
Today, these events are enabled by online, on-site, and omnichannel purchasing experiences. However, they also relate with precise post-purchase experiences, which includes:
Consumer retention campaigns
Innovative user and product experiences
All-inclusive customer support
Live and dynamic retail events
For instance, Apple is proficient in staging memorable customer experiences through publicized and grand product launches; for instance eye-catching retail store designs (such as Apple Cube in NYC).
7. Suggest changes as you go
Agile methodology is a highly adopted approach for software development. With this methodology, you can suggest alterations and changes as you move forward with the project. This iterative approach of Agile enables suppleness, enhanced speed to market, and an openness to change.
For Shopify Specialist Zyber, located in New Zealand, data-driven strategies and tactics are at the center of their business, enabling the Agile approach to be a perfect fit for their diverse projects.
The company recommends frequently testing and adapting with development techniques for enhancing technical engagements with customers.
In an Agile project, the complete team is devoted from the outset, rather than being rigid with individual handovers. The entire team owns and carries out the project jointly, across diverse disciplines like design, development, quality analysis, and testing.
Check Significant Factors while you Hire Shopify Developer
Here are the most significant factors you should consider prior to hiring a Shopify developer. When you choose the precise Shopify developer, it will assist in your online business extension.
1. Past Experience with Shopify Projects
You should evaluate and review the work portfolio of Shopify developers. Check their previous professional experience and the successfully delivered Shopify projects.
You can even check their client feedback. This will give you some idea regarding the proficiency of Shopify developers.
2. Technical and Communication Skills
The Shopify developer you hire should have sufficient technical experience in PHP, API integration, and experience to craft an eCommerce store utilizing Shopify. They should know about Snippets and facilitating Shopify plugin writing.
The technical professional needs to have good communication skills to comprehend and deliver the project development requirements according to precise business expectations.
3. Developer Testimonials
You can check the Shopify developer reviews by searching their testimonials and contact past clients who have recommended them. You can even try a Google search to explore what other professionals have to say about your probable hire.
4. Agreement Policies & Cost
Ensure that the agreement policies signed are fully transparent and facilitate the cost expectations. The policies should also include terms related to timely delivery, service benchmarks, and superior quality.
Wrapping Up
There has never been a healthier time to craft a Shopify eCommerce store and app. More than 1.7 million merchants across the world have already created, scaled, and are currently handling their business on Shopify.
If you are looking for best Shopify developers to hire or a team offering extensive design and development services, continuous support, and have numerous satisfied clients, Techtic Solutions is your answer!
At Techtic, we boast a proficient and professional development team to meet your eCommerce design and development requirements.
So, get in touch with us today to successfully design and develop your eCommerce store by hiring our Shopify developers.