Why choose Magento for eCommerce website development?
Sector: CMS Development, Digital Commerce
Author: Kishan Gediya
Date Published: 07/15/2021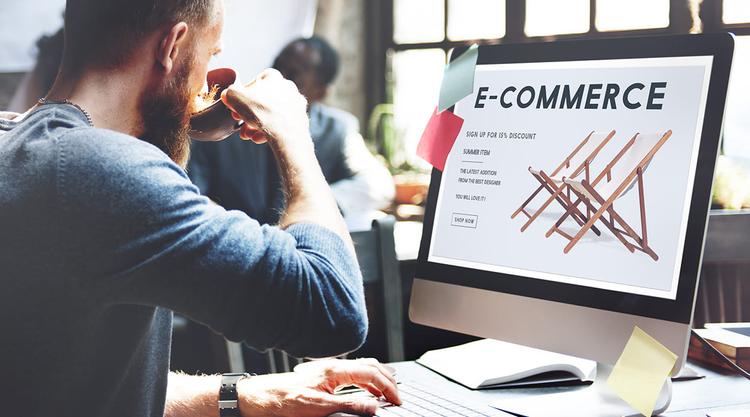 Magento enables retailers with precise eCommerce platforms and enhanced cloud solutions to quickly grow and mature. Brands globally like Magento development services as today's consumers are altering their demands rapidly, and no other solution is more advantageous.
Retailers powered by Magento eCommerce development services sell more at a lower total cost of ownership compared to brands on other eCommerce platforms.
With the Magento platform, online retailers quickly adapt and remain a step ahead of altering customer purchasing behavior. It offers you the suppleness to personalize and scale your existing platform to generate exclusive brand experiences.
Key Magento Usage Statistics
Magento has 300,000+ developers actively improving the product and 1,300+ partners across the globe. Magento's significant and winning functionalities include its extensive reach, sturdy ecosystem, and robust platform. On average, retailers utilizing the Magento platform grow and mature three times swifter than those on other platforms.
Even the payback period with the Magento platform is around 5.2 months. This suggests that your investment in Magento is recovered by the boost in the product sales it brings you in less than half a year.
Reasons to Choose Magento for eCommerce Development
You can craft an entire eCommerce store by utilizing a Magento platform, which is highly supple, scalable, and straightforward to use. It facilitates a developer or an eCommerce development team to add almost everything to a web portal and tailor-made the website as per the client's needs. Here are some more reasons to select Magento development for your eCommerce portal:
1. Easy to Manage Multiple eStore
You consider building multiple eStores when selling globally, targeting diverse customer segments, or building an outlet.
Dealing with multiple eStores can be a tough job. However, with Magento, it gets simpler. Multiple eStores in Magento enable you to handle diverse portals within one single Magento admin.
You can readily manage different product items, product categories, and consumers right from the common Magento admin panel.
The involved processes are also straightforward from the development and support angle. If there are any technical upgrades in the extensions, you merely require updating once, and it will work for all web portal setups across your Magento platform.
So, Magento facilitates clients to manage multiple stores with a single installation effortlessly and even enables other features like Full Page Cache, Add to Cart, Pricing preferences, and many others, which save your funds, efforts, and time.
2. The Platform is Open Source
Magento Community Edition is precisely an open-source platform and can be altered to fit your detailed design and programming needs. An eCommerce entrepreneur can enjoy a low cost of business entry, quick time to market, enable scalability and find easy support while starting the web portal.
Magento Open Source software provides fundamental eCommerce abilities that enable you to develop an exclusively online business store from scratch.
On the other hand, it is suggested to have a Magento Commerce, which comprises cloud architecture, hosting, data analytics, and AI-powered merchandising for those who require a comprehensive eCommerce solution.
3. Robust Community Support
Massive and robust global community support of eCommerce developers, innovators, and contributors is the precise initiation stage for all types of Magento projects.
The Magento Community helps in three ways:
Receive easy access to resources you require to learn, troubleshoot, and remain updated on your eCommerce sites.
Collaborate with new ideas, concepts, and get assistance from senior developers.
Interact with technical and business specialists to enable Magento Commerce.
4. Value for Money
More retailers and manufacturers are seeing positive outcomes from doing business online and are transforming their businesses to digital channels. Magento eCommerce Development helps you build market presence, makes your business reach out to new customer base, eliminates the geographical borders, and thus offers swift ROI. Furthermore, it offers responsiveness to all gadgets, provides better consumer experiences, is highly customizable and SEO-friendly, and so offers better value for money.
As a startup or SME, selecting Magento eCommerce solutions would turn out to be one of the go-to options. More so as the explicit Magento community edition is cost-efficient with lesser technical overload, which in turn trims down the investment costs and thus provides more business profits.
However, the overall development cost relies on multiple factors, like the number of features, your geography, and the Magento version that you pick for your eCommerce portal.
5. Multiple Payment Alternatives
An ideal payment gateway enables you to accept payments right from your online store without the consumer leaving your website portal, which is precisely enabled by the Magento platform.
By providing handy and safe payment solutions, the Magento platform gets rid of global barriers. Magento backs payment solutions that offer merchant services across the world.
You can quickly and straightforwardly set up multiple payment methods in the Magento admin. You can also change their preferences as per need. This can include numerous alternatives that the online shopper can pick for product payments. Some examples of payment alternatives include WorldPay, multiple options by PayPal, Authorize.net, Braintree, CyberSource, and First Data.
6. SEO-friendly Platform
Magento platform comes with numerous SEO-friendly functionalities. While some of them are facilitated by default, others have to be worked upon to get favorable results like working on site rankings.
Making SEO-related modifications for better results is not tough to manage. However, you should hire a Magento development company with proficiency in SEO for enhanced outcomes.
7. Simple Integration with Third-Party Services
Numerous services are accessible in the market, providing diverse and helpful functionalities that don't come previously loaded in the Magento platform. However, Magento can be enlarged and facilitated through third-party services extensions.
You can boost the efficiency levels of your Magento store by enabling simple integrations with third-party services like Content Management Systems (CMS), APIs, Shipping, Warehouse, Google Map, Android & iOS apps, SMS gateway, and other services.
By precisely aligning data from the eCommerce web portal to the enterprise, you can enhance the customer engagement levels. Enabling marketplace integrations with big players such as Amazon or eBay can augment your product visibility and increase sales with competitive benefits. Further, for ensuring highly secure digital transactions, precise payment gateways can be integrated into your online store.
8. User-friendly Platform
Admin can work effectively with a modern-day and highly intuitive user interface on the user-friendly Magento platform. A dashboard lets the admin monitor diverse business activities with swift access to customer orders, sales tasks, search terms and handle precise product data.
Better navigation and search functionalities make it simple for the admin to find explicit information, and tailor processes to speed up daily tasks. The portal owner can control numerous sites and stores from a single admin.
The admin can set multiple user roles and permissions to manage access to different features. Furthermore, the diverse admin panel views can be easily captured to effectively handle involved day-to-day jobs.
The admin can easily view, edit, create and enable orders at any time from the admin panel. He can access and render products, customers as well as order views. The portal owner can even set bigger teams of admin users to make quick parallel orders and better manage product-based updates.
9. Multilingual and Multi-Currency
The multilingual and multi-currency features have some similar business benefits. You can cater to consumers from different nations, quickly boost sales conversions, and consumers develop more trust in your portal using their native language or local currency.
Every Magento theme facilitates multilingual integration functionalities and enables users to alter languages without any challenges. On the other hand, you can trim down cart abandonment, charge-backs, and refunds with multi-currency functionality.
By selecting the right Magento extensions, your eCommerce store can enable both abilities and you can assist your consumers in making online shopping handy.
10. Enables Advanced Search
Magento facilitates Advanced Search, which is a handy tool that assists customers in explicitly finding out different products in the catalog by using product attributes.
The customer can enter diverse attributes such as the product's name, SKU, and other fields to swiftly search for the desired outcomes.
As a store owner, you can even enable your customer base to find products by their price range and product color. The more the fields are placed and entered, the more accurate the result is for finding the products.
11. Makes the Website Mobile Friendly
Magento makes an eCommerce site mobile-friendly by enabling responsive themes. Responsive themes better utilize similar HTML files with diverse CSS files. Google and other search engines prefer responsive designs as it makes the user experience flawless across several screens without using additional resources.
The website owners can transform their current Magento eCommerce portal into a comprehensive mobile-ready online store without significant investments. You can tailor your eCommerce site without negotiating with your online store's design or business brand.
12. Provides Security
Magento provides and supports advanced security measures. With the Magento platform, you can restrict login attempts for admin, place Captcha in forms & login, and backup your data sets frequently. You can even set up recommended files, user roles and enable directory permissions in your online store.
The latest two-step verification drastically trims down the security risks. Even if a hacker obtains accessibility of steeled credentials, he would not be able to access the admin panel because of additional security measures. You can apply the two-factor authentication to your login pages for secure access, and it even identifies brute-forcing.
Furthermore, IP Whitelisting only chooses IPs to reach out to the admin panel, which is a practical approach for securing your eCommerce websites. On the other hand, you can utilize .htaccess password safeguarding to precisely block access to any testing or development systems.
As eCommerce portals are superiorly sensitive systems, any security challenge would cause dreadful data leaks or dangerous attacks.
13. Provides Streamlined Checkout
To offer better buying experiences that boost customer conversions, retailers require re-planning of their existing business processes. With a Magento platform, you can constantly optimize your online store experiences and streamline the checkouts by:
Crafting a flawless payment experience and supple payment terms
Having a swifter approach to track and verify consumer addresses
Providing better experiences while safeguarding merchants from scams
Building better pricing policies and helps in enabling tax compliance
Offering a cloud-based platform for faster access and scalability
14. Excellent Performance
Magento, with its different versions, has set excellent performance benchmarks. It is swifter and effective than ever to craft better shopping experiences with Magento. Also, these experiences are customized to the business requirements and offer enhanced performance levels.
With innovative Magento 2, you can now:
Process extensive orders on the same set of hardware components
Get quick server response time for explicit catalog browsing
Smartly manage peak order volume, massive catalogs, and immense customer lists
Additionally, it backs more administrative users, trim down response times for cart and checkouts
15. Provide Multiple Hosting Options
Magento offers multiple hosting options, which make your eCommerce portal swifter and highly secure. The precise Magento hosting environment is an entire LAMP stack with a quick server, and you can utilize shared hosting with it.
However, Cloud Hosting, VPS, and Dedicated Servers offer enhanced performance levels and safety measures. You should select a hosting plan with an SSL certificate, dedicated IP address, and CDN.
Bluehost, A2 Hosting, InMotion Hosting, HostPapa, and SiteGround are some of the leading Magento hosts with enhanced speed and better security.
16. Rich and Diverse Features
Magento has a wide range of rich and diverse features. The various fundamental features include Catalog Management & Browsing, Product Browsing, Search Engine Optimization, Site Management, Order Management, Payment, Checkout, Shipping, Global Support, Analytics & Reporting, and Mobile Commerce.
The Magento enterprise features include:
Multiple Wish Lists
Content Management System (CMS)
Automated Email Marketing Reminder
Store Credits
Persistent Shopping
Private Sales
Rewards Points
Gifting Options
Gift Registry
Add to Cart by SKU
Scheduled Import and Export Functionality
Return Management Authorization (RMA)
Customer Attribute Management
Administrator Permission Roles
Staging, Merging, and Rollback of Content
Price and Promotion Permission
Order Archiving
Solr Search
Full Page Caching
17. Wide Range of Extensions
Magento Marketplace is the official Magento extension store. It is the worldwide eCommerce resource for services that enlarge Magento solutions with new functionalities.
Magento Marketplace is developed for quick discovery of applicable Magento extensions. It offers an authentic and curated user experience with offerings from leading brands. You can use the extensions to explore new and tailored functionalities in diverse business categories to assist your business flourish.
Clients can completely trust that all extensions and providers with services in Magento Marketplace are precisely cross-checked for superior quality.
18. Magento 2 Compatibility
The Magento community was exploring approaches to make Magento 2 compatible. Magento introduced an official community project to comprise PHP compatibility into the Magento core with this requirement.
If you want to smoothly switch to Magento 2.1.x from the 2.0.x version, you would readily require to drop utilizing PHP 5.5.x, however, run PHP 7.0.4 and enhanced versions. Before upgrading to the newest version, ensure you meet all the Magento 2.3 prerequisites and precise server recommendations.
19. Highly Scalable
Magento is a robust platform that has been created to scale. Whether you are enabling sales of a few handful items or if your catalog expands to millions of products, Magento matures with your business and operations.
Magento eCommerce development facilitates accessibility on mobile devices, and it assists in steering more customers to the web portal.
For a small-sized business, scalability lies in commencing as a primary community install and then upgrade with time to an enterprise as it matures.
Using a Magento 2 solution facilitates merchants with highly scalable and affordable infrastructure blended with a precise eCommerce system. It offers a quick and effective mechanism for serving content that is superiorly scalable.
20. Provide Fast Loading Speed
With new business players quickly entering the field, the market competition is highly severe, and you cannot take a chance with your website loading speed. Even the average load time impacts your Google rankings.
So, an optimum and fast website loading speed is highly recommended for your eCommerce store. It is a precise parameter that you will constantly require to enable more sales conversions. However, sustaining the load time as it relies on multiple factors is not easy.
By selecting the right Magento extensions, you can focus on improving load time. By having precise extensions consumers would feel that you are attentive to every element that enables your web portal, all for their comfort and convenience.
21. Cross-Browser Compatibility
Your online visitors may utilize various browsers at different times through multiple devices. Hence, the theme you choose should be superiorly designed also with precise cross-browser support.
In the current scenario, most of the premium Magento themes have no challenges of browser incompatibility. However, it would help if you remain cautious.
If your theme does not operate explicitly, all your efforts to bring in the online visitors may fail as most of them will bounce from your web portal.
With a flawlessly working theme, you can connect with a massive audience with more accessibility. It would eventually result in a boost in generating leads through marketing and sales efforts. So, cross-browser compatibility of a theme plays a significant role in enabling your eCommerce store to serve more online visitors and target wide audiences.
22. Secured Authorization
With the assistance of the Magento admin log extension, you can effortlessly identify what has been executed in your online store admin panel and by which set of users. It is significant to get better at your store safeguarding, and you should block all malicious login attempts.
Set secure authorizations and let your admin user view or edit only allotted product categories. With the assistance of advanced permissions extension, you can smartly handle your eCommerce stores with superior product catalogs and multi-vendor stores.
Popular eCommerce Stores Developed with Magento
Magento store development is so significant to us at Techtic Solutions that we have made it an essential element of our business. We also like to take inspiration from the already successful Magento web portals that we adore and apply what we discover from them to our client base. Here are some leading eCommerce portals developed with the Magento platform.
1) Nike
The bespoke Magento development of Nike's web portal makes it simple for online visitors to explore and online shop for the immense assortment of their products. It has offered the organization the needed business scalability and wide scope of expansion.
The web portal effortlessly pulls diverse product collections across their numerous product ranges. It even utilizes geo-targeting to refer online visitors to the most convenient Nike stores as per their precise location.
2) Boodles
Boodles deals with world-class jewelry and enables a tailored web portal developed on a Magento platform. The website has earned its position across leading sites globally.
They have used storytelling as a vital part of what Boodles does and all that is embedded in by their Magento eCommerce development company on their web portal.
3) Warby Parker
Warby Parker is undoubtedly one of the finest Magento web portals when it comes to usability and access. As an expert provider of glasses and eyewear, they knew that developing an effective Magento site for their business and audiences would have to offer a simple-to-read website design, which made their user experiences more compelling and successful.
Wrapping Up
Magento has become the requisite of future eCommerce platforms as it offers essential functionalities that can boost up businesses to quick success. It provides you a robust engine, superior security, access to cloud services, and opportunities for business scalability. Enhance your website conversions by hiring a leading Magento web development company.
If you are exploring and want to hire Magento developers or a team for building your eCommerce portal or for Magento cart development without negotiating on superior quality, Techtic solutions can assist you.
So, get in touch with us today to successfully design and develop your eCommerce store on the Magento platform.