Top HealthTech Startups Challenges and Solutions in 2021
Sector: Digital Product
Author: Sweta Patel
Date Published: 01/04/2021
As per statistics Healthcare industry is in the top three sectors with the maximum number of startups. The specialists are convinced that in 2021 the most success can be accomplished by identifying solutions for HealthTech Startups' challenges. This area needs a profound transformation and technology shift. And this is the rationale why investors are so interested in innovative prepositions across the HealthTech market.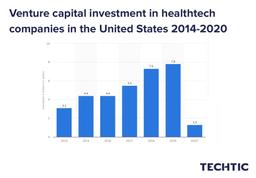 Moving further with figures, around 7.8 billion USD in venture capital were pumped into HealthTech companies in the USA in 2019, up from 3.1 billion USD over the past five years.
Biggest Challenges Faced by HealthTech Startups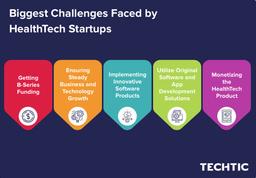 1. Getting B-Series Funding
Applying and getting B-Series Funding is a significant task for HealthTech startups. Many beginners habitually speculate about series B funding for startups. Well, fundamentally, it is a business opportunity to get more funding for building innovative products. It is clear for practiced financial specialists how does funding work for startups in any specialty of the business.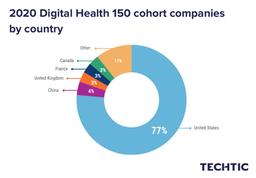 However, there are some prominent divergences that HealthTech Startups meet on the approach to gain the right kind of funding investors. In the year 2020, around 150 digital healthcare startups have received more than 20 billion USD in funding across 600 deals from more than 900 investors. The firms in the 2020 Digital Health 150 cohort displayed 18 global nations, and amongst them, USA-based startups made 77% of the 150 firms, leading the list.
2. Ensuring Steady Business and Technology Growth
There are 19,128 HealthTech startups in the USA, and the funding levels for these startups are not a fresh system. The majority of these small-sized companies face challenges after getting the initial series and levels of investments. The fund gathered on diverse platforms, like Crowdfunding, is typically sufficient to build a functional prototype, develop and add strategy merely to the first part of the startup business plan.
So, for enabling steady business and technology growth and showcase to other investors the reliability of the presented concept, it is essential to solving HealthTech startup financial challenges.
3. Implementing Innovative Software Products
It is also imperative to know how HealthTech startups are funded in the private sector. To get the subsequent level of funding, HealthTech startups should demonstrate the industry with the need for their product to various stakeholders. This can be done in two ways. The first approach includes free distribution of the product to the test group. These groups can be medical professionals or patients when it comes to the implementation of innovative software applications.
While the second approach comprises designing marketing campaigns making the product known to a broad range of consumers. The larger the audience reach, the more are the opportunities of introducing a ready application in healthcare facilities. However, the challenge here is that this method is not proper for niche products that are built for a narrow group of consumers.
4. Utilize Original Software and App Development Solutions
To find the precise solution and provide an exclusive product, the startups should use cutting-edge technologies clubbed with Customized HealthTech Software Development and HealthTech Mobile App Development Services that effectively address the worldwide market. This would include the use of advanced technologies like artificial intelligence and machine learning along with product design specialization, to build innovative healthcare products.
5. Monetizing the HealthTech Product
The frequent mistake of startups is the lack of a plan for long-term goals. The startups should make plans for three to four years ahead, based on which the growth and maturity can be predicted. They must even include the monetization of the final product, which is a challenge for most startups. Monetization is also one of the approaches to draw investors, as it showcases how to make a profit from the product or the complete project.
How HealthTech Software Development Services Can fix these Challenges?
Growing COVID-19 cases has boosted the adoption of digital healthcare technologies and will advance the health industry's growth. The digital health market size was forecasted over USD 106 billion in 2019, and the industry will mature at 28.5% CAGR through 2026. So, adopting and collaborating with smart technologies will extensively increase the quality of healthcare solutions startups can offer across the marketplace.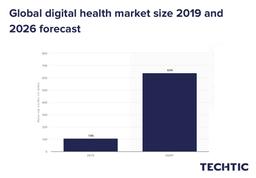 In the current scenario, the technology solutions from HealthTech startups have facilitated patients to monitor and track their health in more resourceful ways, identify unstable medical conditions, and better access to healthcare treatments. A step further, they have successfully aligned their products with Customized HealthTech App Development Solutions in the field of Telemedicine, Online Pharmacy, Personal Health Management, Fitness & Wellness, access to Diagnostics, and enabled advanced Medical Devices to support their services.
Wrapping Up
So, HealthTech is one of those domains where there have been many alterations. And it is worth mentioning that the reasons for the revolution were not giant organizations but startups, enthusiastically solving healthcare problems.
As a Healthcare App Development Company, we have helped many HealthTech startups solve their challenges with HealthTech App and Software Development Services. And as a top HealthTech Software Development Company, we believe that a wide-ranging digital transformation of healthcare startups will be the top trend for 2021.
So, whether a healthcare startup or a HealthTech App Development Company is involved with either Telemedicine or Digital Pharmacy service, everything linked to personalized care will be at a peak in the coming time.