Quick Guide to develop an On-Demand Delivery App
Sector: Digital Product
Author: Hemant Kumar
Date Published: 12/31/2020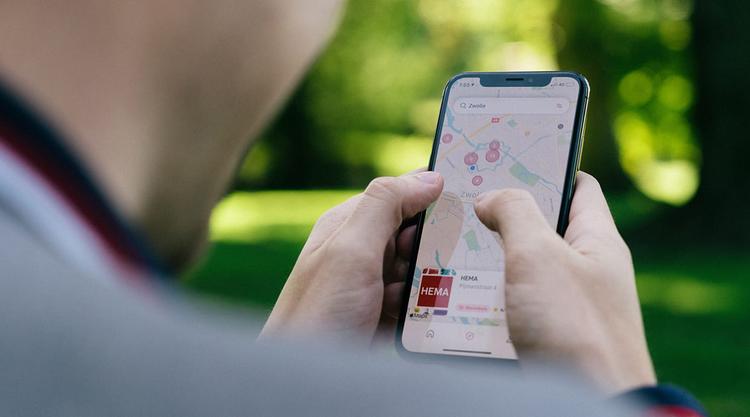 On-demand delivery apps are transforming and revolutionizing one industry after another. With success enabled by Uber or Ola as a taxi-hailing application is now everywhere from grocery to logistics and healthcare.
Taking the example of the On-Demand Food Delivery App, the online food delivery niche generated over $136,431 million in 2020. Total market revenue expects to grow by 7.5 percent, resulting in a projected market volume of US$182,327m by 2024. It is forecasted to be serving 965.8 million users by 2024.
Types of On-Demand Delivery Solutions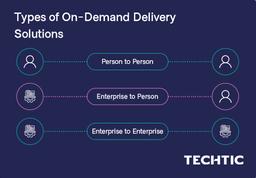 1. Person to Person (P2P)
Here, a person demands a service or product from the other, utilizing the same platform provided in the structure of an app facilitated by the enterprise. Examples include Uber, Postmate, and Airbnb.
2. Enterprise to Person (E2P)
Enterprises build their on-demand application to offer their services and supply their products. Domino's delivers its food items to anybody who downloads their app and orders.
3. Enterprise to Enterprise (E2E)
An enterprise depends on other smaller enterprises to operate its business functions seamlessly. For instance, Walmart's suppliers utilize mobile applications connected to Walmart's supply chain solution platform to enable operational services.
Which Sectors to Pick for On-Demand Delivery Application?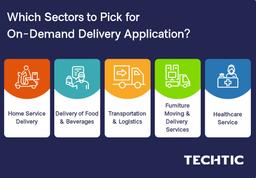 1. Home Service Delivery
From fixing leakage problems to fixing electronic devices, you can download the mobile app and hire professionals who will quickly show up at your home to resolve the required challenges.
2. Delivery of Food & Beverages
On-Demand Apps facilitate us to have our meals at our doorsteps with merely a few clicks and quick time. Examples include Swiggy or Zomato.
3. Transportation & Logistics
Even though Uber and Lyft are worldwide leaders, several new apps offer similar services in diverse countries, with immense prospective still present in this domain.
4. Furniture Moving & Delivery Services
The shifting business can even utilize on-demand delivery apps. Examples include applications such as Dolly and Lugg.
5. Healthcare Service
Users can monitor in real-time their ordered medicines and delivery at home or healthcare professional's commute time.
Execution Flow of an On-Demand Delivery App Development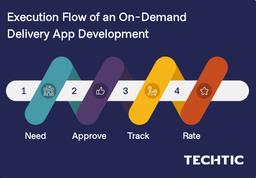 1. Need
A person needs a service or product and waits for the provider's action. Despite diverse app categories, the seeking methodology stays similar.
2. Approve
The provider can readily approve or disapprove the service request for on-demand applications in the 'Person to Enterprise to Person' use case. On the other hand, in E2E applications, the contract amid both business parties decides. However, in E2P apps, disapproval is hardly ever a case.
3. Track
The user can explore the progress of the product orders or service enablement. When the service provider is in the route, the user can monitor and track its overall movements on a map within the mobile app.
4. Rate
The person rates the service through stars, writes feedback, or reviews the service or product they received through the provider.
Key Features of On-Demand Software Solutions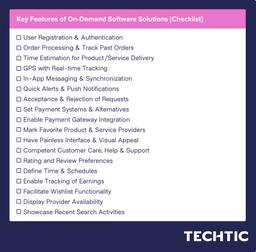 User Registration & Authentication
Resourceful User Management
Order Processing & Track Past Orders
Time Estimation for Product/Service Delivery
GPS with Real-time Tracking
In-App Messaging & Synchronization
Quick Alerts & Push Notifications
Acceptance & Rejection of Requests
Module to Start & End the Service
The Matching of Diverse Algorithms
Set Payment Systems & Alternatives
Enable Payment Gateway Integration
Mark Favorite Product & Service Providers
Have Painless Interface & Visual Appeal
Competent Customer Care, Help & Support
Rating and Review Preferences
Define Time & Schedules
Enable Tracking of Earnings
Facilitate Wishlist Functionality
Display Provider Availability
Showcase Recent Search Activities
Quick Steps to Follow to Build an On-Demand Delivery App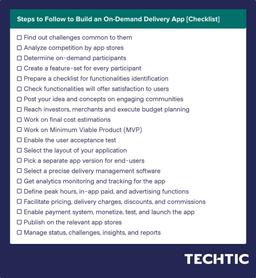 Identify the precise target audience and verify their needs
Find out challenges common to them
Analyze competition by app stores
Determine on-demand participants
Create a feature-set for every participant
Prepare a checklist for functionalities identification
Check functionalities will offer satisfaction to users
Post your idea and concepts on engaging communities
Reach investors, merchants and execute budget planning
Work on final cost estimations
Work on Minimum Viable Product (MVP)
Enable the user acceptance test
Select the layout of your application
Pick a separate app version for end-users
Select a precise delivery management software
Get analytics monitoring and tracking for the app
Define peak hours, in-app paid, and advertising functions
Facilitate pricing, delivery charges, discounts, and commissions
Enable payment system, monetize, test, and launch the app
Publish on the relevant app stores
Manage status, challenges, insights, and reports
Cost to Build an On-Demand Delivery Application
It would cost around $7,000 to $9,000 with committed professionals building your on-demand app with a time frame of approximately 8,00 to 9,00 hours.
Wrapping Up
Is it the right time to launch and introduce an on-demand delivery startup in 2021? Our response is yes, as the delivery markets prolong to grow, and there are still numerous cities without on-demand delivery services. As an On-Demand Delivery App Development Company, we can help you make on-demand delivery applications for your business.