How to Retain More Customers for On-demand Apps?
Sector: Digital Product
Author: Sweta Patel
Date Published: 05/03/2021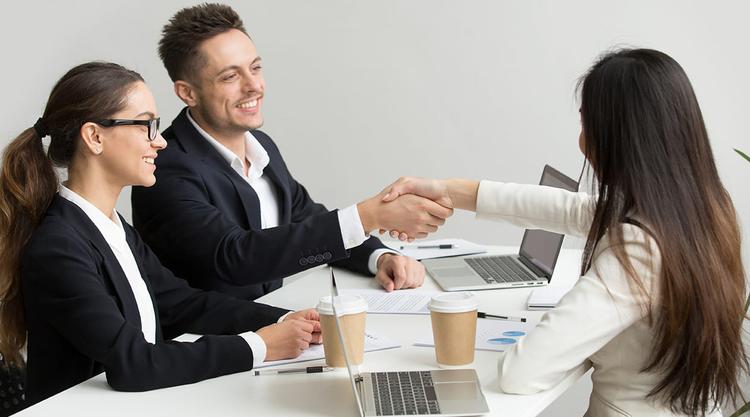 Customer retention has become the need of the hour for on-demand apps.
The On-demand app economy is predicted to reach a market value of around $335 Billion by 2025. With the increasing on-demand apps in the market, it has become difficult for the apps to retain customers. And such competition keeps amplifying the costs of customer conversions.
Do you put in enough effort to re-interact with your prospects and customers to get them back? If you have not tried to market to existing customers after their previous sales, this is the best time to do it. You can create significant strategies to boost customer retention.
How Customer Retention Tactics can Enable your Business?
With innovative customer retention techniques, you can fetch additional value from your current customer base.
It would help if you ensure that the time you have invested in bringing new customers, must remain with you. Come up with a better customer experience strategy, and try to make them loyal to your on-demand apps.
Acquisition Vs Retention: What should be the Center of Attention?
Customer acquisition is dealt with attaining new consumers. The cost of acquiring fresh consumers is a significant measure and precisely evaluates the value customers bring to organizations.
The below image depicts the greater significance of customer retention compared to customer acquisition and other business revenue drivers.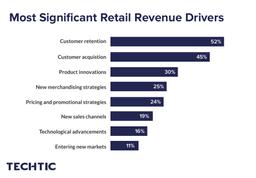 We discussed both customer acquisition and retention. Now we will explore the timeline below for Acquisition Vs Retention. And discover what should be the attention center for on-demand services at their diverse stages.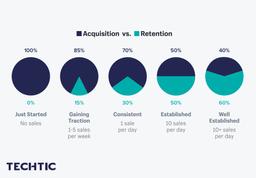 Take a quick look at the diverse phases for recommendations on your business's probable investment levels with a comparison between customer acquisition and retention.
1. At the Start
When you have merely initiated your on-demand business, you should just focus on acquiring new customers and nothing else. Apply innovative business techniques that will assist you in increasing your customers.
2.  Having Some Grip
With time and effort, you now have some grip on your customer base. You are converting customers on some defined intervals. In this phase, you can start to implement retention tactics to drive your customer to purchase more.
You can take the help of digital campaigns that can steer your earlier customers to buy from you yet again. You can start mixing your customer acquisition and retention tactics in this phase.
3. Gain Steadiness
Now at this stage, you are acquiring customers at a steady pace. This is the right phase where you should initiate adding more retention strategies and blend them with your acquisition tactics.
Here, you can switch to marketing automation techniques. You can enable nurturing campaigns right in your sales funnel. You can even introduce referral and loyalty programs to boost the rate of customer retention.
4. Get Concrete
You are now a concrete on-demand business. However, the rate of customer acquisition can slow down at this stage. You may have more one-time purchases; nevertheless, a customer retention strategy can assist you here.
With effective customer retention techniques, customers can be made to purchase more often, which boosts their ongoing value. At this phase, you should start implementing your customer retention tactics with advanced tools.
5. Become Highly Established
In this phase, your business has encountered many challenges and has also seen successes. Even if you are using sales and marketing automation. Now is the right time to significantly concentrate on customer retention.
An increase in retention efforts here can lead to quick sales escalation, which will not be seen with direct acquisition techniques.
Why Customer Retention while Building your On-Demand Apps?
Irrespective of the business domain, the on-demand industry is continuing because of customer retention. If you don't have a robust strategy for the same, you will probably lose the game.
Here are reasons why you should plan your customer retention strategy while building your on-demand apps.
1. Competitiveness
The on-demand business has turned into a more competitive domain now. If your customers pick your competitors over you, you not only lose reliability but even business opportunities.
2. Distraction
You will find too many components that would distract a user from your app. It could be their personal thing or probably a push notification by your competitor leading to a switch.
3. Deals & Discounts
Your competitors are attempting hard to sell off their products or services, and to contend with that, even you launch similar deals and discounts. However, that is how customer retention tactics are being interfered with and tampered with.
4. User Experience
A superior customer onboarding procedure assists you with your customer's loyalty for a longer time. However, if you fail to onboard or serve your customers better than the best, you will lose your customers for a lifetime.
9 Ways to Retain More Customers for On-Demand App Business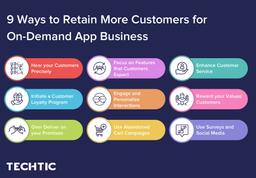 1. Hear your Customers Precisely
Just gathering over the surface data pointers to enhance customer retention is not sufficient. For improving and crafting an ideal customer journey, you need to precisely hear your customers.
You must explicitly understand how they feel about your services and products at all levels. You need to mix their needs and analyze user data that you can extract from session recordings. You can even run precise on-page surveys and ask questions involving customer interviews.
You can also utilize tools like heatmaps. Heatmaps are applied to showcase and track precise user behavior on defined website pages. They display where users are clicking and also show the outcomes of eye-tracking tests.
A step further, you need to spot the services gaps by listening to your customers. Knowing your customers is the basis for forming long-term customer relationships.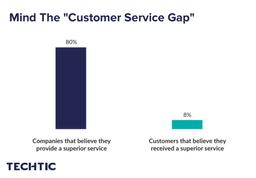 2. Focus on Features that Customers Expect
There is no doubt that on-demand apps are the future. From traditional approaches, we are marching towards a sales world where purchases are highly convenient and on-demand.
Consumers don't want to explore the choices accessible to them and demand tailored preferences. They demand services and products at the time they want, at the location they are comfortable, and at the pricing, they dictate.
So you are required to plan the required features for your precise business niche. Few features will be an integral part of on-demand app development, and few will be of on-demand delivery solutions. Both are significant and should back each other.
Your features should have the capabilities to meet almost all the customer expectations. You also need to satisfy key stakeholders through the app features to continue your on-demand delivery app services.
3. Enhance Customer Service
Having close interactions with your customer service teams is the straightforward approach to get consumer insights. The approach will let you know the existing customer challenges. And even help you plan customer retention strategies for your on-demand services.
You can take the feedback from your business analysts, managers, or senior professionals with access to help desk reports. So, you can get an overview of product challenges your unsatisfied customers are facing and mitigate them.
Improving customer services will offer you better customer feedback. This feedback will assist you in ideating enhanced app designs, features, and functionalities swiftly.
4. Initiate a Customer Loyalty Program
Loyalty programs, also called customer retention programs, are proficient ways to boost buying frequencies. They inspire customers to buy more and win rewards.
This strategy is a profitable system where customers get added value from their every purchase. And you continue to receive repeat business opportunities.
You can offer welcome reward points or reward customers on regular purchases. Later, you can switch to automated loyalty features and reward customers for actions they take on your on-demand app.
5. Engage and Personalize Interactions
Working with every customer as an individual is significant for customer retention. It does not matter what exactly is your engagement approach.
Whether you are running an email campaign, proposing a product pitch, or offering customer rewards, personalization is the key. By fruitfully personalizing your loyalty programs benefits you to a 5.2 times boost in word of mouth reveal.
For a better engagement strategy, you require to measure vital data points such as product page visits, tracking wishlist, add to carts, and other tactics.
With these insights, you can further craft customer segments that boost your sales and marketing messages. And even augment the customer rewards involved in your loyalty programs.
6. Reward your Valued Customers
Using CRM software, you can identify which of your sales accounts are highly profitable and who are your valued customers.
By identifying who brings you considerable revenue enables you to focus your time and efforts resourcefully. This scenario will further amplify business opportunities of up-selling and cross-selling.
Use incentives to reward your most valued customers for raising their loyalty further. You can inform them about the incentives as well as rewards and make them feel superior.
They can prolong to be your loyal customers if you apply the 80/20 rule (80 percent of sales is generated from 20 percent of customers). And this deal will always be profitable!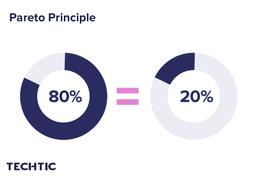 7.  Over Deliver on your Promises
You will, without any doubt, lose customers if you promise them big and not meet your commitments.
That does not mean that you should under-promise, as it can make winning businesses tougher in this competitive world. However, conveying high but rational promises and then over-delivering them is an exceptional approach to sustain customer retention.
8. Use Abandoned Cart Campaigns
You can bring back lost customers by mixing abandoned cart campaigns in your customer retention strategy. As per a recent survey, 69.57 percent of online shopping carts were abandoned, and the buying was not concluded. The below statistic displays the annual digital shopping cart abandonment rate globally right from 2006 to 2019.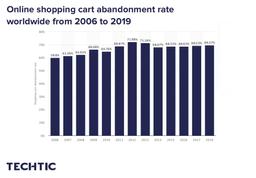 Merely as your prospects didn't act quickly, doesn't mean that they don't have to buy the products. Many times in due course, they purchase the same product elsewhere.
So, for retention and converting a probable customer base, you require abandoned cart campaigns. You can set up automated emails that can engage with them on the abandoned cart. You can even utilize Push notifications and Facebook messenger as a tool for crafting abandoned cart campaigns.
9. Use Surveys and Social Media
Up to 97% of your discontented customers will churn wordlessly. Since you don't have any insights on such customers, you require being proactive. You must use surveys and track social media to get information on the challenges causing this churn.
You can enable automated surveys on your on-demand apps. And this can help you in finding the issues with your existing user experience. If you are quick enough to react to problems, you can reduce the negative effects on your customer relationships.
You must implement surveys when users complete a particular task and trigger tactics to make users return to your app even after longer inactivity.
You can utilize social media listening tools such as Hootsuite or Mention to monitor your customers and deduce insights from it. You can generate valuable on-demand app feature ideas by merely listening to your customers. Track all posts related to your company, services, and products frequently to plan your retention tactics.
All these above activities will provide you a realistic image of how stakeholders and customers feel about your company products.
If your surveys are comprehensively planned, then you are on the precise track. Else you might drop your customer base, especially with competitive on-demand businesses.
These were tips for on-demand app retention. Let's further discuss the customer retention mistakes while dealing with on-demand app development.
Gains from Customer Retention for On-Demand Apps
1. Reduction in Costs
With customer retention strategies, you can depend on analytics and a/b testing tools to enhance interactions through your on-demand app, rather than heavily investing in ads.
So any campaign enhancing customer retention will be cost-effective and provide improved ROI than a comparable acquisition program. Enhancements in retention will also augment the outcomes of your current sales and marketing programs.
If you boost every customer's value by around 50 percent, the acquisition ROI doesn't just enhance by 50 percent; but can even amplify profitability by more than 100 percent.
For instance, if you invest $50 in Facebook ads to get a fresh customer, and every customer is worth $60, your profitability is $10. However, enhancing customer retention by 50 percent will get your profitability from $10 to $25, which is more than two times per acquisition.
2.  Get more Loyal Customers
One-time consumers don't relate with your company brand. They will only select your product relying on lower pricing or other discrete returns. However, when you retain customers with optimistic communications, there is always a chance to create a loyal customer base.
Loyal customers visit repeatedly and invest more in your products compared to a first-time customer. For on-demand apps, you will find it simpler with minimal efforts to upsell and cross-sell to loyal customers.
3. Backs your Brand
Many businesses underestimate the influence of long-term customers. They even overlook word-of-mouth marketing tactics.
However, for a customer to rely on your brand or product to recommend it, they require more than a solitary engagement.
Wrapping Up
Your existing customer base is the most valuable asset your on-demand app has currently. Your loyal customers already know your business brand, they know your services and products, and they clearly understand your offerings.
Putting efforts and time into enhancing the user experiences of your loyal customers as matched to new customers is more lucrative. So, avoid putting all your energy into searching for fresh leads and new customers, as retention can be a more effective approach to boost your revenues and profitability.
Talk to one of our On-Demand App Developers to help you plan how you can improve your existing customer retention during your on-demand delivery app development process. You can directly connect with us to develop on-demand industry software solutions!