Why Digital Healthcare Startups Struggle and Fail?
Sector: Digital Product
Author: Sweta Patel
Date Published: 04/19/2021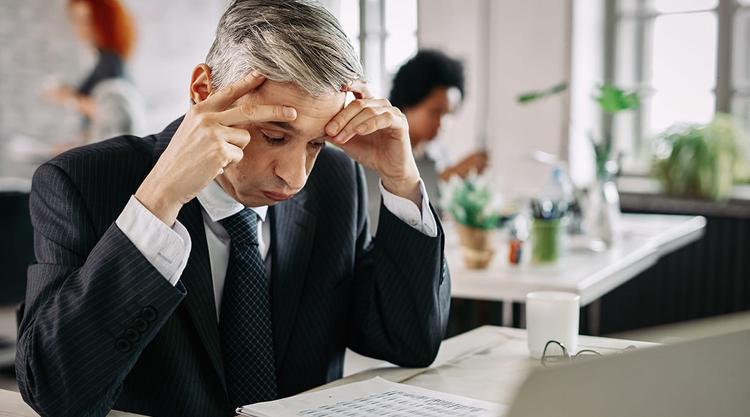 Most digital health startups do not survive long, mostly losing steam before realizing adequate profits. Despite having sufficient users, investor funding, and buzz across their products, these startups go out of business in some years to commencement. As per Forbes, 98% of digital health startups face severe challenges, and many are already viewed as dead.
These struggling startups' persistent problem is they are short of an innovative business model and frequently miss thoughtful go-to-market planning. Here in this blog, we have explained the key reasons for these companies struggling hard and meeting failures right in the process.
12 Reasons Why Digital Healthcare Startups Struggle and Meet Failures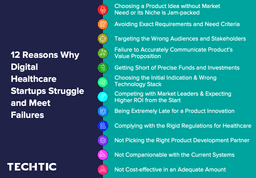 1. Choosing a Product Idea without Market Need or its Niche is Jam-packed
Doing comprehensive market research and then developing the product based on what precisely is required in the marketplaces has a healthier likelihood of being in demand. However, many healthcare startups either put in little effort or are in a hurry to launch their products without thorough market research. Their stakeholders fail to answer the most crucial question before commencing a company is – "Is there an explicit requirement for the product they are about to provide?"
They fail to understand their business rival's offerings, execute a gap analysis, go through medical literature, and connect to prospective customers and specialists in the field. It is significant for you to analyze that your niche is not overcrowded with similar products and even check if the target market will accept the fresh healthcare innovation you are strategizing to build.
Figuring out a niche market and intelligently positioning your product for an explicit audience not only generates your credibility over competitors but also makes it simpler for the correct customers to express the proposition that, "This particular product is principally built for him."
2. Avoiding Exact Requirements and Need Criteria
The current healthcare companies should choose the need-driven innovation to ease their product development processes and prevent falls. Rather than jumping into the invention and directly designing the technology, they should explore how they will resolve the present challenges and do the same uniquely.
This procedure involves figuring out the unmet healthcare requirements, studying different existing solutions, and identifying the stakeholder's needs and industry standpoints to shun predetermined concepts about a specific solution or its current structure. This process involves interviews with industry leaders, involved stakeholders, market and audience research, and many times in-person observations to find the outcome of an issue in several health settings.
In this scenario, the healthcare innovators should create a list of needs a health solution will deliver known as a 'need criteria' to fulfill numerous stakeholders' demands and enhance the benchmark of solution results. This list includes need criteria such as product simplicity in use, cost-efficiency, and swift integrations with current systems. Rather than launching a product and then seeing the user's response, you should check the need criteria and product acceptance across early adopters.
However, the technology innovators are time and again attracted to avoid these procedures as it requires more effort. They hop hastily into product development without any requirement collation or working on setting up "need criteria".
3. Targeting the Wrong Audiences and Stakeholders
Many businesses focus on building and promoting products directly to consumers without considering the other involved stakeholders. They are, in reality, the significant gatekeepers for the marketing and sales channels of their products.
Similarly, most healthcare industry startups are focused on consumers, without considering the medical professionals like doctors and other stakeholders like insurers who are essential to be involved in the passage of innovative medical products across markets.
4. Failure to Accurately Communicate Product's Value Proposition
The value proposition is the fresh medium to marketing and sales. Most of the startups in health care pitch themselves as "more enhanced, swifter, and cost-effective" than what's already on the marketplace, and their business approach ends there. However, that isn't adequate.
You need to answer your audiences in detail; how is your solution more enhanced to the current ones? How much swifter? How much more cost-effective than the benchmark of existing care? You have to be ready to present your unique value proposition and what value to propose in front of diverse stakeholders. You can better take your time early on and then define your healthcare solution's benchmark and quantitatively put forward how your product enhances it.
5. Getting Short of Precise Funds and Investments
Most health startups fall short because of the failure to plan and implement strategies that are developed right in the technology sector, which is entirely different from the healthcare industry guidelines. This scenario leads to collapse, and though funds are available for the developmental tasks, the startups struggle to deliver innovative technologies to revolutionize the health industry.
Meanwhile, though these startups' advanced healthcare products impress consumers, patients, medical professionals, insurers, and other stakeholders when these products reach the final marketplaces, the clinical regulations change, which completely breaks the business model of these startups. And these changes impact the investments involved in these companies. Many times by not valuing your innovative product in a precise way leads to receiving lesser funds.
6. Choosing the Initial Indication & Wrong Technology Stack
The technology utilized by most health startups has numerous likely indications. Such companies naturally choose the initial indication exclusively based on what the stakeholders of that startup know about. Conversely, this is not measured to be the precise call all the time.
In short, the technology verification through primary indications will exhaust your assets before you have any time to think and transform. Hence, even while choosing the right technology stack, you need to execute a value proposition analysis on a probable set of indications and then select the most convincing one. You can consider the factors like the most competitive setting, technology robustness, business scalability, and user acceptance as probable indications.
In current scenarios, many companies fail to understand the exact technical requirements and pick up the most modern technology stack like Beacon, IoT, AI, or ML, and have faced struggles and business failures.
7. Competing with Market Leaders & Expecting Higher ROI from the Start
Many healthcare startups continuously follow their market leaders, relentlessly researching them and think of competing with them from the start, which most of the time turns out to be a wrong strategy for these startups.
All that time invested in tracking the market leaders can be spent elsewhere, making your product more consistent and efficient. Understanding your audience better, training your employees, enhancing your customer services, or producing a series of promotional campaigns for your product can be way more effective than thinking about how to compete with market leaders from the early stages of your startup.
On the other hand, any business at the end comes down to numbers and ROI. Boosting the number of customers served every year, trimming down costs, enhancing gross profit margins, and the ultimate business profits always matter.
However, trust us, though. What you showcase as your planned revenue and anticipated earnings growth will not be the only numbers that stakeholders and investors consider about your startup business. How innovative your current or proposed product is and how it can boost your startup's valuation over time is the bigger picture at the end.
8. Being Extremely Late for a Product Innovation
If you have built apps to track walking, cycling, or if you measure only the step counts and heart rate, which even the primary healthcare product in the market does, sorry to say that – you are excessively late. A startup has to find an innovative functionality and niche in the marketplace and be a genuine solution provider to a present challenge or problem that hasn't been resolved in the current time.
9. Complying with the Rigid Regulations for Healthcare
Healthcare is not the space to transform things quickly and hurry with innovations. It has several stakeholders, guidelines, regulations, and interests to follow precisely. The industry is disinclined to alter rapidly, and thus acceptance is relatively slow, which is a big challenge for most startups. However, that does not mean you can sit and relax.
10. Not Picking the Right Product Development Partner
Most healthcare startups rush while picking a technology or product development partner. They do this as they think they will lose potential customers and business opportunities if they invest more time in the partner selection process. However, this is a wrong strategy. You need to thoroughly check the product development company's technical proficiency, domain experience, and adherence to industry benchmarks. You also need to inquire that the partner company has delivered successful outcomes and achieved steady goals for their client base.
11. Not Companionable with the Current Systems
Most healthcare products are innovative, but they do not blend effectively into the existing workflows, current schedules, and the daily lives of the audiences they are targeting. It is not merely substantial that you prove to have an Integrable solution if it is not friendly with the existing healthcare facility's IT software or systems.
Furthermore, it is not acceptable if it puts an additional management burden on the present employees or needs them to place an added mile and get further digitally educated to use your healthcare solution.
For instance, Lantern, one of the leading US-based healthcare startups, didn't act swiftly, considering the healthcare market. Its application enabled users to have a self-evaluation assessment, which assisted patients with negative thoughts. The company tried to put effort into analyzing different use cases to comply with regulations through their app. However, in the end, after many attempts, they found that their app can go well with the medical insurance sector and can help conventional healthcare insurance firms.
However, they later realized that the healthcare sector moves extremely slow, and they made the error of miscalculating the time span for finding a fitting business scenario, which made it difficult for them to attain timely revenue through their product.
12. Not Cost-effective in an Adequate Amount
A misjudged profit margin, an extremely low or high product price, and mislaid product cost-effectiveness can lead to a considerable end even for a highly capable digital healthcare startup.
So, though many startup ventures have launched innovative healthcare products with significant usability, they had to shut down their operations due to a wrongly crafted pricing strategy. Furthermore, though these startups have the most effective network and a valuable business model, however, there are bound to be lower customer numbers if their product is not cost-effective across sufficient levels.
The Best Approach to Resolve these Issues and Challenges
The best approach to resolving these challenges discussed above is collaborating with an industry and technology leader who has both the requisite business knowledge and technology expertise. Product innovation is as decisive in any business; however, it must have an objective with a calculable ROI and precise value addition. Here, a single technology and business partner can better assist you in accomplishing them both, guiding you through your entire product innovation journey.
Wrapping Up
In the current scenario, startups will inevitably run into issues and challenges. However, these recommendations can help avoid some of the significant health startup errors that lead these companies into financial problems.
However, there is no alternative for exploring and learning as much as you can about your product audience, target markets, your close competitors, and the requirements of your probable customers. So, you require getting the consumer needs correctly, shape an innovative solution to enable your stakeholder's priorities, and prove that your product provides enhanced and lucrative results.
If you have a good business idea, you should partner with a leading healthcare app development company like ours to revolutionize your idea or concept into a genuine product. We have the best healthcare mobile app developers teams and highly competent business analysts who can complement your product vision. So, leverage our healthcare app development services and make your business highly profitable.