Why Custom Software Development is Important for Small Businesses?
Sector: Digital Product, Technology
Author: Hemant Kumar
Date Published: 03/18/2020
Okay, let's firstly acknowledge that the times are changing and things today are not how they used to be a couple of years back.
From the mobile applications we use, the smartphone models, our portable devices, televisions, and even the way we consume entertainment, everything has changed.
The modern-day consumer is super intelligent and is more informed than ever.
That we can no longer afford to sugarcoat product features and push them to customers.
Their needs have evolved and it's these needs that keep our businesses on the run. We are consistently on the lookout for newer ways to engage with our customers, optimize their experiences, simplify the way we solve their concerns, and shorten the time taken for it.
While conventional software solutions are great, they cannot accommodate all of users' increasing concerns and needs.
That's why we believe in developing software applications that take into consideration a holistic perspective of all of our users' needs and rolling out an extensive solution.
So, if you're a small business looking to launch a software application, remember that preferring a conventional software program can allow you to quickly take it to the market. But in the longer run, you would end up struggling with retention.
That's why we're here. We will shed all the information you need to know on why custom software development is key to increasing your business profit, especially if you run a small business.
But before that, let's quickly understand what custom software development is.
What is a Custom Software?
Custom software development services are more like getting a bespoke suit stitched as opposed to buying a ready-to-wear set. It's based on the fact that not all the requirements of users are the same and that one cannot have one-size-fits-all software.
While there are off-the-shelf software applications in the market, tons of them in fact, cannot solve all user concerns at the same time.
That's when custom software development comes in. This involves developing a software application from scratch taking into consideration factors like specific user groups, their requirements, and concerns, their exposure to tech, and more.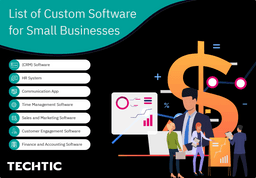 For instance, let's consider the on-demand economy.
Today, we could order our preferred products and services like cabs, food, couches, and anything else from wherever we are. If you plan to start an on-demand business, you cannot help but get custom software developed.
You cannot use a licensed SaaS template to come up with unique on-demand software for your users.
The software that is appropriate for food delivery is not ideal for an app like Netflix. You cannot have the same framework for an on-demand cab service and a platform like eBay. These differences are what give rise to custom requirements.
6 Advantages of Custom Software Development
Though we will definitely look at a lot of advantages of custom software development, let's address the most important aspect of it first.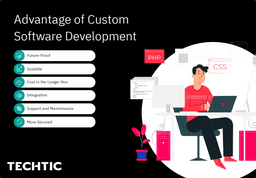 1. Future-Proof
Remember we started the post claiming things are not how they used to be? If that's retrospective, let's be speculative for a while.
Things will change in the next 3 to 4 years. That's the norm.
As the way we consume information changes, there would be newer ways to get things done. From ordering through phones, we're using an app or desktop software now.
With the simultaneous rise of the Internet Of things and its allied devices, we could be probably letting the devices do things for us autonomously. In that case, an off-the-shelf software application becomes obsolete.
But a custom software application? It can be tweaked, updated, and patched depending on our needs and rolled out again.
Custom software can be perpetually made to be relevant in the industry as long as we as business owners have an eye for detail. In that sense, custom software applications are future-proof.
2. Scalable
These applications are scalable. Meaning, we can expand or downsize an application's scope and functionalities depending on our needs.
Tomorrow, if our business is expanding globally across diverse markets, we could seamlessly add new features to support this.
Conversely, we could also trim down a lot of features if we're pivoting. This is not the case with traditional software applications.
For a better understanding, let's just take a word processor. Instead of buying the license to a word processor, if you build one of your own, you could add in a lot of personalized features useful to you and your market.
Tomorrow, if your business is doing great, you could add more features like dictation, real-time translation, and more. Or, you could turn the word processor into a document viewer if you're pivoting.
Besides, we can tie the scalability factor to your tech infrastructure as well.
While traditional software apps require minimum system requirements and tech infrastructure to work, custom software applications can be built to leverage the full potential of your existing infrastructure.
As you expand, you can seamlessly expand the scope of your software, too!
3. Cost in the Longer Run
When you prefer licensed software, you end up paying for features you don't use or are irrelevant to your business. This turns out to be expensive in the longer run.
But with custom software, you only develop features that are inevitable and ideal for your business requirements.
Those asking custom software development costs, understand that though this could be expensive at times – depending on the company that develops your software and other factors – this is definitely cost-effective as time passes.
4. Integration
Today, tech services are not standalone offerings. They are evolving into an ecosystem of applications working simultaneously to offer optimum consumer experience.
That's why today's applications come with tons of 3rd party software integrations like payment gateways, analytics plugins, heat map tools and more depending on your business.
When it comes to traditional software, there are restrictions to integrating 3rd party apps but with custom software, it's not even a task your team should dedicate a scrum session to.
5. Support and Assistance
We are small business owners.
When we use the software of big market players, we are one of their clients. Or to put it precisely, users.
So, when we need support, we're usually put on hold. Or, they raise a ticket that has a conflict-resolution time of 48 hours.
While we could wait, customers depending on our solutions can't.
That's where one of the biggest strengths of custom software applications lies. When we work with custom software developers or software development companies, we are one of their premier clients.
We have the privilege of demanding swift action and assistance when we're stuck. Besides, training becomes simpler and the entire deployment of the new software becomes simplified as well.
6. More Secured
The more popular software applications have widespread usage. So, hackers are used to these applications and they know them very well their vulnerabilities.
They are much secured mainly because of the fact that they have been built for niche purposes. This drastically reduces the chances of intrusions, attacks, and other security threats.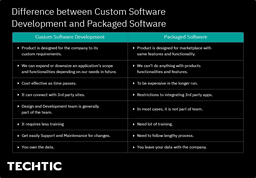 Build a custom software now
A custom software application offers so many advantages to our small business, right?
If you look at it as an investment than an expense, you would understand its potential further. It's not too late to get one built for your requirements. No matter if you plan to scale your business, or you're testing your waters, awaiting funding, or pivoting, custom software can fit into any of your requirements.
All you have to do is specify and get it developed.