5 Profitable Fintech Software Development Fields for Starting Business
Sector: Digital Product
Author: Chintan Bhatt
Date Published: 02/03/2020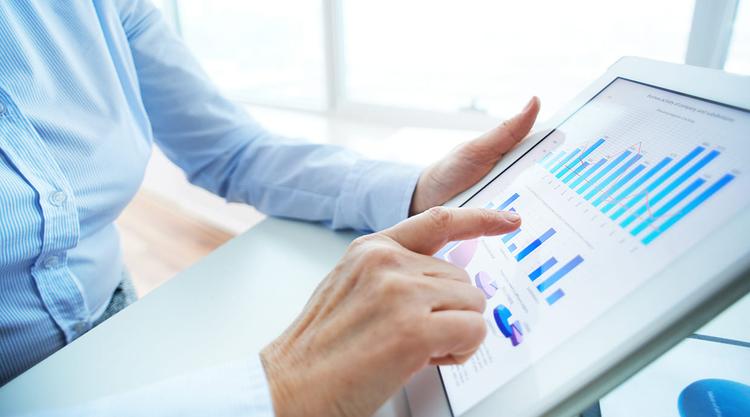 The last decade showed us what technology was capable of doing. Influencing all aspects of our lives, technology has indeed changed the way things worked previously.
This decade, things are simply going to become more powerful. This holds especially in the fintech sector, where technology is redefining conventions. With digitization and the reach of portable devices and the internet, banks and finance companies are increasingly looking for ways to keep up with trends, retain customers, and attract new.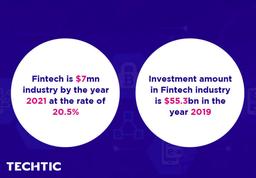 For those of you who didn't know, the fintech sector is expected to become a $7mn industry by the year 2021 (at the rate of 20.5%). Besides, the number of investments in this sector numbered to $55.3bn in the year 2019.
Banks have realized that customers look for simpler, faster, and more secure ways to transact payments and simultaneously enjoy convenience. That's why tons of finance companies are reinvesting in tightening their tech infrastructure.
However, developing a software application for a fintech solution is one of the complex processes as it involves tons of crucial aspects. Even a minor bug, if not detected at the right time, could lead to data breach or compromise of confidential information or even online threats.
Peer to Peer Lending
Investments
Blockchain-Powered Solutions
Digital Banking
Billing/Payment Software
Money Transfers
Crowd Sourcing
Insurtech and more
To deliver what customers expect out of fintech companies, fintech developers have to incorporate a myriad of technologies whose functions have to be complementary.
Some of the most disruptive techs implemented in the development of fintech software applications include:
Artificial Intelligence
Data Science and Analytics
Chatbots
Cloud Services
Blockchain
Microservices Frameworks
Automation
Mobility Solutions and more
Top Challenges in Developing Fintech Solutions
For a fintech solution to be seamless, the entire ecosystem of functions and operations have to be precisely working. Several key factors have to be considered at the time of ideation so that the development phase could be comparatively seamless.
You would be dealing with data that is of high value and confidentiality. So, the solution you develop has to ensure there is no data loss.
Your fintech solution should support scalability in both ways. Meaning, you should be able to expand in terms of functionalities and load and downsize as well.
The solution should also comply with fintech regulations and be constantly on the lookout for newer security concerns and threats.
Fintech solutions development also involves incorporating complex integrations.
Though these are challenges, a strong development team and optimized project management can help you steer clear of any compromise.
5 Massive FinTech Software Development Fields you Could Invest
You cannot build your fintech app randomly, you initially got to analyze the market and choose the sort of finance application. And we're getting to assist you to figure the difficulty out.
Let's get started with 5 massive fintech software development fields you could invest in.
1. Mobile Payment Solutions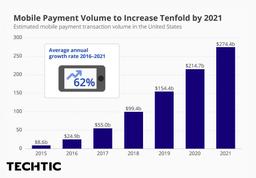 Like we mentioned earlier, the previous decade saw the tremendous market penetration of smartphones and the internet. With such a rise, the fintech industry saw an equal number of opportunities to diversify its products and services. This led to the emergence of mobile payment systems, a concept where we no longer need physical currencies to initiate transactions.
Digital wallets are what they are called and they wirelessly transfer money from one account to another. If you notice, some of the simplest solutions have the most complex backend processes. Since this deals with people's money, mobile payments incorporate most of technology's offerings to ensure seamless and secure transactions.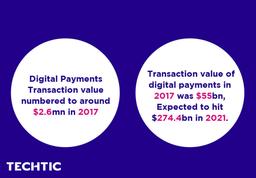 A solid and stable sector, digital payments transaction value numbered to around $2.6mn in 2017. The transaction value of digital payments in 2017 was close to $55bn, which is expected to hit $274.4bn in 2021.
2. Data Aggregation, BI, and Automation
In simple words, business intelligence refers to the use of data to detect patterns and make crucial business decisions. For this, one needs tremendous amounts of data, a system to manage the volume (Big Data) and process it, and automate redundant tasks wherever possible. These three processes should function mutually at any given point in time.
With the help of business intelligence, you could monitor customer behavior, detect market trends, find loopholes in security and fix them, elevate user experience, and do more. With the incorporation of predictive analytics, business intelligence can also tell you the right time to take a preventive measure even before a concern pops up.
One of the simplest applications of this lies in gauging the repayability of a borrower with an automated background check process of his previous records and overall online behavior. The more data touchpoints in a system, the more data generated.
3. Chatbots
To give a glimpse of the potential of chatbots in the market, understand that by the year 2020, over 85% of the customer interactions with enterprises will not involve a human. This means it will be the chatbots that will be taking in our requests and queries, processing them, and taking necessary actions.
For an industry like fintech, where there is an inevitable need for assistance and support all through the year, a highly precise chatbot is absolute essential to deter undesirable consequences.
Processes that can be automated using chatbots:
Personal finance management
Financial advice
Micro investments
Customer support
Redundant processes like verifications, PIN changes, processing refund requests, and more.
4. Blockchain-Powered Solutions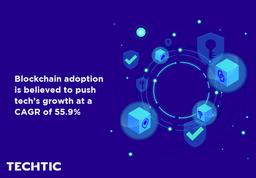 From being tech jargon, blockchain has become mainstream today. Companies are gradually realizing the potential of blockchain technology and finding new ways to incorporate it into their businesses. This adoption is believed to push tech's growth at a CAGR of 55.9% by the year 2021.
For the uninitiated, blockchain is a highly secure decentralized ledger that is distributed among members. There is no single authority in blockchain and all the members are aware of all transactions, making it uniquely transparent. Because of this, this tech is considered to be fraud-proof and is ideal in tackling money laundering concerns.
Implementation of Blockchain:
Rewards and Loyalty Programs
P2P Services
Insurance
International Payments and more
5. Insuretech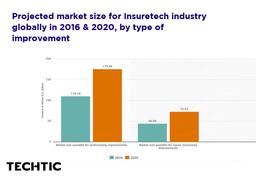 What emerged in 2010 quickly went on to become a mammoth in the fintech sector. Statistics reveal that the amount of funding in this sector numbered to $1bn in 2017.
A combination of the words insurance and technology, insurtech offers:
Personalized Services
Optimized Risk Management Features & Recommendations
Dynamic Pricing Offers and more
To achieve this, insurtech developers leverage the potential of IoT, wearables, data science, artificial intelligence, and mobility solutions.
Wrapping Up
So, these were the 5 massive fintech sectors that you could blindly invest in. Since fintech is all about numbers, you saw the estimated growth of this industry in the coming years. If there's a good time to venture into fintech software development, it is now.