How Bank and Fintech Collaboration can redefine the Future?
Sector: Digital Product
Author: Chintan Bhatt
Date Published: 02/18/2021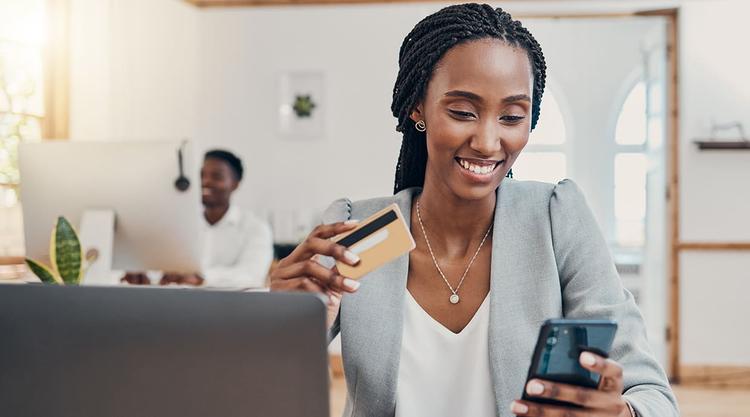 What does the average customer turn to when they require financial assistance? The answer is vague but is probably not their banks. As per a survey in April 2020, it was found that merely 14 percent of consumers directly connected to their banks for financial advice following a life event that essentially affected their existing finances.
Can Banking and Fintech (financial technology) play satisfactorily together? So, let's explore in this blog post why banks require partnering with FinTech companies and how banks must successfully partner with them.
Why do Banks need Fintech?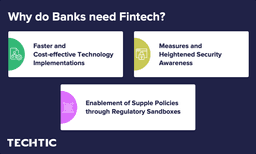 1. Faster and Cost-effective Technology Implementations
Banks need technology implementations but are trying to substantiate whether to outsource its development or build their own Fintech products. And this is an essential step because the speed to market and costs attached to the technology implementations are critical for banks.
Some banks have already invested years brainstorming concepts on financial technology without providing considerable results for the end consumer. Instead of wasting the efforts and time, banks can partner with Fintech companies. Fintech software development companies not just understand your requirements but also recommend the technology stack required according to your current and futuristic business model, size, and plans.
2. Measures and Heightened Security Awareness
Data security is imperative while any online transaction category is involved and even more significant in the banking space, as people's savings are concerned. In response to security breaches, banks have placed stress on enhancing the protection of private data.
However, as banks might not have the proper acquaintance to enable data protection on their own, partnering with a Fintech Application Development Company, which has already worked on such vulnerabilities, is the right choice. They can better assist them with needed measures, and which is proving significant in the current scenarios.
3. Enablement of Supple Policies through Regulatory Sandboxes
By joining hands with FinTech firms that provide modern-day and advanced solutions enables banks and financial institutes to allow for swifter operations, faster transactions, and effortless access along with other innovative tactics with quick integrations. Nevertheless, how do these banks and financial institutes meet regulatory needs globally with respect to their varied customer-base and stakeholder's demands operating from different territories? This involved scenario is a big question and may lead to a regulation breach when we consider the deployment of advanced fintech solutions or global financial data enablement, which can be an immense challenge, especially for developing economies.
So, the rise of financial technologies may create multiple regulatory issues. However, FinTechs are closely operating with regulators through regulatory sandboxes. These sandboxes can assist regulators to superiorly understand FinTech solutions and build verification-based regulation policies that help FinTech to facilitate financial inclusions.
How can Banks partner with Fintech?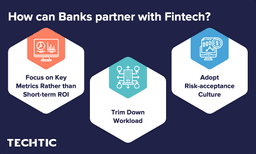 1. Focus on Key Metrics Rather than Short-term ROI
In the current scenarios, for banks, the Return on Investment prospects for new technology projects tend to be comparatively shorter. This short prospect, in a majority of use cases, is a source of disagreement when accepting new technology partners.
This scenario does not mean that banks have to compromise with their investments in implementing innovative technologies. However, ROI requires to be measured by diverse key metrics that are rather softer than other usual software development project practices. These metrics should comprise brand equity from partnering with the FinTech Company, getting hold of innovative skill-sets on an evolving solution platform, new thinking capacities, or the aptitude to try-out fresh technology approaches to create better feasibility.
2. Trim Down Workload
In most scenarios, when a FinTech Company approaches a bank with its new technology stack, it will probably be in the cloud or involve other modern-day technicalities. This scenario means that digital security, enforcing the technology security policies, data storage, involved application performances, and safety levels will all be the area to manage by that FinTech partner.
Here, the bank procurement departments will prefer new scopes or technologies, which will require much shorter approval times for existing FinTech partners than for new contracts. By signing a master agreement, a deal with precise service level agreements with the same fintech partner, procurement workload for adding fresh scopes, or new technologies, can be trim down merely to manage the standard work orders and minimal technical reviews, saving their time for other significant tasks.
3. Adopt Risk-acceptance Culture
A FinTech Company moves swiftly, is not much anxious with regulations, and has a shared culture of risk acceptance that would make top management stakeholders at banks edgy.
However, banks require being alert that their top management and compliance team members do not eradicate the benefits of Fintech Software Development Services and the zeal of a FinTech collaboration. The involved stakeholders must seek out learning from the FinTech culture they work with and get all the needed support from in-house stakeholders to provide the associated freedom when it comes to technology solution integration, migration, architecture, and final deployment.
Wrapping Up
We at Techtic are a Fintech App Development Company, and if you are interested in exploring how we can assist you, please connect with us, and one of our fintech specialists will get back to your requirements as swiftly as possible. You can even easily hire our Fintech App Developers team for your next fintech software or app development project.