6 Ways AI Can Help Revolutionize Mental Healthcare
Sector: Digital Product
Author: Sweta Patel
Date Published: 02/04/2021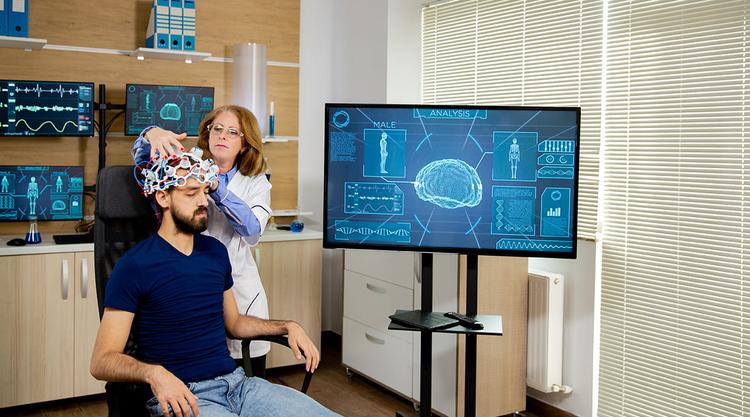 A significant part of the global population deals with different mental health conditions and scenarios at some point in their lives. So far, in most cases, we still depend on individuals to take the plan and seek treatment, regardless of the progressing stigma against asking for mental health assistance. And the truth is that around 40 percent of Americans live in areas where there aren't adequate mental health professionals to meet the community's requirements.
Meeting the Growing Requirements of Mental Health Professionals?
Adding to this, the mental health problems Covid-19 has brought in, it is unnatural to ask: How will we ever meet this rising demand of mental health professionals and related mental treatments? However, Artificial intelligence (AI) can assist in these scenarios. AI and machine learning have the prospective to transform the way we analyze and enable mental health conditions.
Being a top Healthcare App Development Company, we can foresee that smart algorithms will be our primary defense line against the mental health challenges that will be productive for so many people across the globe.
6 Ways AI Transforms Mental Healthcare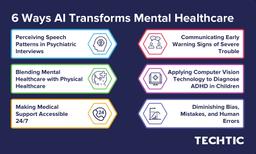 1. Perceiving Speech Patterns in Psychiatric Interviews
IBM Research utilizes transcripts and audio from psychiatric interviews, blend with machine learning approaches and techniques, and precisely identify patterns in speech. This approach clubbed with HealthTech App Development Services helps clinicians predict, track, and monitor mental health conditions such as mania and depression. In the present day with AI tools, it only takes around 300 words to facilitate clinicians to foresee the possibility of psychosis in a patient.
2. Blending Mental Healthcare with Physical Healthcare
Visualize a future where machine learning algorithms can notify health professionals, doctors, and surgeons that an individual is at a high risk of having a severe mental health problem based on their current medical and health records. As per one study, this prediction has been successful wherein the patients brought into the clinic for self-injuries are probable to try suicide in the coming time.
For instance, when it comes to opioid situations, data recommend that around 10 percent of patients who utilize opioids for about 90 continuous days after their cardiac surgery will end up reliant and highly dependent on those medicines. What if the treating and prescribing medical professional was notified when a specific prescription window was reached out?
The quick solution can be – the patients on the edge of this dependence could be suggested to visit a therapist specializing in these areas of medication tapering. So, the patients can extend the array of techniques they utilize to handle painful conditions.
3. Making Medical Support Accessible 24/7
AI tools and chatbots are easy to get to – no matter where you live. They are cost-effective and useful cure alternatives to physical treatments. Some patients may feel more relaxed sharing their worries with an unspecified chatbot than a human being.
No doubt, these AI tools are still fresh and in the experimental phase. However, chatbots and other healthcare tools tracking and enhancing mood could be immensely advantageous, predominantly for patients who would otherwise have mess accessing daily care on a physical basis. There are numerous AI and smartphone-based tools that can precisely guide patients through fitness exercises based on cognitive-behavioral techniques for dealing with medical symptoms. A mental healthcare chatbot can be highly valuable for individual patients facing health issues in the middle of the night.
4. Communicating Early Warning Signs of Severe Trouble
Envision if your smartphone could notify your doctor that you are at risk of mental despair based on how swiftly you are typing or how frequently you leave your home. As per a study, algorithms using language study were 100% precise at finding teens probable to build psychosis. Being a HealthTech Mobile App Development Company, we know that such advance AI tools already exist, and they are instrumental.
Language analysis can even be applied to track and monitor patients going through multiple treatments and notify a doctor when they take a turn for the more unsatisfactory conditions. Most patients don't visit a doctor each day; however, answering frequent questions online as per a routine can assist with an app detecting signs of a dilemma.
Timely interference is crucial in many domains of mental healthcare, particularly in the areas of medication reliance. AI tools can offer valuable support to medical providers and patients flanked by appointments and build day-to-day checkpoints that can grasp a downturn previous to it turns into a risky spiral.
5. Applying Computer Vision Technology to Diagnose ADHD in Children
Scientists are blending computing power and psychiatric proficiency to analyze ADHD in children. They utilize the newest computer vision and machine learning technique to assess children while they are in the stages of specific physical and computer exercises. With this approach, the practices can be used to test a child's decision-making abilities.
6. Diminishing Bias, Mistakes, and Human Errors
AI algorithms have already been verified to be flourishing at detecting signs of depression and post-traumatic stress by analyzing speech patterns and diverse facial expressions. Both physical and mental health providers could use these AI tools during patient intake meetings to enable stuff as a backup. These meetings are incredibly brief, and providers speeding up from appointment to appointment might not perceive when patients reveal restrained signs of difficulty.
For instance, patients who turn highly dependent on benzodiazepines such as Valium or Xanax can show very high-performance levels in everyday scenarios. The AI tool integrated into HealthTech Software Development Services could strike a chord to a tiring physician to thrust past that surface-level appearance and dig deeper into issues that aren't yet heightened.
Wrapping Up
AI tools can't substitute human therapists; however, they can back and support them. It can be used as a before time alert system offering 24/7 automated support. Even there are other examples and instances that mutually target the complete spectrum of healthcare, including precise medical analysis, screening, and management.