JIRA Project Management Tool – A Detailed Guide for Beginners
Sector: Digital Product, Technology
Author: Nisarg Mehta
Date Published: 02/01/2021
Product management tools assist product and project managers to handle multifaceted projects. A checklist is all that it takes to complete the task. But many product managers would agree to this statement provided if it is a simple project.
Project management issues and challenges cost businesses around $109 million for every $1 billion of project investment. Complex projects require careful planning, meeting deadlines, assigning tasks to the right person, constant follow-ups to oversee the team's performance, and tracking time taken to complete the project. Managers look for Product Development companies or even Hire Product Designers to find answers to their intricate projects.
The call for excellence lies in understanding the profundity of your project objectives. Isolation and delegation of tasks are of immense importance. This value is directly proportional to the modern tools you are using to complete the project. If your Digital Product Designer comes from a unique blend of expertise like the JIRA, then it will not be challenging to address what's worth your time, costs, and what's not. Around 47 percent of organizations utilizing project management software say it had an optimistic impact on the precision of overall project cost estimates.
Overview: What is JIRA?
JIRA is a project management tool first and foremost, but it began its life in 2002 as an issue tracking platform for software developers.
What is JIRA Utilized For?
When it comes to a Software Development company, you need to study intensively for two elements: its simplicity yet effectiveness in workflow technology, and the other because it meets your project requirements.  You need to choose the Full Stack Development Company that specializes across all scaffolds of software development. JIRA is build to provide stability in multi-tasking that precisely automates repetitive tasks.
Key Uses of JIRA Software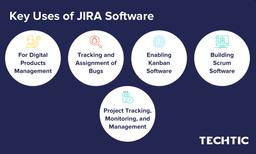 JIRA tool is used for digital product management, agile project management, tracking and assignment of bugs, content management, project tracking, monitoring, and management.
1. For Digital Products Management
Web App Development Company must possess excellent technical skills in serving its clientele for a substantial number of years. The robust applications developed by Product Designers need to experiment and validate the product throughout its lifecycle and not just at the development stages. Digital transformation is now a wake-up call for emerging companies to take competitive advantage and transform their projects into a digital platform.
2. Tracking and Assignment of Bugs
Be it a web application development company or a mobile app development company; you need an essential infrastructure to track down the bugs.  It is crucial to note that advancements in bug tracking systems and repeated use of this tracking technology in your product development are considered a symbol of greatness in Software Product Development. A full-stack development company integrates its software development cycle precisely to perform two-fold tasks – automated bug detection and bug-fixing simultaneously.
3. Enabling Kanban Software
Integrating the Kanban method into the system helps us manage the work-force by adjusting demands with available capacity and improving bottlenecks. A great visualization enables the participants to view the progress, process, and allocation through its board to make the decision-making easier.
4. Building Scrum Software
Hire a Product Designer to develop a scrum-based interface that recognizes and accepts that unpredictable challenges during the product development. These complexities need a dynamic tool designed to break their work portfolios into short-term achievable goals within a specified time-bound. Scrum built frameworks are useful in engineering, fulfilling, and supporting complex products. There is a scope for continuous review and demonstration of work done, paving the way for improvement.
5. Project Tracking, Monitoring, and Management
When you want to meet the deadlines, it is essential to track your project advancements, resources allocated and spent with the actual plan. Comparisons and evaluations give you the early predictions, and it provides you with a concrete idea of project completion time. It is critical to consult a full stack development company that builds performance indicators into the project. It helps to track, monitor, and manage crucial milestones of the project.
JIRA Specially Enabled for Product Management Teams
With JIRA, you can simultaneously run several projects, set time-boxed goals, and assess each project's daily progress. The product team takes up the given objective that sprints them in the right direction – the project goal. The JIRA's technical framework uses practical tools to manage profoundly complex work while managing risk and delivering value to project stakeholders.
When embedded into a confluence-based framework, JIRA software showcases a live display of each team member's performance.
How to Go Agile Smartly with JIRA Software?
1. Supple Planning
The practice of Agile in software development includes identifying the necessary elements and uncovering the solutions through an organized team effort. Complex projects evolve amidst uncertainties along their lifecycle. It would be best to have a framework like JIRA that offers dynamic flexibility to all intricacies to complex projects.
2. Precise Estimations
It lays out predictions based on the workflow of each project. These estimations come with precision as you can comfortably store them and move ahead in the decision-making process. In-built functions such as fed time frame, expenditure allocations aids determine the amount of time and resources utilized for each project.
3. Value-Steered Prioritization
The intrinsic phenomenon of JIRA is all about identifying and prioritizing the task in the clustered projects. Each task gets a number and addressed as per the priority. Agile breaks the job into smaller tasks and ranks them accordingly to give scope to tackle the unknown.
4. Transparent Implementation
Transparency is crucial to the accomplishment of the project. Higher openness in the workflow will entitle the owner to raise concerns in adopting new ways to reach the goal. The velocity of the team becomes evident in such scenarios. On the contrary, the absence of transparency will lead to a lack of trust and morals between groups.
5. Actionable Outcomes
In a digital product development company, when the team's focus is on the outcome and not on metrics, ramifications may not hinder the growth. The team learns to balance its performance and keep improving practices to attain actionable results.
6. Scalable Transformation
Interactions and individuals are more valuable than the tools and processes involved in the software development life cycle. To make a plan for the project is the foremost thing. Still, you cannot be too rigid in following it when it comes to accepting stakeholders' priorities and accommodating technological changes. Contract negotiations and plans of the project are essential but are no substitute for these crucial transformations.
Benefits of JIRA to Deliver Modern Digital Products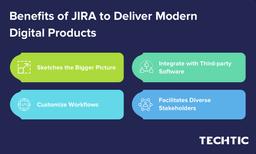 1. Sketches the Bigger Picture
Visually appealing interface to organize your work, easy way to collaborate within teams, plenty of reports emphasizing simplicity makes it an excellent tool for product development across all businesses.
2. Integrate with Third-party Software
JIRA teams up with world-class technological partners such as Slack, AWS, Microsoft, Circleci, Dropbox, Datadog, Adobe, InVsion, sumo logic, zendesk, zoom, okta are some of the integrations. Your team will make the best out of the mind-full integrations.
3. Customize Workflows
It is one of the powerful tools to manage the demands of each member of the team. It allows you to create a meaningful workflow that helps to map to different stages of your project.
4. Facilitates Diverse Stakeholders
Facilitating your stakeholders is very crucial to the success of the project. Opinions, suggestions may vary from time to time, but the best way to reach the goal is to listen to their inputs, transform and bring a valuable outcome. This clarity is the key to success in fulfilling the project goals.
Wrapping Up
JIRA Software is built-up for dedicated teamwork and achieving project goals in a product development company. It tracks time and resources, collaborates with stakeholders, and generates customized reports with a simple, intuitive but powerful interface like the Kanban board and Scrum, making it the best digital product management tool in the market.