5 Fintech Industry Myths & Misconceptions to Break Right Now
Sector: Digital Product
Author: Chintan Bhatt
Date Published: 09/17/2020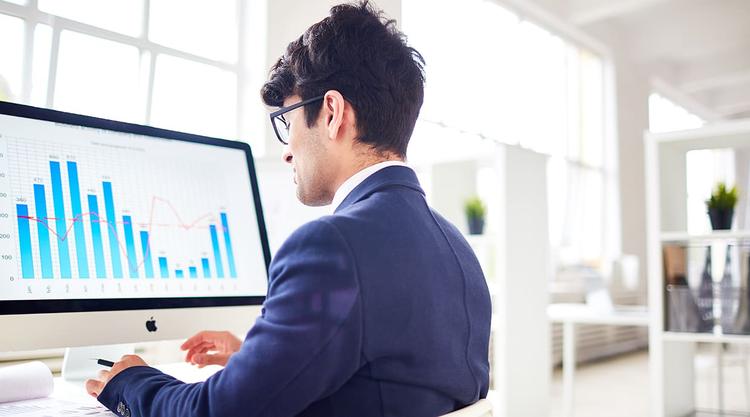 Today, if you no longer step out of your home to a bank to withdraw or deposit money, that's because of the onset and evolution of fintech. Fintech has made our lives easier.
From giving us the convenience of sending and receiving money to and from any part of the world to using just our smartphones to make payments for our preferred purchases online, it is all because of fintech.
It's 2020 and if you're someone who still has a vague understanding of fintech?
What is Fintech?
Fintech is a combination of finance and technology sectors to offer you the best of services. From the digital wallet you use to send and receive money, the non-banking institutes you reach out to for credit cards to the insurance companies that offer you instant options to choose plans and policies and more are all the results of revolutions in fintech.
No matter how well defined and laid out the industry is, there are still major misconceptions surrounding the fintech sector. That's why we felt it was on us to clear the air around the industry and bring to light some clarity on what fintech is all about.
So, we've chosen 5 misconceptions that are prevailing around fintech and what the actual truth is so you could get a better clarity on this subject.
5 Misconceptions Around The Fintech Industry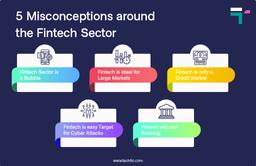 1. Fintech Sector is a Bubble
Whenever something revolutionary pops up, there would be several naysayers and critics in the world who would immediately call them out and label them a bubble. When fintech was relatively new and just got introduced to the world, people believed it was a bubble and that they would soon fade out. Cut to 2020, fintech has been nothing less than a life-saver in our lives.
Especially with the pandemic, the fintech industry has been influential in keeping several businesses and family afloat. To throw in some numbers, the fintech sector is worth $4.7tn. With the incorporation of data analytics, the fintech industry is further growing by leaps and bounds. Over 12,000 fintech startups operate around the world and about 46% of consumers today use a digital medium for personal banking.
2. Fintech is ideal for Large Markets
Another misconception floating around fintech is that it is only meant for companies and businesses in developed countries like Japan, Hong Kong, the US, the UK, Australia and more.
But in reality, the scenario is completely different. One of the most beneficial markets and countries to have been influenced by the fintech industry have been third-world and developing countries like India. The fintech market in India is anticipated to reach $2.4bn by the end of 2020. Today, payment gateways and digital payment mediums have reached several rural villages and regions in the world.
3. Fintech is only a Credit Market
Most people who hear the word fintech, one of the first visuals they have in their minds is of credit companies lending money as loans to those in need. However, that's just a small part of the pie.
Fintech is beyond credit and money lending. Today, advanced algorithms are being implemented to perform background verifications of applicants, for financial management systems, detect frauds, raise capital and investments, manage investments, market provisioning and more.
4. Fintech is an easy Target for Cyber Attacks
Compared to the rest, this misconception is at least reasonable in certain aspects. Understandable that fintech involves money and money's worth, but this only translates to the fact that it constantly lures the attention of hackers and cyber criminals. But that doesn't mean the attacks are always successful. Fintech companies are consistently working with ethical hackers, cybersecurity experts and more to always stay a step ahead in terms of the safety of confidential data and security of their servers and infrastructures.
In another sense, the attacks which eventually end up being successful are also seen as use cases to further strengthen the tech implementations of companies.
5. Fintech will end Banking
When Tally was introduced, people thought it would kill the livelihood of accountants. When spreadsheets were introduced, people thought clerks would go jobless. When automation was introduced, people felt workers would lose their job.
When scare tactics are being implemented across the globe as propaganda, there is a distinct need for clarity on these topics. What we have failed to see is that when something new arrives, people face difficulty in the beginning but soon, they coexist without dominating each other.
As far as fintech is concerned, it is only complementing the requirements and services of the banking sector. Fintech companies did not poach bankers and banks around the world are not shutting down. In fact, they are only increasing more customers as they are waking up to the fact that tech integrations can prove useful. So, we can easily brush this misconception off.
Wrapping Up
Regardless of what people say, fintech is here to stay. And if you intend to make the most of the current scenario in fintech, you need to get into fintech app development and roll out your product soon.
Fintech application development allows you to customize your apps based on your business requirements and stand out from the crowd. And for this, we suggest you get in touch with an ideal fintech app development company like us.