Staff Augmentation vs Managed Services: What to Choose and Why?
Sector: Digital Product
Author: Abhishek Singh
Date Published: 03/02/2020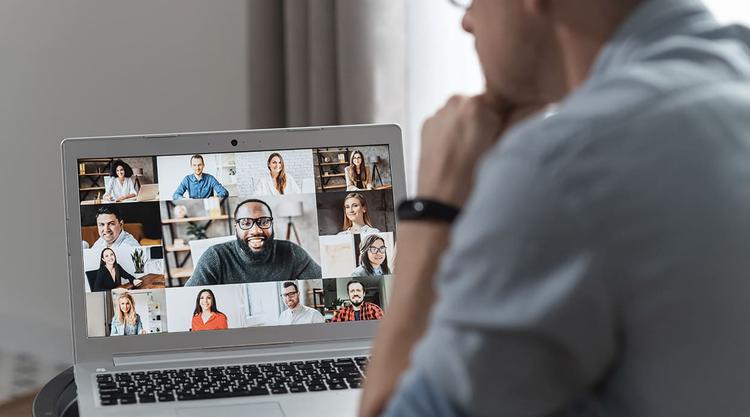 This is the age where companies are required to be perpetually competitive. With the rise in the number of startups, companies across the globe are exposed to more competition every single day. Apart from competitors, it's also the rising customer demands, behaviors, and expectations that constantly keep companies on the run.
In such scenarios, businesses can't help but work with the best talent to stay ahead. While some companies do opt for in-house talent pools for streamlined processes and delivery mechanisms, a lot of companies out there prefer outsourcing.
Over the last decade, outsourcing has become nothing less than a norm when it comes to IT operations. It allows companies to find new talents from around the world, leverage the potential of the internet and its allied services to get the job done, lets employees and workers be more productive and creative, unites professionals from different levels and fields of exposure to work together and more. Let's not forget that outsourcing also helps cut down costs.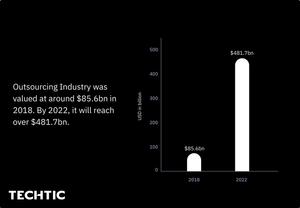 For those of you who didn't know, the outsourcing industry was valued at around $85.6bn in 2018. This is anticipated to reach over $481.7bn by the year 2022. The major inference from this anticipation is that more companies would continue to prefer outsourcing as a way of hiring and working with professionals in the coming months.
So, if you're a company looking to work with the best of the talent from across the world, there are two IT outsourcing models you could look into – staff augmentation and managed services. If these seem tech jargon, don't worry. We will help you get a clear idea of what each model is which one you could go for.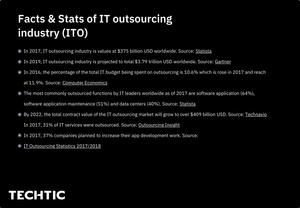 What Does Staff Augmentation Mean?
Staff augmentation involves the identification of a very niche talent gap in the company and filling it with a highly skilled expert for a short period of time. This is not a permanent position but a temporary filling up of a job role that is required for a particular project or task.
To further understand staff augmentation, let's break down its advantages and disadvantages.
Top Advantages of Staff Augmentation
1. Cost-Effective
Because we are talking about niche experts, hiring them for a full-time role will only prove to be expensive. Staff augmentation lets you avoid that situation and hire the developer for one or two projects depending on requirements.
2. Offers Better Control
Staff augmentation lets you have a holistic view of a software development process or a workflow by giving you more control of the operations. If you're a project manager, you know who is working on the most crucial tasks of the project, who is working on regular tasks and more.
3. Prevents Attrition
Attrition is one of the plaguing concerns in the IT industry today. A lot of companies spend too much time, money and energy on recruiting people and training them only to witness them joining a different organization. They have to repeat this cycle until they hire that professional who settles down for a significant amount of time. With staff augmentation, this can be avoided as you identify your staffing needs and hire on a temporary basis.
4. Augmented Staff Management
Also, the augmented staff is managed by the parent/outsourcing company. This means you don't have to worry about them quitting your tasks or any operational concerns associated with them.
Top Disadvantages of Staff Augmentation
Because of the same reason that the recruited staff is temporary, you have to spend time orienting the professional to your company, its operating procedures, processes and workflows, culture and more.
Despite being a highly-skilled professional, the additional staff might require some training or education with regard to the project you're working on.
If your processes are not airtight, there may be vibes of discomfort between the augmented staff and the in-house team.
Remember that you're only hiring a resource. How you utilize the resource for maximum productivity and output is still on you.
Comparison between Staff Augmentation Vs Managed Service Model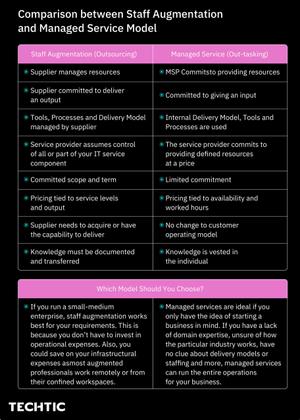 What does Managed Services Mean?
At the other end of the spectrum is the managed services model of outsourcing. In this, a Managed Solutions Provider or an MSP takes complete charge of crucial processes like recruitment, management and training of staff and guides you in achieving your long-term visions and goals.
They gain control of your projects, their deliveries and take responsibility of delivering pre-decided outputs. They don't simply manage staff but entire projects, meaning
They define the scope of a project.
They check the level of expertise required for the project
They hire appropriate personnel
They train them
Recommend and implement the best tools (and even setup tech infrastructure) to foster a productive environment and do more.
Top Advantages of Managed Services
1. Flexible Pricing
Managed services involve tying the pricing of collaboration with a project's output. This means if the scope of your project increases, you will be charged accordingly and vice versa.
2. Documented Approach
You also sign a Service Level Agreement with your managed services provider, where crucial details like the scope of delivery, timeframe and others are mentioned. This ensures your goals are met regardless of scenarios.
3. Access to Versatile Skills
Unlike staff augmentation, where a very niche job role is identified and recruited, managed services involves a larger bubble with a myriad of skill sets and knowledge. The point here is to keep the engagement levels and customer satisfaction at optimum levels at all times.
Top Disadvantages of Managed Services
The availability of personnel with the right skills is always a challenge in managed services. And the ones they find have to work well within the budgeted expenses as it's a binding contract at the end of the day.
You could end up spending more if the managed services provider fails to pull off the development process.
What to Choose: Staff Augmentation Vs Managed Service?
Staff Augmentation
If you run a small-medium enterprise, staff augmentation works best for your requirements. This is because you don't have to invest in operational expenses. Also, you could save on your infrastructural expenses as most augmented professionals work remotely or from their confined workspaces. Besides, you could also add or remove professionals depending on your requirements, ensuring your permanent team members always get paid even during the lean periods of your organization.
Managed Services
Managed services are ideal if you only have the idea of starting a business in mind. If you have a lack of domain expertise, unsure of how the particular industry works, have no clue about delivery models or staffing and more, managed services can run the entire operations for your business. You can move away from micromanaging your resources and focus on what really matters to your business.
Wrapping Up
So, now are you confused to select which outsourcing model is best for your business whether it is staff augmentation or managed services. Techtic Solutions is one of profound custom software development company, you can trust for your business.
You know your business type and you now also know the pros and cons of each outsourcing model discussed. Choose the ideal staff augmentation company or managed services company for business growth this decade.