Top Applications Developed through Laravel
Sector: Technology
Author: Nisarg Mehta
Date Published: 12/28/2021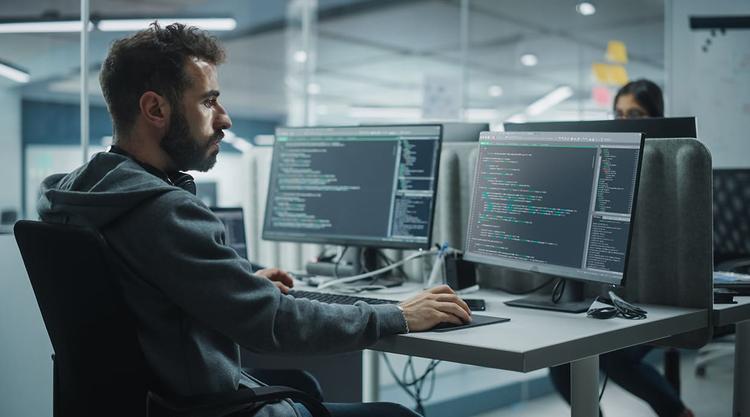 With its introduction in 2011, the Laravel framework for PHP has transformed capabilities to develop beneficial web applications with prevailing functionalities and features.
The Laravel framework comes with a library of robust and dependable widgets allowing you to craft entirely blended web products with superior security machines. Furthermore, it offers enterprise-ready performance and an intuitive user experience (UX) through its powerful apps.
While the backbone of a project is to comprehend which framework to select for your web application, Laravel is a predominant option among experienced and professional developers. It lets them develop feature-rich, highly productive, and lively web applications.
17 Best Apps Built with Laravel Framework
Laravel develops some of the top apps that appeal to getting peak traffic in the current scenario. We have listed the most inspirational applications built through the Laravel framework. Let's explore them.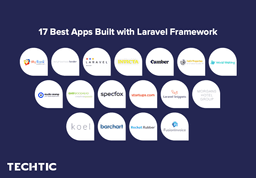 MyRank is an app built with Laravel, which makes the complete utilization of the Laravel platform's flexibility. It blends the features to create an attractive app that integrates useful functionalities with aesthetic excellence. Selecting the framework has made it effortless to release products faster as it facilitates quicker development.
The framework additionally allows the user to manage an increasing database. The design components of the application flow flawlessly together to make a pleasing visual effect. The application helps students with academic understanding comprising features like course synopsis, video classes, ask your query, and tips & tricks functionalities.
How it works:
It is a complete application that guides and enables students to appear for competitive exams.
It offers 24/7 access with live educational classes, quick notifications, exhaustive performance analysis, and successions of practice tests with active online support.
Students can digitally apply for various course packages and choose streams with online access to pricing.
A Neighbourhood Lender is a Laravel app that aims to ease the procedure of getting home loans. Users can benefit from a mortgage calculator and efficiently utilize loan preferences through this app.
By Laravel development, the organization has accomplished this objective and offers incomparable services to its customer base. It assists them in making use of the incredible caching choices, so the users don't have to send details each time. The application can also effortlessly manage heavy online traffic.
How it works:
As a helpful lending partner, they offer better loan options, saving you time, effort and money.
The intelligent mortgage calculator assists you in comprehending and effortlessly estimating your loan requirements.
Users can get a free rate quote for purchasing a home, refinance options, and easy cash-out choices.
Fantasy Football offers a collaborating digital competition Laravel app, which enables millions of players in Canada and the USA. The event is organized every year. There is a fantasy hall of fame where the typical fantasy football player can get listed with worldwide company brands such as Yahoo and Toyota.
By the Toyota Hall of the fame web application, football players can be selected for the "Hall of Fame" acknowledgment. The Laravel framework assists the app works impeccably, making it straightforward for the organization to sustain and precisely track their programming, scale without any challenges, and lets PHP classes load automatedly by its auto-loading functionality.
How it works:
The app works as a digital illustration of the physical embodiment of the cultural objectives and milestones of the Toyota Hall of Fame.
The user base can easily vote to make the sports champions into legends.
Each year the Toyota Hall of Fame welcomes five classic individuals who will persistently be memorable in the eyes of everyone forever.
One of the top apps built with Laravel, Invicta Watch Group is a popular business eCommerce application for the USA-based watch organization. The organization has been around since the year 1837, so they have a massive database of users. The framework assists them in putting up a group of features and is straightforwardly scalable and grips traffic outpourings while seasonal hikes.
The online product Catalog comprises pictures, videos, and details and is perfectly managed within the Laravel framework. Furthermore, the purchaser's and online visitors' personal information, insights, and security information are safeguarded without any excuses.
How it works:
The application enables an online store with branded watches, new product arrivals, and watch-related accessories.
The app helps locate offline Invicta watch stores near users across North America, Latin America, and Europe with other filter selections of respected countries and cities.
The user base can place their orders digitally and even opt for band replacement as per the watch model number.
Camber is also one of the top apps built with Laravel for discovering new places with conversant faces. It is developed by Laravel development company Techtic Solutions and works for tourists who want to be like locals and locals who wish to experience like tourists.
Co-creators
Camber is the idea of Lauren Wolfen and Mady Maio: two friends who bumped into a working connection based on a shared curiosity and frustration.
The duo wanted to build a tool for a community whose requirements were not addressed: A generation who cares for travel exploration and valuable experience.
They contributed to the development of the Camber app during quarantine, and it is ready for use.
How it works: Want to discover a place? Please choose a category to find it!
Easily connect with people and follow them to view all their liked destinations.
You can locate your places on the map and find destinations around you from anyplace you are currently located.
Quickly save and share your visited destinations with city lists filled with travel details.
At Faith Properties, with the app developed using the Laravel platform, we restore, rebuild, and assist you in buying a home that suits all your lifestyle requirements. We even look forward to re-establish, remaking, or buying your home. This application is developed by the Laravel development company, Techtic Solutions and offers services like women's transitional housing, homeless youth housing, and contract for deed ownership.
How it works:
The app offers support and assistance with water, fire, mold, and storm remediation.
It provides home restore and rebuilds plans with regular updates through text and emails.
It enables purchasing your house and converting it into a home for the likelihood of a family.
In this time of remaining super fit, World Walking is one of the top apps built with the Laravel framework that motivates people to walk. It can work as a seamless app on your smartphone and enhance your walking skill sets.
The app provides some exclusive functionalities like Groups and Walks. Groups feature offers you to quickly join fitness groups and Walks, offering you the data and insights of your walk of the day in the arrangement of several steps.
Laravel has improved the functionality and features of the web application. The Laravel Security benchmarks make the app safer and more robust.
How it works:
You can join for free and select your virtual walk options to some of the best places across the globe.
Through the step challenge feature, the app assists staff members in remaining active and inspired at workplaces.
The World Walking application depends on charitable donations to stay involved in the different marketplaces.
Studio Stomp is a company with web applications built on the Laravel app framework. It efficiently manages seasonal spikes and high traffic upsurges.
How it works:
Digital transformation can be a bother; the company's applications manage everything so you can concentrate on your business.
The company's apps translate your ideas into well-engineered and interactive experiences.
The company's applications strive to craft an enhanced experience for their customer base.
Customization and Integration are turned simple by utilizing the Laravel app framework in the Creative Spaces application. It has a growing number of users who want to experiment with the values of architecture and marketable interior design to make their own creative spaces.
How it works:
The app supports advanced tools that can assist you in determining what sort of space you require.
Enables architecture, interior design, and project management to form a matchless blend of enthused design, specific delivery, and creative flair.
Make sure that the standard of work is exceptionally creative and in line with the business practices.
Specfox enables users to infer and team up over the visual components of Laravel apps, letting them upload diverse designs, add needed notes, and create specification docs.
Laravel empowers Specfox to provide multifaceted product specifications to manifold users quickly. However, it offers the security essential to ensure that confidential project details are secure while on the platform.
How it works:
Share site specifications with web developers, and ask members to team up.
Adding annotations to wireframes to deliver pleasingly visual product specifications.
Link docs with Hotspots, offer interactivity, and swift jumping to relevant pages.
It is prominent to be the world's prime Laravel app startup company. These apps on the Laravel framework have assisted more than a million organizations in crafting and building their Startups.
With the number of people exploring the web application daily, it has to be effectively quick, and the Laravel framework is adequately influential in offering what they accurately require.
How it works:
Back education, community, and precise tools to assist Startups in introducing their services and products faster.
Offer popular courses, video classes, playbooks, founder stories, and ask the specialists features.
Admittance to 650+ masterclass videos and more than 1,000 how-to guides to growing your startup quickly.
If you are a Laravel app professional exploring code or improving your skill sets in the framework, then merely depend on Laravel Snippets. It is a lightweight web application that shares snippets with a maturing community of user base.
How it works:
Laravel snippets intended for Visual Studio coding backs Laravel 5 and beyond.
The usage covers Laravel facades and reinforces the snippet prefix.
Supports and backs a wide range of community users.
13) Morgans Hotel Group
Morgans Hotel Group is a leading hospitality organization that owns and runs numerous boutique hotels in Europe and the USA through Laravel apps. It works out on its hospitality-based applications on the precise Laravel framework.
How it works:
The use of the striking features of the framework makes the web application stand out.
It comes with well-built codes, precise template engines, and proper service layers.
The dependency injection containers make the web apps highly enhanced.
Koel is a web-based Laravel app with personal audio streaming which utilizes Laravel on the server-side. The application is developed to eradicate the need to locally store the purchased audio files. It quickly frees up the device space without depending on the libraries of other streaming solutions and services.
How it works:
With Koel Player, you can link to and stream your music from your precise server.
Users can queue, play music, like or unlike songs, and operate playlists with this app.
You can view lyrics, media details, and cache music for direct local playback.
Barchart is one of the top apps built with Laravel for financial specialists and business owners. It helps to get the newest market data and insights for the USA, the UK, Canada, and Australian stock markets. It uses the supremacy of a Laravel-based backend for offering its financial services.
How it works:
Enables its user base to trade digitally for numerous markets by offering direct alerts in their inbox.
It provides real-time price information for stocks, gold, commodities, exchanges, and option details.
It serves live updates to its users as fund values in the markets alter.
Rocket Rubbers is an app built with Laravel that serves to offer condoms. It also promotes its product's swift and easy usage. They have a digital condom store that gives you a specific collection of reasonably priced Durex condoms. The app is developed with Laravel, which makes it look perfect.
How it works:
Get all the required information on the relevance of condoms.
It has a hand-picked assortment of affordable Durex condoms.
The application is quick and easy to navigate.
If you are a small-sized business, then the FusionInvoice platform developed using Laravel is the correct place for you to visit. It provides a range of tools for handling a business. It facilitates you to introduce your self-hosted invoicing platform.
This system assists you in keeping track of the financial situation of your company. It is developed utilizing the Laravel framework, and it offers a striking interface.
How it works:
There is no monthly fee to continue utilizing the tool, merely pay once and use it for a lifetime.
Your clients can see and pay out their invoices digitally through the in-built Stripe, PayPal, and Mollie integrations.
Offers multiple currency support, helps in importing data, and offers tailored sales reports.
Significant Features Integrated within Laravel, making it one of the most prevailing tools around:
Here are the technical functionalities and features, which turn Laravel into one of the best frameworks.
Artisan – It does all the tedious and monotonous programming jobs.
Template engine – Assists in crafting straightforward designs with distinguishing sections.
Eloquent ORM – The professionals can issue database queries using the precise PHP syntax.
Libraries and modular – It comes with pre-installed libraries, dynamic user base checking, credentials reset, and CSRF (Cross-Site Request Falsification) safeguarding.
Migration system for the database – Involves minimal risk of losing data sets.
Unit testing – Assists in writing the unit tests for its programming. Alterations made in the coding will not disrupt the web application.
Security measures – It manages the app security within its framework using hashtags and salted passwords, thus not saving them as plain text.
Key Takeaways
This is an inclusive list, and there are even other leading applications developed with Laravel, both big-sized and small ones. The framework excels universally, whether it is a business viable web app, a modest website, or a private web portal.
At Techtic, a leading Laravel development company, we craft web apps that are swifter, more interactive, and highly adaptable. You can hire our Laravel developers for your custom web development needs now. Let's get in touch to discuss your subsequent Laravel development project and make it a success.