A Step by Step Guide to Building an MVP for a Mobile App
Sector: Digital Product
Author: Abhishek Singh
Date Published: 10/10/2019
A great user experience is integral to a successful mobile application.
Mobility empowers workforce efficiency and productivity. Great apps succeed because they are able to capture the need of large audiences. Reports indicate that the revenue from top successful apps is expected to touch $190 bn in 2020.Partnering with an experienced and reputed software development company for developing your business app can provide an extra edge to your business reach, accessibility, and profit.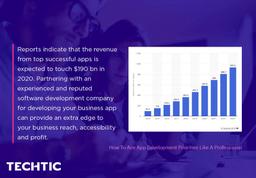 Seamless and ubiquitous user experience, data security, accessibility, design thinking, upgrades, and scalability are the topmost priorities as well as challenges of fast-growing modern businesses.
You may have a tough time as a startup to go ahead with the deep confidence you have for your idea. The reasons being the clash of the heart and the mind as to whether you should invest your hard-earned money to build a product that may or may not click with market need or expectations.
MVP - The First Step to Building a Successful Mobile App
Ideas and innovation are an integral part of any business, however, the success of your mobile app idea can be validated by building a Minimum Viable Product (MVP). MVP development for apps is a proven tool to validate any startup or other business ideas.
The beauty of this concept is that you can be assured of the 'acceptability' factor of your app idea by investing a fraction of your time, effort, and money. Once your app idea is tested in the market and validated, you can go full throttle to build a complete app. Take into consideration the feedback and suggestions that you garnered at the MVP stage to build a user-centric and successful mobile app.
Techtic Solutions has been at the forefront in business consulting when it comes to offering strategic support to startups and leading businesses alike, with mobile app development services. Our team of experienced mobile app developers will guide you with end-to-end MVP development for travel, healthcare, the marketplace, and many other applications.
The First Thing: Identify Goals and Create a Roadmap
The first and foremost task is to identify your business goals and align them with your technology team. Lots of things need to do during the conceptualization and finalization of your business idea to make it more viable. Moreover, strong market research for identifying user requirements can help you convert your idea into a successful business.
Once the identification is done you can create a roadmap to achieve these goals. In general, you need to conceptualize the business idea with your development partner before you jump to development.
Based on the market analysis you can finalize a killer app idea. It is crucial to understand the value proposition of a mobile app and define the unique selling points (USP) clearly, discuss them in detail with your development partner and create a roadmap to build your mobile app.
Get started with the MoSCoW Analysis
MoSCoW is a prioritization technique used in software development for business analysis and project management. It is an efficient method to reach a common understanding of business requirements and development processes to deliver each requirement efficiently. Here, we'll share some of our first-hand experience at MoSCoW analysis at Techtic
M – Must-haves
It refers to the minimal requirements that are essential to building a mobile application. After the initial project discussion and requirement analysis, our business analysis experts prioritize the initial requirement, time, and resource allocation for the further development process. We put these on the topmost priority and set the sprints to complete it in the first place.
S – Should haves
These are the much-desired requirements. These are additional requirements with high priority. Once the detailed project discussion is over and the deliverables are chalked out, we set it on priority accordingly. There is, however, little concern about the usability of mobile apps with these features, as it will only add value to your app. Moreover, you can always return to these features at a later stage.
Our mobile app development team majorly focuses on the 'Must haves' and 'Should haves' during the app conceptualization, the rest are kept at minimum priorities.
C – Could haves
These comprise of those app features which can be considered if there is enough availability of time and resources before the planned launch. These are of lower priority and will not have any major impact on the final product.
W – Won't have (and would have)
These are about wishes for the future, mostly followed upon at a later stage after the initial project completion, and are often impossible to realize most of the time. At Techtic, our project manager gives them a consideration, once the app is ready with the basic 'must-have' and 'should-have' requirements.
After performing the MoSCoW Analysis and finalizing the priorities, our team will help you identify the required technology stack and a team of developers, who will execute the project to build your mobile app.
Hire MVP Developers to Minimize Risk
MVP development is a proven and cost-effective way to minimize cost as well as the risk involved. The entire development revolves around the functional realization of the mobile app, unlike other app idea realization processes such as Prototype or Proof-of-Concept (PoC). Ultimately, this results in faster development with minimum resources. Basically, it represents the 'Working Model' of your final app with all essential features integrated.
Start building with MVP to evaluate your business idea. Make sure that your product has the capability to stand by your customer expectations. You can then be easily assured of your mobile app being validated during the actual product launch.
Our team at Techtic has been developing lots of projects with MVP starting from Travel, Healthcare, and Online Delivery apps. Our team can assist you to have your idea validated with a minimum budget and essential resources to build upon your business idea.
To help businesses with successful mobile apps, our team created for you to Download A Comprehensive MVP Development Guide for building a successful mobile app. The ultimate guide will help you in building your project with minimum requirements and provide you with better clarity on the overall mobile app development process.
Go Agile to Ensure your App Success
At Techtic Solutions, we follow the Agile Development Process for building mobile apps with MVP. You can initiate your app development strategy, and then collaborate with us to develop it from there.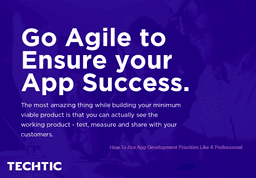 Our development team will not only help build MVP for your app idea but will also gather and analyze the feedback to make the necessary changes to the application. This will make it easier to take a decision for adding/removing features. Our team will be in constant touch and you can communicate with the different teams involved in the project.
Plan again and develop further, and keep repeating the process till you build your desired mobile app. That's how we assure our clients to streamline the constant development process.
Are you looking to Build MVP for your Business – Techtic can Help!
Now that you have learned and understood what goes behind the psyche of building an MVP for your business, all you need to do is hire the services of a mobile app development company. Take your time and hire one with a proven track record in mobile app developmentand especially one who has successfully built MVP across industry verticals.
Set priorities for the development as per your business goals. Discuss it with your development partner to define a roadmap and timeline to build your mobile app.
If you have a brilliant idea and are looking for the right MVP development team to partner with, get in touch with us to build the next BIG THING and validate your business idea. One of our experts will get back to you within 1 business day.