5 Benefits of Design Sprint for Product Development
Sector: Digital Product, Technology, UI/UX
Author: Nisarg Mehta
Date Published: 10/25/2019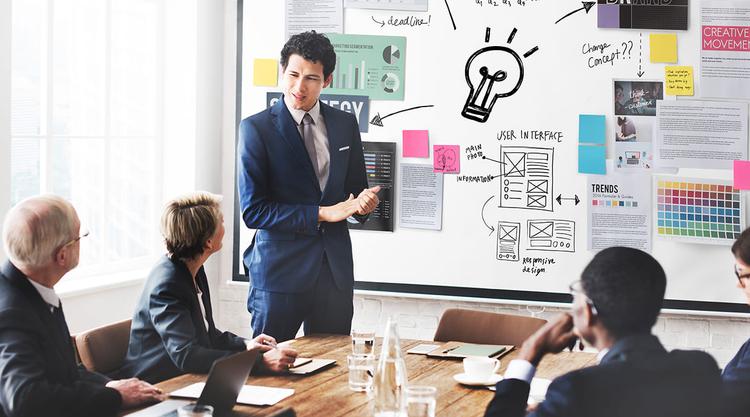 What is common between British Museum, Slack, Spotify, Medium and Airbnb?
The answer is – Design Sprint.
Apart from these firms, several other firms are also adopting the popular solution for design and rapid prototyping, which was invented at Google. From developing new product features to designing products to penetrate new markets, Design Sprint is all that it takes to spell success.
So, what is a Design Sprint? Why are so many companies adopting it? What are the benefits of Design Sprint?
We at Techtic Solutions, follow this innovative method for our product development. For the uninitiated, here is our detailed take on the week-long methodology, which can work wonders.
What is a Design Sprint?
Design Sprint is a methodology that was jointly invented by Jake Knapp and Google Ventures, for validating ideas via design, collaboration, prototyping and user testing. All these decisions from sketch to a tested prototype happens in the short span of a week, or 5 days.
While Design Sprint in essence, is a tool that works best for startups and firms, at Techtic, we have been harnessing its potential to make quick business decisions and find quick solutions to long-pressing problems for our clients.It is a process that can be wrapped up in 5 days and will help you answer all your crucial, and critical business questions with a structured and more effective approach.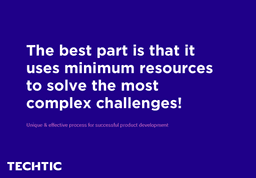 Design Sprint is a low-risk and high-reward process that can be accomplished using these simple process-driven steps like:
Making a map of the problem
Designing the available solutions
Selecting the best features for the prototype
Testing it on users in real-life scenarios
Considering it is only a 5-day process, Design Sprint can be really intense. At the same time, they are super exciting and offer tremendous insight that helps firms come to a conclusion. To get the ball rolling, this method at Techtic is run by a core team of 5-7 members with diverse skillsets. The team comprises of:
Sprint Master or Facilitator – Ensures that the team stays on track
Designer – Offers the knowledge of design software and UX
Developer – Helps understand the technical limitations
Customer Service Executive – Provides user insights
Marketer – Determines the commercial viability
Decider – Final word on decisions (this is one person from the team members)
Benefits of a Design Sprint and How Techtic Uses it to its Advantage
A Design Sprint has been a great asset for Techtic not only considering its prowess to churn out products in quick succession, but with is a list of the numerous benefits to look forward to, while utilizing the tool:
1. Never a Dull Moment
Design Sprint sparks creativity and is unlike traditional brainstorming sessions as it leads to developing a solution that can be put into practice.
2. Best Hands on Deck
The sprint team is led by a bunch of experienced and talented professionals, offering their unique take or perspectives on the problems to facilitate speedier collaboration. With a varied mix of people in the team bringing their own set of ideas, it becomes easier to get a thorough understanding of the problems and cherry-pick specific parts to focus on.
3. Swift, Agile Process
It is a short and agile process and can speed up new product discovery like never before. There is a realistic prototype at the end of the day that help verify the idea with real users and in real-life scenarios. This is because Design Sprint addresses various pain points of the customers and helps convert the same into effective solutions.
4. Kickstart Any Project Instantly
Some projects are difficult to kickstart for some reason or the other. This is where a fresh idea may come in handy. The sprint can help achieve this feat by offering momentum to the project from the word go!
5. Reduces Time and Budget
It helps reduce the time as well as budget for validating the ideas and coming up with a Prototype within a few days, which is then relayed to the developers to take it further. This prevents delay and saves months of work for the teams – from unnecessary conversations, endless mail trails and other communication processes that can lead to miscommunication or a conflict of opinions.
Furthermore, it helps firms arrive at concrete solutions JUST within five days. This is an important factor, especially for those who are working under tight deadlines.
Understand Users Better – Design Sprint methodology has been a great asset for the Techtic team as it allows us to step into the users' shoes. The insights in the sprint are based on how the team listens to the users and builds meaningful relationships with them. It helps us focus on user-centered approach – understanding user behavior and build successful products based on prioritizing the needs of the users.
Identify the Key Stakeholders – It helps identify the key stakeholders of the project and helps zero-in on all those whom the product is going to affect or influence. This will help the project inch towards success without any hassle.
Gain Competitive Advantage – Design Sprint helps you to gain a competitive advantage without risking huge failures in the process. There are still many web and mobile development companies who have never heard of the 5-day process. As the ones who have the knowledge, will have an edge over the ones who don't put the method into practice, as you will be able to churn out better and advanced products.
Enhance Internal Processes – Design Sprint also helps enhance the internal processes by simplifying the complexities. It is a flexible framework, which can address a variety of challenges within your organization.
More Proactiveness – The methodology allows businesses to have a clear vision and be more proactive and specific to align various actions with goals. This stems from being able to put an actionable plan in place right after the sprint process.
Takes the Firm Forward – A lot of businesses don't make it to the top or are unable to achieve their goals because of stagnation in the processes or the way they approach things. This is where Product Design Sprint is useful. It can help firms analyze what can and can't work, along with several possibilities to enhance the situation. This also streamlines the workflow, leading to increased efficiencies.
Why Does Techtic Employ Design Sprint?
Techtic understood the importance of Design Sprint long back, around the time it was getting popular. Over the years, we have used it to develop many products and come to quick solutions in just a week's time.
The methodology has helped us solve various problems, gain more insights, offer better products and so on and so forth. Since there are both client and end-users involved, we've realized many concepts and validated the ideas without wasting a lot of time or resources.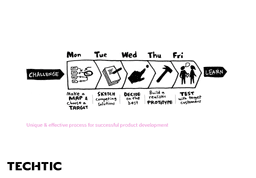 Our process of Design Sprint for Product Development includes the following steps:
Day 0:
We decide beforehand the core team for participating in the Design Sprint.
Day 1:
Create a detailed map of the problem
Day 2:
Sketch possible solutions
Day 3:
Decide which is the best or the strongest among all the possible solutions.
Day 4:
Put together a realistic prototype for testing.
Day 5:
Test the prototype for validating assumptions with as many as 5 target users.
All in all, Design Sprint helps us implement better, faster and more meaningful solutions for our clients. It also helps us address our own set of challenges within the firm. Therefore, we can say with confidence that it is a crucial aspect of any custom product development company.
Over to you…
Are you looking to realize your product development idea, while making sure it is seamless, fast and high on quality? Talk to Design Sprint experts at Techtic Solutions to know how we can specifically address your product development process. We believe that no two products are same, nor do their journey to development.
We at Techtic have successfully implemented product development for our clients using Design Sprint methodology. And we we'd love to do that for you too. Get in touch today!