Transforming Mindfulness Meditation through Cutting-Edge Mobile App Development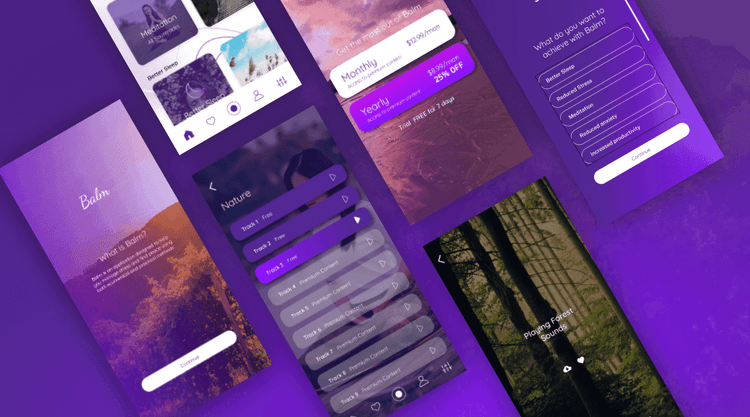 With a holy approach wrapped in a Meditation Mobile App, the client wanted to alleviate the stress and reduce anxiety issues for people. But the challenge was twofold; firstly, to create an engaging user experience, and secondly, to ensure compatibility across multiple platforms including Android and iPhone devices.
They approached Techtic to help them in this endeavor and our collaboration began. The client's idea was to develop a highly customizable meditation app with subscription plans that met their specific requirements while remaining within budget constraints.
At Techtic, we analyzed the client's requirements and proposed the best tech stack including React Native to develop a cutting-edge application for Android and iOS devices. We took up the project enthusiastically, recognizing the importance of such an initiative and worked closely with the client throughout each stage of the development journey.
Our aim was not only to meet but exceed their expectations through a seamless development process and impeccable results. Explore what technology we used to build what features and how we made this app beautiful and engaging, overcoming all the challenges in this case study.
Features that make the Meditation App Stand Out
Problem
The primary problem the client sought to solve with the app is to empower its users toward balanced living in accordance with biblical principles. Targeting individuals within and outside Christian communities who seek to align themselves spiritually, mentally, physically, emotionally, and socially, the app strives to assist them in achieving wholeness and fulfillment.
By delivering daily inspirational messages, guides on specific topics, daily meditations, and spiritual growth nurturing resources tailored to each user's profile, the App intends to help users navigate complex life decisions.
With these fundamental problems at hand, the client turned to Techtic Solutions seeking assistance in creating a comprehensive mobile application to tackle these widespread issues facing individuals worldwide. Through technical guidance, design improvements, and platform optimization, we aimed to develop an accessible, intuitive, user-centered application equipped with modern technology.
Challenges
Basically, there were challenges related to subscription plans, payment gateways, customized reminder settings, modified goals, and background audio management. Techtic team provided innovative suggestions to address these challenges and enhance the app's effectiveness, user experiences, and growth opportunities.
These ideas included adopting a 7-day trial followed by a freemium version, utilizing a reliable third-party revenue system like RevenueCart, implementing customizable reminders, accommodating goal adjustments, providing quick search capabilities, and incorporating user feedback to refine audio quality and streaming frequency.
With our expertise and client support, we could overcome these hurdles successfully, resulting in a more user-friendly and intuitive application.
Result
Despite encountering various obstacles during development, our partnership resulted in significant achievements post-launch, and the client was able to unlock substantial growth following the integration of the updated mobile app features.
25% rise in session duration.
Achieved 95% customer satisfaction rate.
35% increment in monthly recurring revenue attributed to premium upgrades.
Client Says

"Thanks to Techtic Solutions Inc's work, we have witnessed a three-fold increase in conversion rates within the first six months. The team is very helpful, quick, and agile. Communication is thorough and efficient via email and Slack."
-Amanda S, Growth Director
@Mission MightyMe


-Daniel Protz,CEO
@Flavorwiki

"Techtic Solutions provides services fairly and at a great price. Both knowledgeable and communicative, the team strives for success and takes accountability for all their actions. Reports are timely and they manage the language barrier and some challenges in an effective manner."
-Kevin Garofalo, Chief Executive Officer
@Digital Marketing Agency

"The new site was completed successfully and has led to an improvement in the number of users reaching it as a result. The team managed the work effectively and maintained an excellent, personalized level of service throughout."
-Melissa Van Hise, CEO
@Iconic Pineapple

"The team provides responsive service and functional websites with high quality code. They are always available to communicate or make quick fixes. Customers can expect a great partnership and excellent results."
-Pete P, CEO
@Marketing & Seo Firm

"We have been using Techtic for over a year now, at multiple entities. I treat them as developers apart of my team and we have the ability to scale up in a few days if needed. They have been very receptive to feedback and the team stays the same."
-Hesom Parhizkar, Chief Technology Officer
@Wela

"The platform has received positive feedback for its performance and versatility. The team is innovative and well-suited for long-term partnerships. Coding is stable and deliveries are timely. They use a wide range of communication tools to keep the partnership effective."
-Hashem Omran, Co-founder
@Widelinked

"They are the best I've come across. The team stayed in constant communication while supplying deliverables in a timely manner. Their customer service exceeded expectations, providing great value for cost. The company's support has generated business growth and new opportunities for app. developers."
-Danny Salomon, CEO
@United Holdings Group

"The new functionality gives the app more potential and users are satisfied with the improvements. Techtic is trustworthy and has a good understanding of the technological tools available. They bring good ideas to projects and are supportive collaborators."
-Marcelo C, Founder
@Agohra
We Follow Agile
We encourage candid discussions and would be happy to offer consultation to understand and address your pain areas.
Our Process