Mental Health Community App Development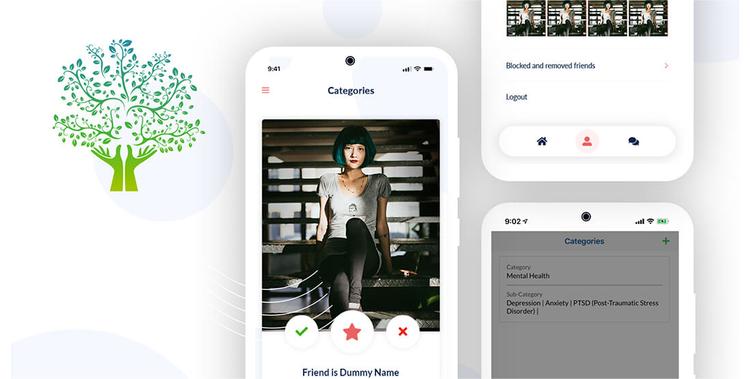 Our client has this unique idea of creating a mental health community platform to promote psychological self-care. And we couldn't be more excited to bring it to life. Because more often than not, people avoid sharing that they are trapped in depression or struggling with mental health issues. And a common reason behind it is a lack of awareness or confidence to talk about it.
Hence, after brainstorming with our client, we suggested creating a user-friendly mobile app that puts access to mental health professionals in the palm of the user. The mental health mobile app will feature functionalities, such as login, unique profile, community, send/receive a connection request, chat, and an easy-to-navigate admin panel to handle user profiles and activities on the app.
Furthermore, there will be two types of users: those who seek mental health support and; who can provide mental health support (professionals). This will enable anyone to nurture their mental health by connecting with like-minded people or communicating with a therapist in real-time.
Admin Panel Features To Help Client Control The App
To manage the entire app, an Admin panel was obligatory to create that would help our client grow their app steadily.
Analytical Dashboard for a quick overview of app performance
Mobile app screens management
Users' and therapists' account management
Customer health reports management
App Content Management
Ensure secure payment transactions made by users
Report creation
Create and manage marketing campaigns like Push notifications, Promotional, and Communications
Manage Platform Rules
Problem
Our client had a unique but purpose-driven app idea that required a lot of research to understand the user segment and the difficulties they face finding the support to fight anxiety. The platform was supposed to reduce stress and help people focus on personal growth by connecting them with mental health experts and a community where they can open up about what they are going through. Keeping a user perspective in our mind, we had to create an online platform with
Attractive and engaging user interfaces
Easy-to-use platform with high security
Online payment processes
Functionality to make mental health-related content accessible in various formats
A social media-like touch to view and connect with other users and health care professionals
Challenges
After a thorough examination and studying user persona, the Techtic team suggested using a cross-platform technology to build this mental health app. This way, our client can target their ideal audience on both Android and iOS platforms. However, while developing a mental health mobile app, we also confronted and addressed some challenges, such as:
Mapping user journey efficiently
Applying necessary protocol to ensure the user data safety against third-party frauds and identity theft
Convenient registration and profile management
Adaptable app functionality from finding and connecting to communicating with new people
Smooth-running admin panel with the power to manage the entire mental health app
Result
Though the concept was a novice, our qualified developers completed the project within the timeframe, achieving a high client satisfaction rate. After testing, we launched the app, ensuring users' sensitive data security and enhanced app performance. All the hard work from ideation to launch paid off when our client confirmed the outcome is how they precisely envisioned it. Now, the app is up and running, helping people improve their mental health with the growing number of therapists and the community.
Client Says

"Thanks to Techtic Solutions Inc's work, we have witnessed a three-fold increase in conversion rates within the first six months. The team is very helpful, quick, and agile. Communication is thorough and efficient via email and Slack."
-Amanda S, Growth Director
@Mission MightyMe


-Daniel Protz,CEO
@Flavorwiki

"Techtic Solutions provides services fairly and at a great price. Both knowledgeable and communicative, the team strives for success and takes accountability for all their actions. Reports are timely and they manage the language barrier and some challenges in an effective manner."
-Kevin Garofalo, Chief Executive Officer
@Digital Marketing Agency

"The new site was completed successfully and has led to an improvement in the number of users reaching it as a result. The team managed the work effectively and maintained an excellent, personalized level of service throughout."
-Melissa Van Hise, CEO
@Iconic Pineapple

"The team provides responsive service and functional websites with high quality code. They are always available to communicate or make quick fixes. Customers can expect a great partnership and excellent results."
-Pete P, CEO
@Marketing & Seo Firm

"We have been using Techtic for over a year now, at multiple entities. I treat them as developers apart of my team and we have the ability to scale up in a few days if needed. They have been very receptive to feedback and the team stays the same."
-Hesom Parhizkar, Chief Technology Officer
@Wela

"The platform has received positive feedback for its performance and versatility. The team is innovative and well-suited for long-term partnerships. Coding is stable and deliveries are timely. They use a wide range of communication tools to keep the partnership effective."
-Hashem Omran, Co-founder
@Widelinked

"They are the best I've come across. The team stayed in constant communication while supplying deliverables in a timely manner. Their customer service exceeded expectations, providing great value for cost. The company's support has generated business growth and new opportunities for app. developers."
-Danny Salomon, CEO
@United Holdings Group

"The new functionality gives the app more potential and users are satisfied with the improvements. Techtic is trustworthy and has a good understanding of the technological tools available. They bring good ideas to projects and are supportive collaborators."
-Marcelo C, Founder
@Agohra
We Follow Agile
We encourage candid discussions and would be happy to offer consultation to understand and address your pain areas.
Our Process