Backing up the Brand's growth that strives to improve the mind, body, and soul of people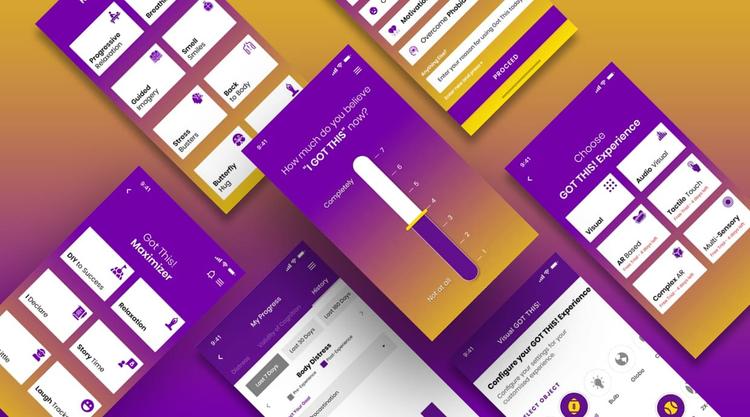 In our variety of experiences of collaborations with global brands and companies to back them up with our technology intellectuals, Techtic encountered a growing tech startup led by a profound vision. The company taps into the issues of self-improvement the generation is facing and strives to address them by offering various programs and exercises to try until you start feeling better and fostering positive thoughts about yourself.
This San Francisco-based organization aims to improve people's minds, bodies, and souls by helping them overcome personal barriers and achieve their goals. Although their platform is available for every individual, the company wanted to assist other organizations in creating and sustaining a well-being culture. Given people usually don't have easy access to self-help techniques when they need them the most. On that note, they decided to offer a "Partnership Plan" for businesses, schools, organizations, government, teams, schools, and other institutions.
However, the client also had to level up their functionality tailored to this new module, including onboarding, subscription plans, payment, auto-renewal, and billing. Besides, the platform's user interface and experience also required a little more enhancement to catch up to the corporate level.
So, the Techtic analyst understood the whole scenario and noted down their enhancement and functionality addition requirements. Based on the analysis, we proposed a solution to the client, which includes:
Auditing of the current system and function to suggest an advance & futuristic version of the system
Enhancement of the existing website with new features
Augmenting the performance and experience of Android and iOS, both mobile applications
Creation of the advanced onboarding for the "Group/Partner" module with admin and team member onboarding functionality
Boost the website design, making it more user-friendly to optimize website traffic and conversion rate
Make onboarding, plan selection, payment, billing, and auto-renewal personalized for corporates.
Features Designed Specifically For the new module.
Problem
People nowadays don't have time to even reflect on their mental health. In such a world, making the journey of self-improvement in terms of overcoming anxiety, stress, and other mental issues is not a piece of cake. Hence, the client decided to introduce a whole new module for those who want to develop a culture of well-being in their organization by offering access to the best practices to balance mental health and achieve personal goals.
Challenges
In order to offer a complete corporate package for businesses, teams, schools, and other institutions to boost the potential of their team, the platform needed some next-level features. From the plan selection, onboarding, payment, and billing to plan renewal, the entire user journey had to be well-thought-out for this high-end module.
In addition to that, the Group/Partner segment was also required to align with existing features of the platform, including progress tracking, language preference for the programs, manage and tracking the progress, all while sustaining the performance and UI flow.
Result
After all the brainwork and coding, Techtic successfully brought the idea of a special module for encouraging a well-being environment to reality with the utmost client satisfaction. The segment is now live, helping corporate organizations and intuitions to motivate their people to be more productive in both personal and professional life using the mobile or web, whichever application suits them. Whether users pursue their well-being practices on the mobile app or web app, we have ensured they will receive a consistent experience across all devices.
Client Says

"Thanks to Techtic Solutions Inc's work, we have witnessed a three-fold increase in conversion rates within the first six months. The team is very helpful, quick, and agile. Communication is thorough and efficient via email and Slack."
-Amanda S, Growth Director
@Mission MightyMe


-Daniel Protz,CEO
@Flavorwiki

"Techtic Solutions provides services fairly and at a great price. Both knowledgeable and communicative, the team strives for success and takes accountability for all their actions. Reports are timely and they manage the language barrier and some challenges in an effective manner."
-Kevin Garofalo, Chief Executive Officer
@Digital Marketing Agency

"The new site was completed successfully and has led to an improvement in the number of users reaching it as a result. The team managed the work effectively and maintained an excellent, personalized level of service throughout."
-Melissa Van Hise, CEO
@Iconic Pineapple

"The team provides responsive service and functional websites with high quality code. They are always available to communicate or make quick fixes. Customers can expect a great partnership and excellent results."
-Pete P, CEO
@Marketing & Seo Firm

"We have been using Techtic for over a year now, at multiple entities. I treat them as developers apart of my team and we have the ability to scale up in a few days if needed. They have been very receptive to feedback and the team stays the same."
-Hesom Parhizkar, Chief Technology Officer
@Wela

"The platform has received positive feedback for its performance and versatility. The team is innovative and well-suited for long-term partnerships. Coding is stable and deliveries are timely. They use a wide range of communication tools to keep the partnership effective."
-Hashem Omran, Co-founder
@Widelinked

"They are the best I've come across. The team stayed in constant communication while supplying deliverables in a timely manner. Their customer service exceeded expectations, providing great value for cost. The company's support has generated business growth and new opportunities for app. developers."
-Danny Salomon, CEO
@United Holdings Group

"The new functionality gives the app more potential and users are satisfied with the improvements. Techtic is trustworthy and has a good understanding of the technological tools available. They bring good ideas to projects and are supportive collaborators."
-Marcelo C, Founder
@Agohra
We Follow Agile
We encourage candid discussions and would be happy to offer consultation to understand and address your pain areas.
Our Process