Techtic Backs up the Platform that Helps People on the Road of New Zealand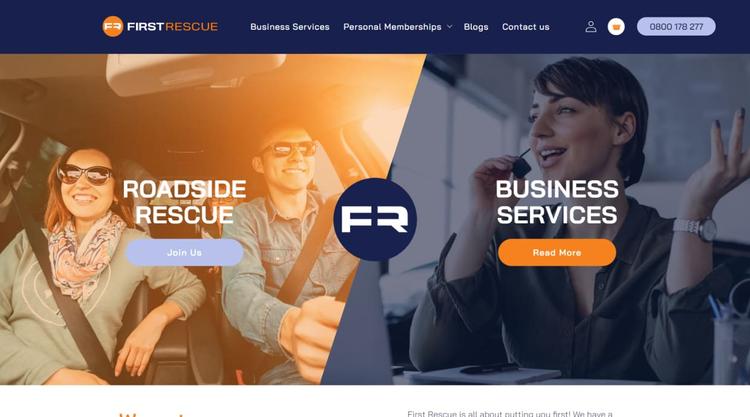 Once again Techtic and the team helped a client from a different corner of the world pull their business together, making it more profitable than before with the right technology solution!
An innovative emergency response provider based in New Zealand faced a significant challenge. Their existing insurance subscription system became obsolete and difficult to use, causing frustration among their valued customers. The client knew it was time to upgrade fast before they start losing valuable clients to competitors.
At that stage, they approached Techtic. We took the time to completely understand their issues and proposed a solution. Our team worked closely with the client to develop a state-of-the-art insurance subscription platform using the latest technology provided by the world's renowned Shopify platform.
This collaboration resulted in a fully functional and highly responsive website designed according to the specifications received from the client. With our expertise, we aimed at delivering quality results to enhance user experience and help the client succeed online.
Features Required by the Client, Executed by Techtic
Problem
Before partnering with Techtic, the client encountered several challenges with their existing insurance subscription system. These challenges included outdated technology, a lack of user-friendly features, poor responsiveness, and an overall frustrating user experience.
Customers were struggling with signing up for insurance, managing their accounts, and navigating the website effectively. The decline in customer satisfaction had the client worried about a loss of valuable clients to competitors. So, they decide to revamp their digital presence with Techtic and make their 24*7 hour rescue services accessible for customers across New Zealand.
Challenges
During the development of the insurance subscription platform, Techtic faced various challenges to ensure a seamless and successful solution. For example, integrating the custom design provided by the client into the Shopify platform, implementing a responsive theme that works well across different devices, and ensuring the smooth navigation and functionality of the website.
We had to carefully analyze and optimize the user flow, implement secure user sign-up and login processes, and develop a comprehensive dashboard for both customers and admin. Additionally, integrating the Stripe payment gateway and enabling the generation of accurate reports based on different time intervals posed technical and data management challenges.
Result
After overcoming all the trivial and significant challenges, our team delivered a user-friendly and highly functional insurance subscription platform. We successfully integrated straightforward features for customers as well as Admin to manage the platform. Consequently, the client experienced significant improvements in customer satisfaction, user engagement, revenue generation, and overall business performance.
The client experienced a 30% increase in new customer sign-ups within the first month of launching the platform.
The improved checkout process and integration of the Stripe payment gateway led to a 20% increase in successful payment transactions.
The comprehensive dashboard and reporting system allowed the client to gain valuable insights into their customer base, leading to a 15% increase in customer retention and repeat purchases.
Client Says

"Thanks to Techtic Solutions Inc's work, we have witnessed a three-fold increase in conversion rates within the first six months. The team is very helpful, quick, and agile. Communication is thorough and efficient via email and Slack."
-Amanda S, Growth Director
@Mission MightyMe


-Daniel Protz,CEO
@Flavorwiki

"Techtic Solutions provides services fairly and at a great price. Both knowledgeable and communicative, the team strives for success and takes accountability for all their actions. Reports are timely and they manage the language barrier and some challenges in an effective manner."
-Kevin Garofalo, Chief Executive Officer
@Digital Marketing Agency

"The new site was completed successfully and has led to an improvement in the number of users reaching it as a result. The team managed the work effectively and maintained an excellent, personalized level of service throughout."
-Melissa Van Hise, CEO
@Iconic Pineapple

"The team provides responsive service and functional websites with high quality code. They are always available to communicate or make quick fixes. Customers can expect a great partnership and excellent results."
-Pete P, CEO
@Marketing & Seo Firm

"We have been using Techtic for over a year now, at multiple entities. I treat them as developers apart of my team and we have the ability to scale up in a few days if needed. They have been very receptive to feedback and the team stays the same."
-Hesom Parhizkar, Chief Technology Officer
@Wela

"The platform has received positive feedback for its performance and versatility. The team is innovative and well-suited for long-term partnerships. Coding is stable and deliveries are timely. They use a wide range of communication tools to keep the partnership effective."
-Hashem Omran, Co-founder
@Widelinked

"They are the best I've come across. The team stayed in constant communication while supplying deliverables in a timely manner. Their customer service exceeded expectations, providing great value for cost. The company's support has generated business growth and new opportunities for app. developers."
-Danny Salomon, CEO
@United Holdings Group

"The new functionality gives the app more potential and users are satisfied with the improvements. Techtic is trustworthy and has a good understanding of the technological tools available. They bring good ideas to projects and are supportive collaborators."
-Marcelo C, Founder
@Agohra
We Follow Agile
We encourage candid discussions and would be happy to offer consultation to understand and address your pain areas.
Our Process