Technology Migration Of a Lab Products Store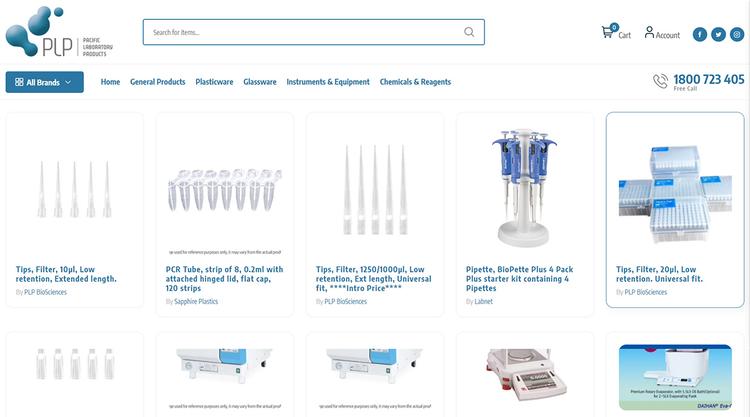 A company that supplies a broad range of instrumentations and consumables to laboratories across Australia came to Techtic for technological improvements. After a brief discussion, the Techtic team discovered that the company needed a makeover for its website. They wanted to give a modern touch, enhancing customer experience and selling directly to customers. The company has been acting as a prime lab products supplier with sales offices in different corners of the country.
Their main objective was to offer a solution allowing their customers to quickly view products, choose products from different categories, and order without interruption. The Previous website was built with core PHP. Now, we had to decide on the technology stack to upgrade the platform in a way that achieves the company's goals.
Analysis and discussion concluded with Shopify. And the company and Techtic agreed to migrate the Lab Products website to the Shopify platform, ensuring every necessary functionality. In addition, the Techtic team guaranteed to make the platform interactive and user-friendly to match the latest trends and increase the conversion rate.
Features of the Storefront
Problem
The lab product supplying company offers a myriad of products required for a healthcare Laboratory to run efficiently, including test kits, numerous glassware, plasticware, instruments, and equipment. To ensure a superior customer experience and gain more loyal customers, the company decided to migrate its website to the Shopify platform. Techtic was supposed to ensure the utmost precision in the migration, confronting every possible issue. However, Techtic's experience delivering numerous result-driven Shopify stores made the job easier.
Challenges
The company's website was built in core PHP, and now it will be migrated to Shopify. This was not the challenge but importing the store's data and content to Shopify and organizing the products by creating categories and subcategories without compromising on the platform look or user experience required some iterations. On the other hand, we needed to make the platform relevant to the latest trends and integrate out-of-the-box integrations, such as payment gateways, email marketing API, and Chatbot too.
Result
By overcoming challenges through brainstorming and iterations, the Techtic team delivered a project that matched the industry standard while engaging the customer fairly. Customers are now able to make informed decisions without much hassle as they can quickly preview the products, search products by brands and categories, and checkout faster, no matter if they shop from their desktop, smartphone, or tablet.
The responsiveness, interactive and intuitive navigation, and streamlined buyer's journey are winning customer loyalty, concluding the company's bottom line rise.
Client Says

"Thanks to Techtic Solutions Inc's work, we have witnessed a three-fold increase in conversion rates within the first six months. The team is very helpful, quick, and agile. Communication is thorough and efficient via email and Slack."
-Amanda S, Growth Director
@Mission MightyMe


-Daniel Protz,CEO
@Flavorwiki

"Techtic Solutions provides services fairly and at a great price. Both knowledgeable and communicative, the team strives for success and takes accountability for all their actions. Reports are timely and they manage the language barrier and some challenges in an effective manner."
-Kevin Garofalo, Chief Executive Officer
@Digital Marketing Agency

"The new site was completed successfully and has led to an improvement in the number of users reaching it as a result. The team managed the work effectively and maintained an excellent, personalized level of service throughout."
-Melissa Van Hise, CEO
@Iconic Pineapple

"The team provides responsive service and functional websites with high quality code. They are always available to communicate or make quick fixes. Customers can expect a great partnership and excellent results."
-Pete P, CEO
@Marketing & Seo Firm

"We have been using Techtic for over a year now, at multiple entities. I treat them as developers apart of my team and we have the ability to scale up in a few days if needed. They have been very receptive to feedback and the team stays the same."
-Hesom Parhizkar, Chief Technology Officer
@Wela

"The platform has received positive feedback for its performance and versatility. The team is innovative and well-suited for long-term partnerships. Coding is stable and deliveries are timely. They use a wide range of communication tools to keep the partnership effective."
-Hashem Omran, Co-founder
@Widelinked

"They are the best I've come across. The team stayed in constant communication while supplying deliverables in a timely manner. Their customer service exceeded expectations, providing great value for cost. The company's support has generated business growth and new opportunities for app. developers."
-Danny Salomon, CEO
@United Holdings Group

"The new functionality gives the app more potential and users are satisfied with the improvements. Techtic is trustworthy and has a good understanding of the technological tools available. They bring good ideas to projects and are supportive collaborators."
-Marcelo C, Founder
@Agohra
We Follow Agile
We encourage candid discussions and would be happy to offer consultation to understand and address your pain areas.
Our Process