A brand that sparks creativity in families needed a little spark on its website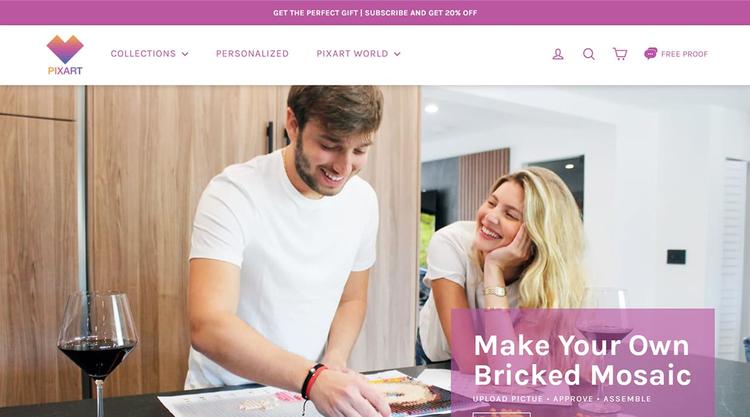 The brand is driven by a vision to bring fun and creativity to its customers' life while adorning memories through subtly turning memorable photos into bricks. But recently, they found their website's primary section required revamping. They wanted to drive more customer engagement by offering customization solutions and accurately serving each customer's requirements. The company also needed to automate the process of customer requirement collection to reduce human error and deliver customers precisely what they want.
The company's goal is to offer a perfect and creative family activity. Basically, they offer a collection of cool art kits with all the necessary materials and easy-to-follow manuals to create a photo masterpiece made out of bricks. Their tools are super easy that turn customers of any age into an artist, encouraging fun and quality time with family at home.
After a thorough platform analysis, Techtic recommended Shopify app to upgrade and build an effortless customer experience with efficient product management. In addition, our team assured the brand to implement the live preview feature of the product and add designing sections accessible by even non-technical people. The Techtic team breathed life into the brand's website, which you can see below.
Sparkling Features Added To Upgrade The Platform
Problem
As the brand started to grow, handling every customer requirement to ensure accuracy was challenging. So, they decided to upgrade their platform with a well-ordered and systematic approach to let their customers customize their brick photo outcomes however they want.
Simultaneously, the brand wanted to make everything as easy as ABC so that customers of any age with little tech experience could also access the platform. In addition to that, Techtic had to make it easy for the brand backend team to proceed with every detail customers provide and ensure the accurate delivery of the product.
Challenges
Techtic has a team of veteran developers, which is why there was not much of a hassle to achieve the brand's desired results. Though, adding new functionalities, such as an image editor and customization for every brick to an existing platform, required some brainstorming. Because we also had to keep the business logic consistent while streamlining the staff's inventory management task.
Result
The platform is now upgraded and enhanced with all new functionalities running perfectly, allowing customers to edit their images and customize their final product. Besides, the company can also respond to customers' unique requirements as half of the process is automated.
Not to mention, there is no chance of error in delivering the product and sparking artistic creativity in people while driving quality family time. New changes in the platform also turned out fruitful for the brand, and the number of customers is rising by leaps and bounds.
Client Says

"Thanks to Techtic Solutions Inc's work, we have witnessed a three-fold increase in conversion rates within the first six months. The team is very helpful, quick, and agile. Communication is thorough and efficient via email and Slack."
-Amanda S, Growth Director
@Mission MightyMe


-Daniel Protz,CEO
@Flavorwiki

"Techtic Solutions provides services fairly and at a great price. Both knowledgeable and communicative, the team strives for success and takes accountability for all their actions. Reports are timely and they manage the language barrier and some challenges in an effective manner."
-Kevin Garofalo, Chief Executive Officer
@Digital Marketing Agency

"The new site was completed successfully and has led to an improvement in the number of users reaching it as a result. The team managed the work effectively and maintained an excellent, personalized level of service throughout."
-Melissa Van Hise, CEO
@Iconic Pineapple

"The team provides responsive service and functional websites with high quality code. They are always available to communicate or make quick fixes. Customers can expect a great partnership and excellent results."
-Pete P, CEO
@Marketing & Seo Firm

"We have been using Techtic for over a year now, at multiple entities. I treat them as developers apart of my team and we have the ability to scale up in a few days if needed. They have been very receptive to feedback and the team stays the same."
-Hesom Parhizkar, Chief Technology Officer
@Wela

"The platform has received positive feedback for its performance and versatility. The team is innovative and well-suited for long-term partnerships. Coding is stable and deliveries are timely. They use a wide range of communication tools to keep the partnership effective."
-Hashem Omran, Co-founder
@Widelinked

"They are the best I've come across. The team stayed in constant communication while supplying deliverables in a timely manner. Their customer service exceeded expectations, providing great value for cost. The company's support has generated business growth and new opportunities for app. developers."
-Danny Salomon, CEO
@United Holdings Group

"The new functionality gives the app more potential and users are satisfied with the improvements. Techtic is trustworthy and has a good understanding of the technological tools available. They bring good ideas to projects and are supportive collaborators."
-Marcelo C, Founder
@Agohra
We Follow Agile
We encourage candid discussions and would be happy to offer consultation to understand and address your pain areas.
Our Process