Rebirth of Famous Life Fashion – A USA-based Streetwear eCommerce Platform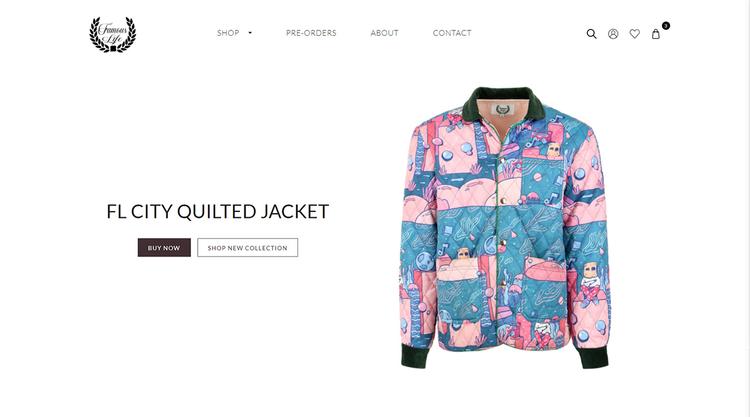 Our extensive experience and achievements in the eCommerce segment attracted another brand to collaborate with us to transform their eCommerce platform. They wanted an upgraded website that is easy for customers to navigate, provides the most up-to-date product and style information and adds advanced e-commerce functions.
The client had a working platform, but it needed a modern look and functionality to subdue its competitors and attract customers. To address their requirements, the analyst at Techtic would analyze each aspect of the platform and prepare an audit report containing what the website lacks and what should be done.
Our client is Famous Life Fashion, a luxurious streetwear brand in the USA, offering their own manufactured clothes and accessories for fashion diehards. The brand is driven by Black designers who add the purest form of street fashion culture that our client's brand represents. We got the opportunity to redefine the brand digitally that redefines fashion through its unprecedented range of clothes & accessories.
Website Admin Features
Dashboard for a quick overview
Product Pages Management
Sales and Customer Management
Website Content Management
Order Management
Item categories and subcategories management
Payment transaction management
Respond In Live chat
Order delivery and order status update management
Payment sorting by date range and transaction type
Generate Analytical reports
Manage promotion and marketing
Notification and communication management
Problem
When we conducted an audit of our client's eCommerce website, we found more issues than they mentioned and needed urgent action.
The platform design was not attractive, and banners and call to action were poorly designed.
Product listing pages were very static and lacked enough information about products.
Website footers had very few details, and text did not highlight functions properly.
There were no loyalty programs and marketing functions that could increase the sales funnel.
The website contained multiple broken links that impacted ranking negatively;
The eCommerce website was legging and wasn't mobile-friendly.
Challenges
Our team did not face significant difficulties as we have helped many clients with many interactive and effective solutions to overcome similar problems before. Comprehensive knowledge of eCommerce website development allowed our developers to quickly upgrade our client's fashion platform, enhancing their business reach and visibility.
Result
Considering all our client's requirements, we redesigned and made Famous Life Fashion a user-friendly and SEO-friendly eCommerce platform. We executed the project keeping the culture and streetwear fashion style it represents in mind so the customers feel more welcome. Our team delivered a high-performing, scalable, and reliable platform that empowers our clients to outperform competitors in their niche and grow their business.
The platform enabled the brand to expand its online sales, increase revenue, and build a stronger brand identity.
It runs entirely on Shopify with a MySQL database and is built to scale so it can grow with the brand.
The eCommerce platform now offers an intuitive design that's easy to use. It's also mobile-first and responsive, so customers can buy whenever and wherever they want.
Client Says

"Thanks to Techtic Solutions Inc's work, we have witnessed a three-fold increase in conversion rates within the first six months. The team is very helpful, quick, and agile. Communication is thorough and efficient via email and Slack."
-Amanda S, Growth Director
@Mission MightyMe


-Daniel Protz,CEO
@Flavorwiki

"Techtic Solutions provides services fairly and at a great price. Both knowledgeable and communicative, the team strives for success and takes accountability for all their actions. Reports are timely and they manage the language barrier and some challenges in an effective manner."
-Kevin Garofalo, Chief Executive Officer
@Digital Marketing Agency

"The new site was completed successfully and has led to an improvement in the number of users reaching it as a result. The team managed the work effectively and maintained an excellent, personalized level of service throughout."
-Melissa Van Hise, CEO
@Iconic Pineapple

"The team provides responsive service and functional websites with high quality code. They are always available to communicate or make quick fixes. Customers can expect a great partnership and excellent results."
-Pete P, CEO
@Marketing & Seo Firm

"We have been using Techtic for over a year now, at multiple entities. I treat them as developers apart of my team and we have the ability to scale up in a few days if needed. They have been very receptive to feedback and the team stays the same."
-Hesom Parhizkar, Chief Technology Officer
@Wela

"The platform has received positive feedback for its performance and versatility. The team is innovative and well-suited for long-term partnerships. Coding is stable and deliveries are timely. They use a wide range of communication tools to keep the partnership effective."
-Hashem Omran, Co-founder
@Widelinked

"They are the best I've come across. The team stayed in constant communication while supplying deliverables in a timely manner. Their customer service exceeded expectations, providing great value for cost. The company's support has generated business growth and new opportunities for app. developers."
-Danny Salomon, CEO
@United Holdings Group

"The new functionality gives the app more potential and users are satisfied with the improvements. Techtic is trustworthy and has a good understanding of the technological tools available. They bring good ideas to projects and are supportive collaborators."
-Marcelo C, Founder
@Agohra
We Follow Agile
We encourage candid discussions and would be happy to offer consultation to understand and address your pain areas.
Our Process