X-Shore - Immersive Experience To Customize And Buy Electric Boat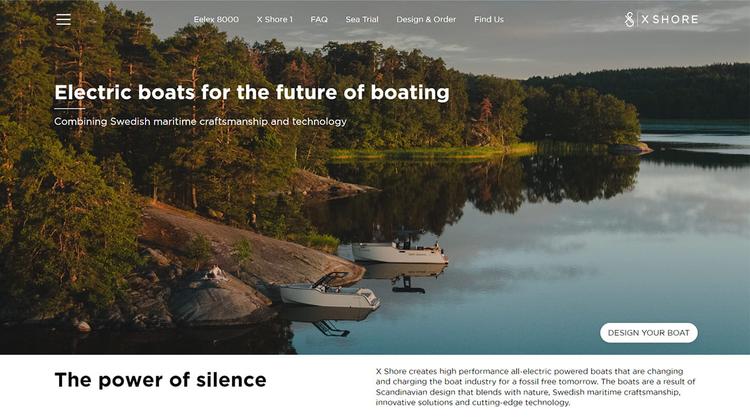 One of our prominent clients was expanding their business reach and wanted to add a fresh look and feel to make the designing and buying experience friendly and ever-lasting for the users. And when they came to Techtic, we agreed on revamping the existing platform using the same technology, adding some sparkling features to overcome all the potential problems in the buyer journey.
Our client's brand pioneers the electric boat segment by offering out-of-the-box design, technology, and sustainability with performance. They present a platform for business people, federal, state, local agencies, and anyone who wants to buy this luxurious boat. When this leading electric boat company from Sweden faced issues while scaling their business, Techtic proposed an excellent solution.
Feature-rich Admin Panel
To achieve a high customer satisfaction rate, our client needed an admin panel with all the necessary and advanced features to streamline all online operations and provide real-time support with timely delivery. The Admin panel includes highly regulatory and authoritative features, such as:
Analytical dashboard for quick overview and analysis.
Website content (image, descriptions, videos) management.
Setup Boat & its parameters to design it dynamically.
Manage boat designs created by customers.
Oversee and handle all orders placed by customers.
Keep a history of every payment transaction.
Filters transactions by type, date, range, and user.
Arrange order delivery of the order and update status in real-time.
Generate analytical and progress reports.
Manage newsletter publishing.
Maintain candidate profile received from career panel.
Manage notifications.
Problem
An electric boat company known for building high-end boats faced many serious scalability problems with its website. The company's expansion tends to cause more traffic, and our client wanted their website to be user-friendly and robust to cater to each user seamlessly. The core requirements stated by the client include:
Create a highly scalable solution with a crisp look and feel on the existing website and using the same technology.
Enhance website functionality that best suits the company expansion.
Make the Admin panel interactive, user-friendly, and accessible for the backend team. Also, build new features that make managing every task a breeze.
From Boat designing, purchasing, payment to product shipping, every process should be completely transparent.
Challenges
An underlying challenge in executing the requirement was to build new features, maintaining user-friendliness and transparency between all the processes. However, thanks to our skilled Magento 2.0 development team, we met every expectation of our client by making the platform look captivating and the user experience slick.
Creating a career panel that helps our client maintain each candidate's data easily was also a bit tricky. Because the functionality needed a thorough logic understanding, separating the frontend platform.
Result
Our hard work paid off and we provide our client with the exact solution they were awaiting — a perfect website that not only contributes to their business expansion but also helps them increase their revenue.
Now, our client offers unparalleled experience in designing a revolutionary electric boat for their B2B, B2C, all types of customers. Moreover, customers can quickly pay with one stroke using Paypal, buy additional items like sofas, tables, and also check out boat compatibility details. We have also made requesting a virtual meeting and test drive simple for them.
On the other hand, the backend admin also gets an easy to handle administration panel to supervise every transaction and ensure timely product delivery through the website.
Client Says

"Thanks to Techtic Solutions Inc's work, we have witnessed a three-fold increase in conversion rates within the first six months. The team is very helpful, quick, and agile. Communication is thorough and efficient via email and Slack."
-Amanda S, Growth Director
@Mission MightyMe


-Daniel Protz,CEO
@Flavorwiki

"Techtic Solutions provides services fairly and at a great price. Both knowledgeable and communicative, the team strives for success and takes accountability for all their actions. Reports are timely and they manage the language barrier and some challenges in an effective manner."
-Kevin Garofalo, Chief Executive Officer
@Digital Marketing Agency

"The new site was completed successfully and has led to an improvement in the number of users reaching it as a result. The team managed the work effectively and maintained an excellent, personalized level of service throughout."
-Melissa Van Hise, CEO
@Iconic Pineapple

"The team provides responsive service and functional websites with high quality code. They are always available to communicate or make quick fixes. Customers can expect a great partnership and excellent results."
-Pete P, CEO
@Marketing & Seo Firm

"We have been using Techtic for over a year now, at multiple entities. I treat them as developers apart of my team and we have the ability to scale up in a few days if needed. They have been very receptive to feedback and the team stays the same."
-Hesom Parhizkar, Chief Technology Officer
@Wela

"The platform has received positive feedback for its performance and versatility. The team is innovative and well-suited for long-term partnerships. Coding is stable and deliveries are timely. They use a wide range of communication tools to keep the partnership effective."
-Hashem Omran, Co-founder
@Widelinked

"They are the best I've come across. The team stayed in constant communication while supplying deliverables in a timely manner. Their customer service exceeded expectations, providing great value for cost. The company's support has generated business growth and new opportunities for app. developers."
-Danny Salomon, CEO
@United Holdings Group

"The new functionality gives the app more potential and users are satisfied with the improvements. Techtic is trustworthy and has a good understanding of the technological tools available. They bring good ideas to projects and are supportive collaborators."
-Marcelo C, Founder
@Agohra
We Follow Agile
We encourage candid discussions and would be happy to offer consultation to understand and address your pain areas.
Our Process