Techtic Solutions Featured in Clutch's Annual List of Top B2B Service Providers
Sector: Digital Product, Technology
Author: Nisarg Mehta
Date Published: 12/04/2019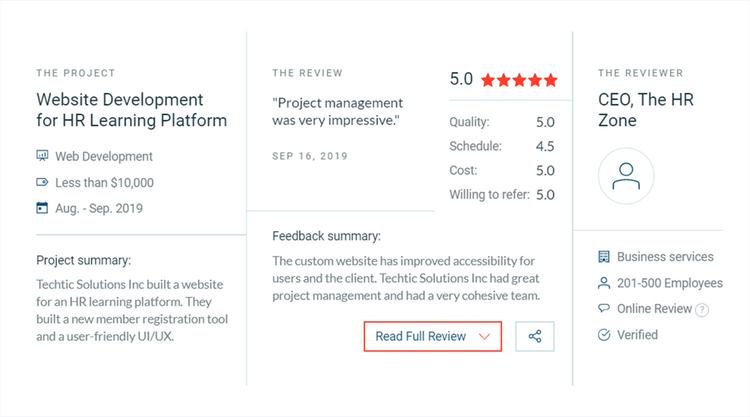 Clutch, a market research firm headquartered in Washington, D.C., featured Techtic Solutions Inc. on its annual list of the world's top 1,000 B2B service providers! This accolade is a major accomplishment for our firm, and we can't wait to share the great news with our clients and business partners.
Given our experience being a premier software development firm for the last ten years, we're thankful to be recognized by trusted, independent ratings and reviews platform. Many of our clients come to us because our expertise spans a wide range of technologies, including mobile app development environments, e-commerce tools, CMS portals, and UX/UI design software, to name a few. That being said, our wealth of positive reviews on Clutch come not just because of our knowledge, but also because of our excellent support and project management in each of our engagements.
You can find us listed among the top globally-serving development firms in India. Clutch compiles these rankings using information from clients, as well as other market-focused datapoints. The firm publishes their comprehensive research findings on these directories and two other digital resources — The Manifest and Visual Objects.
The Manifest is a blog-style website that offers how-to articles and business segment insights. Navigate to the Indian App Developers page to see how we compare to businesses like us that serve clients in India and abroad.
Visual Objects, on the other hand, is a digital portfolio collection used by B2B buyers who are searching for new development partners. See our past projects to gain a sense of what we can accomplish for your firm!
"When we used to see this award given to all the competitors, we felt motivated to achieve it someday, and it helped us accelerate our growth towards making this dream come true. We are thoroughly excited to be one of the Clutch 1000 Companies." – Nisarg Mehta, CEO, Techtic Solutions Inc.