How to Hire a Web Development Company for Your Startup
Sector: Digital Product, Technology
Author: Abhishek Singh
Date Published: 11/13/2019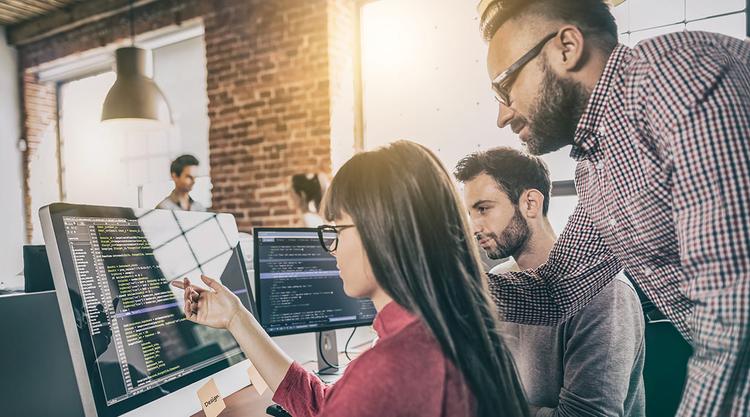 Choosing the right Web Development firm to build your website is a crucial decision as there is a lot at stake. While hundreds of web development service providers claim to be the best ones in the business, how can you make sure you partner with the best team?
Is it possible for just any software company to do a good job at what you require? Can you tell if they'll deliver the best solution on time? What should you pay, and how long will it take?
There are many questions you must answer before making a decision. This article is to help you with this.
How to Hire a Web Development Company
Here is the step-by-step process startups should take to pick a web development company.
1. Define the Project Scope
Finding the right web development firm begins with identifying your precise needs. In other words, you must determine what your goals and objectives are so you can select the right partner to assist you.
Your goals can be similar to the following:
Designing and developing a web app to boost team collaboration
Developing a customer-facing web application to generate sales
Developing a web LMS to train in-house employees
Integrating a CMS or ERP with legacy IT infrastructure
Specialization runs the gamut in web development firms. A landing page design company might be excellent at pulling in leads, whereas an eCommerce company might exclusively focus on this subject.
Moreover, another company might be awesome with integrating systems seamlessly. You'll be better able to select the appropriate alliance if you know precisely what you want right away.
2. Select the Right Technology Stack
However, another prominent aspect of defining project scope is the technology stack you want to go with.
A web-based platform or site can be created using different technologies, and it'll solely depend on your existing IT infrastructure and your preferences.
For example, if your sales team isn't tech-savvy and requires a simplified CRM system that's personalized for your specific sales funnel and needs, you'd want to build it on Salesforce. In this case, you're looking for a web development company with Salesforce expertise.
3. Find Several Options
You should start looking for potential partners once you have determined precisely what you require. While searching for web development companies on Google, remember that the top search results on search engines are not necessarily the best ones; they are just good at search engine optimization.
Hence, instead of relying on search engine results, use your connections on LinkedIn and Facebook. You can also learn about prospective partners from these sites, as well as gain feedback from past clients to inform your decision (more on this later).
Once you've narrowed down your list to a few potential candidates, do your research and examine their work. The best development firms will provide a substantial portfolio of previous work on their website.
Furthermore, some companies may also describe how their work helped solve genuine business issues for their clients. At this phase, you should also compare the firm's efforts to what you initially desired.
4. Choose the Right Development Partner
Once you have 4-5 options to choose from, now is the time to know them better in order to make the right decision. Here are the next steps:
You must look at the website prior to signing up with the web development agency. Look at how they design or whether the site looks nice to you, among other things.
Check their website appearance, loading time, call to action, transitions, and navigation. Check the website's functionality on mobile devices or other devices to see if it is responsive.
A company that has an impressive website is more likely to deliver the best work to you. However, it isn't the only parameter to evaluate. Some web development companies don't get time to work on their own website. Hence, you should also consider the pointers we'll discuss here.
Know their General and Niche Experience
To hire a group of developers, you must be familiar with the fundamental information about the company and how to locate them. An expert team will save a lot of money and provide fast-paced web development. In addition, they will guide you through the job's demands and assess your existing infrastructure resources.
To evaluate their expertise, investigate their portfolio and ask about their level of experience. Find out what projects they've completed so far and whether they match the sector you work in and the technology you want.
The company should express its thinking and vision for starting the job, as well as how they expect to finish it. Developers with extensive experience in web development will be familiar with the best process and methods.
Choose Between Cost and Value
Project budget and deadlines are not always the most critical elements, but they are oftentimes the "make-or-break" variables, so they should be discussed at the outset.
If you have a tight budget, it doesn't make sense to spend a lot of time evaluating their credentials and portfolio, no matter how much you like a company.
Similarly, if you have a specific deadline for your project (for example, a big trade show or the end of the year), and the firm you want to employ is booked out or cannot commit to the deadline, you may have to look for alternatives. Let's talk about the website budget and timeline.
Understand Their Development Methodologies
The methodology aspect of web development is often the most difficult for business people to comprehend. Still, it's worth the time and effort to understand these aspects because this is where less reputable companies entangle you with jargon.
You should not be afraid to ask as many questions as required to grasp such technical aspects of web development.
Evaluate Their Soft Skills and Communication
It is the most undermined yet crucial aspect of a web development project. It's crucial to keep in touch with your project manager to find out whether your new ideas are feasible or not. If there is a communication gap of any type between you and your development partner, you might not get what you want. There will be misunderstandings on the requirement level and so on.
Hence, it's beneficial to establish clear communication with web developers in order to collaborate effectively. Achieving a smooth workflow with the developers will be simple if you can communicate with them easily.
You and the developers will be able to communicate clearly and concisely with email queries and other issues related to the project because of the developers' soft skills and your company's position. Everyone involved in the project can have regular meetings or conference calls to assess the status or obstacles.
Read Reviews on Google and Clutch
You can learn a lot about an IT company's abilities by reading client feedback. You can get started by visiting Clutch's website. Clutch is a website devoted to collecting client feedback from IT companies around the world. You can find out whether you'd be confident working with an agency with similar goals by reading these reviews.
You may also learn whether your prospective team has received any awards or is popular among its peers. This information will help you gauge where the firm stands in the industry.
The point is that you shouldn't hesitate to ask questions, be they technology-related or client referrals. The more you ask, the better you know about the web development company.
You may ask for the following crucial info:
What features and functionalities do you suggest for our solution?
What is the scope of service, and what support will you provide post-deployment?
What services and deliverables are included in your quote?
How responsive will your team be to our suggestions and changes?
What will the process be like?
What will be the cost to add these optional features?
Cost to Hire a Web Development Company
The total cost of web development depends on your project size and scope. However, you can get an idea of the cost by knowing the hourly rates web development companies typically charge.
Following are the hourly web developer rates for countries on different continents:
Asia – $20-$45
Africa – $25-$45
Latin America – $35-$70
Eastern Europe – $30-$65
We're a Web Development Company Too
We're among the renowned web development companies in the world. We've developed web applications in different niches, including automobile, eCommerce, finance, health & fitness, and more.
We have top-notch engineers on board that can develop web applications based on React, Angular, NodeJS, Laravel, and more. You can contact us to get a proposal for your requirements.