How to Turn Your Idea into a Multi-Million Dollar Business?
Sector: Digital Product
Author: Nisarg Mehta
Date Published: 06/25/2019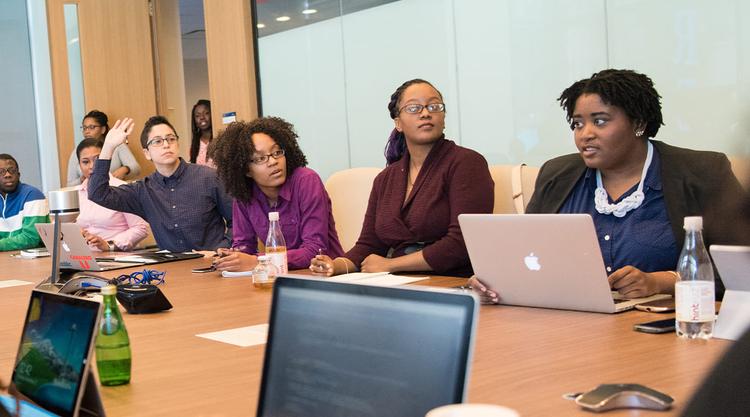 As we move closer to being into the third decade of the 21st century, there is myriad technological innovation shaping up the future of the digital world. In addition, the biggest players in this era of digital transformation are the STARTUPS, which are revolutionizing the way you do business.
They disrupting every industry imaginable with ideas that can make the world a better place. Having said that, the startup founders are supported by angel investors and venture capital (VC) entities. The investors are the facilitators who help with raising angel and seed funds. As a result, the startups can further create and accelerate the ideas into reality.
But it isn't a game as easy as it seems. The venture capital firms are highly selective of the 'idea' to put their money on. This calls for the need for MVP Development as the bait to raise funds.
Embrace MVP Development – The Weapon to Ideate, Create, and Accelerate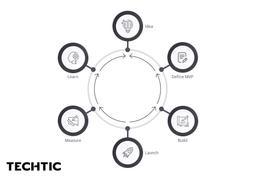 MVP, although having originated as early as 2001 by Frank Robinson has found its wings spreading only with the advent of the startup revolution. The concept celebrates the transformation of your idea into something 'concrete'. Ensuring that it can be considered more than nothing, but still embodies its key aspects.
In other words, MVP development is building the very basic version of your startup idea within the quickest time. The 'ideate version' of the new product, allows a team to gather the maximum amount of corroborated learning about customers. However, the ideation process has minimal effort.
In fact, Minimum Viable Products is fast emerging as the most successful and cost-effective way to test your ideas. After building MVP, one shall optimize it to make it product/market fit. This process is usually based on the feedback from your early adopters.
Then you have to showcase a trend that smartly turns your idea into a real product. After all, it should have the capability to attract more users and hence generate big revenue.
How MVP is different from Proof of Concept or Prototype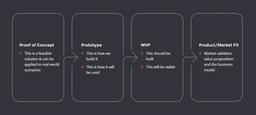 It is therefore highly significant that this information gap is addressed. So, you can get the maximum benefit for startups to convert their ideas into a million-dollar business.
All of these 3 strategies are used to validate ideas. Each of them serves a slightly different purpose than the other. proof of concept (PoC) can be applied to real-world scenarios. It can be validated from the market response before spending time, effort, and money to build it. A Prototype can be attributed as a working simulation of your product. It is an enhancement of the PoC, to be discarded after testing.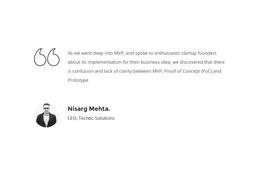 What makes Minimum Viability Product stand apart from a prototype is that it is the first version of your actual product idea (although with limited features).
The Need and Benefits of Building a Minimum Viable Product
MVP is nonetheless a strategic business tool for startups to test their product idea and ascertain their viability in the market.
Saves Time, Money, and Effort
There have been innumerable instances when startups have drained out their time, energy, and money in building on ideas, without asserting the viability factor. Startup enthusiasts can save spending high on investments at the initial stage of product development, and rather build MVP. Once your MVP is successfully tested for market viability, it can be accelerated to full-fledged development.
Low Risk and High ROI Factor
Building MVPs is often a low-risk gamble that startups can venture into considering the ROI could be exponential. They can be quickly created (within days you decide to present them to an investor) and are extremely cost-effective. Do you know (now big) brands like Dropbox, AirBnB and Uber took the MVP route to grow their companies into what it is today?
Get Inspired: The MVP story of AirBnB
Airbnb founders, Brian Chesky and Joe Gebbia have changed the entire gamut of the hospitality business with their breakthrough idea of on-demand hospitality services. The hospitality industry can very well be now segmented into 'Before AirBnB' and 'After AirBnB'. Who could have ever thought how the deep-rooted hotel/hospitality industry that once monopolized the world could be decentralized? But Brian and Joe's staggering idea make the cut – but only after MVP.
That was the time when the AirBnB founders Brian and Joe could not afford to pay their rent. Desperation was high. It was then they came to know about a design conference happening in their city of San Francisco. They decided to rent a room in their apartment at a very cheap rate to attendees coming to the event, but could not manage a hotel room. They took pictures of their apartment and put it up on a website, which got them, 3 customers. That was the seed of the AirBnB story and its amazing concept.
Brian and Joe used the MVP as the tool to collect information and gather substantial data that determined their idea was good enough. Beginning from the first 3 attendees at their San Francisco apartment to experimenting further and verifying their initial assumptions they made Air Bed and Breakfast that later came to be known as Airbnb. Wow isn't it?

How Techtic Can Help You
Techtic Solutions has been helping startups worldwide to ideate, create and accelerate breakthrough technology products through MVP – helping them transcend their business to the next level. If you are a startup with a brilliant idea, we can help you in creating an MVP that succeeds. Some of our most successful MVPs across industry verticals include:
MVP for Travel
Techtic built MVP for Shokas, a Travel company using the agile product development methodology. Built within a timeframe of 2 weeks, the Shokas Travel Website and iOS mobile application comes with a stunning booking engine, built to deliver unique design engagement to travel users in the Caribbean.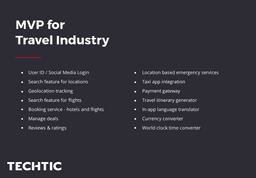 MVP for Healthcare
Techtic has successfully built MVP for the healthcare industry by identifying certain factors like USERS, who are the personas (Elderly, infants, toddlers, women, men, diabetics) the product is going to solve the problem for. Include features based on Prioritization Matrix that the product will have, and what unique need your product is solving that makes your MVP different from other similar applications in the market.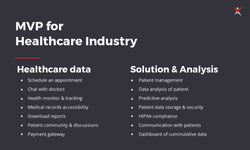 MVP for Marketplace
Techtic Solutions on building an MVP for marketplace makes sure about providing a single interaction between its two sides, doing away with the "two-sides" aspect of marketplaces. This evidently helps in clearly identifying the features your users will find useful – making a way to validate your idea.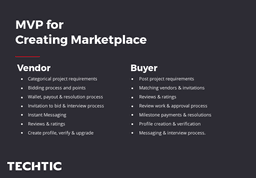 MVP for Chatbot
Techtic harnesses the familiar interface of a chatbot that does not actually have too much scope for design input. So, while creating MVP for a chatbot, we focus on building the needful functionality that will deliver the engaging experience users want, rather than putting the impetus on the visual design aspects.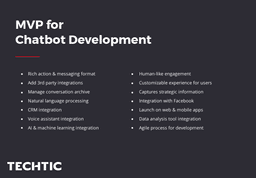 Our MVP process is simple, seamless, and efficient. Get in touch with us today to know more about how Techtic with their rich experience can help you give wings to your idea by building MVP for your startup. We make sure that your product is viably market-ready and help you raise the necessary funds from angel investors and venture capital companies.