Why Startups and Small Businesses Hire Full Stack Developers?
Sector: Digital Product, Technology
Author: Nisarg Mehta
Date Published: 07/31/2019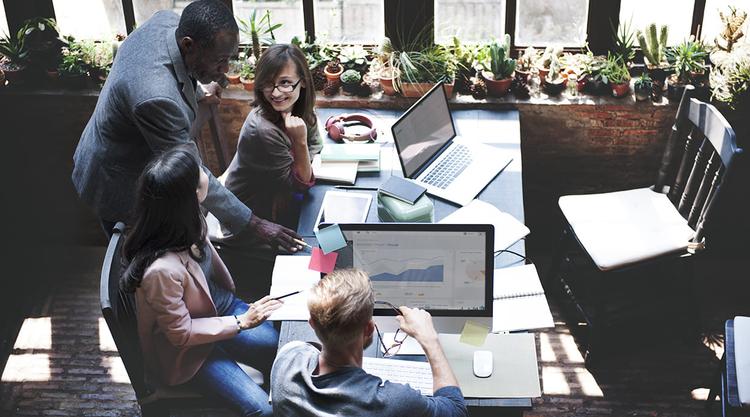 How would you feel if you had to recruit only one resource to complete all your jobs?
It seems like stepping out a recruitment dream, doesn't it? You don't have to hassle through many resumes or even look for too many resources, as only one person is capable enough to handle the MVP development for you.
That's what happens when you plan on hiring full stack developers for your new project. The full stack developers are proficient with both front and back-end technologies, as well as memory database and other technology requirements for developing applications.
However, you need to know one thing that full stack developer can be associated with mobile app development or website development or both. The term has multiple meanings and different interpretations, and each one has made their own association with the term.
Having said this, the full stack developers are actually your best bet when you want to develop a minimum viable product, before launching a full phased development of the project. That's because, for a complex project, you might need more specialists than full stack developers.
Techtic Solutions can get you in touch with the best full stack developers and build a wonderful project for you.
Let's understand what full stack developers bring to the table for you.
Responsibilities of Full-stack Developers
The full stack developers take care of all aspects of project development, right from designing to development to actual deployment. They perform server-side as well as client-side coding of the applications. If you hire a full-stack developer, you hire a resource who is fully equipped with all the expertise required to get your project on the floor.
Here are a few things that the developers bring to the table:
They completely manage the web development for you, from planning to the deployment
They write codes for the minimum viable product
They use the unique testing methods to check for bugs, before deploying the project online
The full stack developers need to be proficient with the LAMP and MEAN stack as well as the different programming and database languages.
Now that you are aware of the responsibilities of a full stack developer, let's take a look at how an experienced full stack developer can benefit your project.
Benefits of Hiring Full-stack Developers
There are reasons why you should hire full-stack developers for projects that you believe don't have much budget. One reason being you are hiring only one resource and getting done with an entire project.
When you hire full-stack developers, you are hiring one hand to do several things. For instance, they can effectively solve any problem that may arise in your project. You don't have to look out for help, as they are handling everything, from design to development. If you are a startup or a small business, the full stack developers are your ideal recruits.
You hire a single developer and get the skills of an entire team of developers. The technology skills you get with a full-stack developer is akin to what you will get with a team of developers. They have expertise and experience in LEAN and MEAN stack as well as other front-end and backend skills.
When you are planning the development of a MVP, then you need to go on budget. It is possible only when you have hired a full stack developer for the project. Instead of hiring the entire team, and infrastructure that is expensive, you can hire a single developer or full stack development company and get the development done on budget.
The full stack developer is adept with the different tools and techniques that is required to process the development faster and accelerate the time-to-market for your MVP. The full stack developers will spend less time as compared to the specialists and collaborate faster with the team. They have access to both project management and development tools that make your life easy.
Along with development skills, the full stack developers are adept with business skills and can manage the development well. They can ably perform the development better than the front-end and back-end developers individually.
Why Full-stack for SMBs?
If you are a small business or a startup, it is obvious that you need to spend less to get quality work. Here we will talk about why you should go for full stack development.
Hiring full stack development company gives you the access to the expertise and versatility that comes with them. The full stack developer, along with being adept with the current skills and technologies, can offer able solutions to all your problems. The developers can handle end-to-end project. The developers will not only exceed your expectations, but also improve the MVP experience.
It is not only expertise that brings the developers as a boon to the small businesses; they are also quite adept and can handle the different niches owing to their experience. They offer development as well as optimizing and maintenance services as part of the full stack solutions.
Planning is their forte. There is no one who can come up with a viable solution and plan it as the full stack developer can. Their inputs are valuable as they have expertise in all technologies, understand the business aspect, know the market in depth, and can fulfill your needs completely.
Your website or mobile application needs to be updated with the latest trends. The full stack developer apart from being abreast with latest trends, does manage to incorporate the upgrades with ease. They make sure the user experience does not suffer as a result and offer you innovative and exclusive solutions for an interactive and responsive website.
Marketing your product or stating the benefits of your product to the stakeholders is important as well to boost your business. the full stack developers cater to this need. They will represent your product and make it visible to the stakeholders, and streamline the processes such as operations, marketing and branding.
They own the project. If anything goes wrong or, you have some issues with the final product, you have only one person or company to contact. They will patch the issues, solve all the problems that you may be facing, and ensure a smooth workflow for your business.
Time to market is an important consideration for small businesses. If you have an app idea, then the best way to accelerate the product launch is by connecting with full stack development company.
Summing up
A good full stack developer, who is proficient in your niche can help you with MVP development, and give your product the decent launch. It is, however, important that you hire a good MVP developer who understands your requirements, has the proficiency you are looking for, and can give your business the boost with the product development.
There are a few things to consider when hiring a good developer. One of them is looking for the coding and programming language proficiency they possess. Apart from that you can seek recommendations to make the hiring process smooth.
So, are you ready to hire an MVP developer for your next project? Just get in touch with us and we would love to help you.