Modernizing Mortgage Management with a Responsive Web Application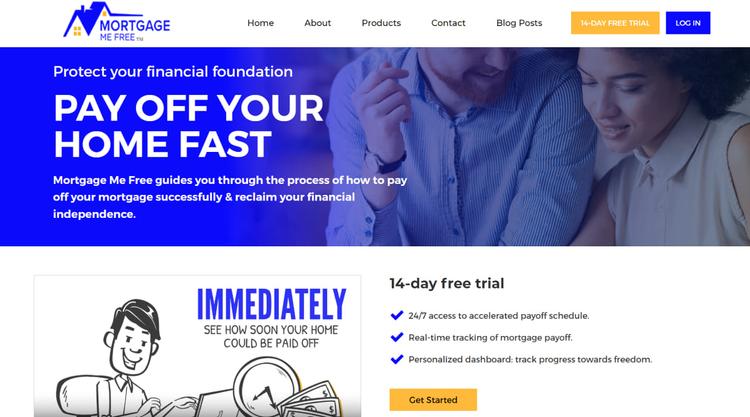 Mortgage Me Free, a key player in the mortgage industry, faced challenges in providing an efficient platform for mortgage management. Techtic Solutions stepped in to design a responsive web application module that seamlessly integrated into their existing WordPress site. The aim was to offer flexible subscription models, personalized dashboards, accurate loan amortization, and automated customer communication.
Techtic's strategic solution catered to these pain points effectively. The envisioned module allowed customers to choose between monthly and annual subscriptions, presenting them with personalized dashboards for visualizing mortgage status. The accurate amortization table generation based on original loan data ensured precision. Automated notifications keep customers informed, and data integrity is ensured through verification prompts.
By collaborating with Techtic, Mortgage Me Free underwent a significant transformation in mortgage management, enhancing customer experience and business performance.
Features we built for Mortgage Me Free
Problem
Mortgage Me Free was grappling with several challenges in their mortgage management approach. Their existing system lacked the flexibility to offer varied subscription options, resulting in user dissatisfaction.
The absence of personalized dashboards was hindering users' ability to visualize their mortgage progress, leaving them in the dark about their financial journey.
Moreover, inaccuracies in loan amortization calculations could lead to confusion and mistrust among customers. The lack of automated communication was making it challenging for the client to keep their customers uninformed, further complicating the mortgage management process.
Challenges
Upon understanding Mortgage Me Free's challenges, we also encountered several pivotal tasks. Developing a seamless integration of subscription models, accurate amortization calculations, and interactive dashboards posed significant technical challenges.
Also, we had to brainstorm about ensuring data integrity while automating customer communication, which required meticulous planning and execution. As a technology partner, we needed to navigate these challenges while maintaining a responsive and user-friendly interface to enhance overall user engagement.
Result
By successfully addressing these challenges, Techtic enabled Mortgage Me Free to deliver an exceptional user experience. Users are now equipped with a comprehensive tool to manage their mortgages seamlessly, including flexible subscription plans, personalized dashboard, amortization calculator, and more.
Moreover, our responsive design ensures accessibility across devices, enhancing engagement. Through strategic integration, technical finesse, and innovative thinking, we not only resolved the client's challenges but also propelled them toward industry leadership. The harmonized results achieved underscored Techtic Solutions' commitment to catalyzing digital transformation and elevating customer satisfaction.
Client Says

"Thanks to Techtic Solutions Inc's work, we have witnessed a three-fold increase in conversion rates within the first six months. The team is very helpful, quick, and agile. Communication is thorough and efficient via email and Slack."
-Amanda S, Growth Director
@Mission MightyMe


-Daniel Protz,CEO
@Flavorwiki

"Techtic Solutions provides services fairly and at a great price. Both knowledgeable and communicative, the team strives for success and takes accountability for all their actions. Reports are timely and they manage the language barrier and some challenges in an effective manner."
-Kevin Garofalo, Chief Executive Officer
@Digital Marketing Agency

"The new site was completed successfully and has led to an improvement in the number of users reaching it as a result. The team managed the work effectively and maintained an excellent, personalized level of service throughout."
-Melissa Van Hise, CEO
@Iconic Pineapple

"The team provides responsive service and functional websites with high quality code. They are always available to communicate or make quick fixes. Customers can expect a great partnership and excellent results."
-Pete P, CEO
@Marketing & Seo Firm

"We have been using Techtic for over a year now, at multiple entities. I treat them as developers apart of my team and we have the ability to scale up in a few days if needed. They have been very receptive to feedback and the team stays the same."
-Hesom Parhizkar, Chief Technology Officer
@Wela

"The platform has received positive feedback for its performance and versatility. The team is innovative and well-suited for long-term partnerships. Coding is stable and deliveries are timely. They use a wide range of communication tools to keep the partnership effective."
-Hashem Omran, Co-founder
@Widelinked

"They are the best I've come across. The team stayed in constant communication while supplying deliverables in a timely manner. Their customer service exceeded expectations, providing great value for cost. The company's support has generated business growth and new opportunities for app. developers."
-Danny Salomon, CEO
@United Holdings Group

"The new functionality gives the app more potential and users are satisfied with the improvements. Techtic is trustworthy and has a good understanding of the technological tools available. They bring good ideas to projects and are supportive collaborators."
-Marcelo C, Founder
@Agohra
We Follow Agile
We encourage candid discussions and would be happy to offer consultation to understand and address your pain areas.
Our Process