Robust Management System Boosts Garbage Collection Service's Workflow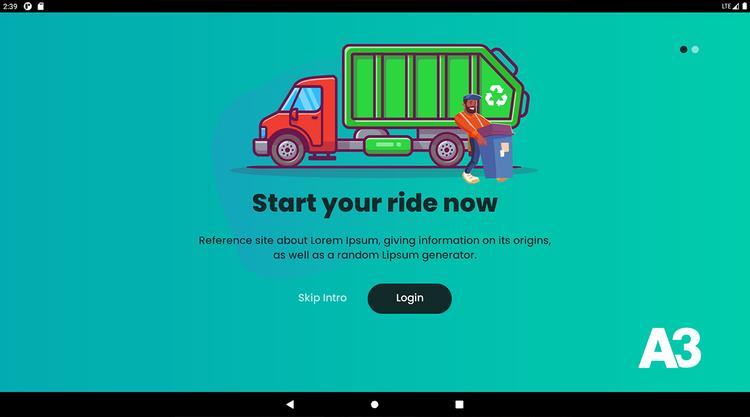 Do you feel bad when the cause behind your service is good, but the process makes it arduous for you to keep it up to your audience's expectations? Techtic's expertise came to the rescue of such an essential service-providing company. Our Client offers efficient door-to-door garbage collecting services in the USA. But poor management in the backend made it challenging for them to organize their drivers and handle customer bin collection.
When they were weary of managing shifts and delaying bin collecting after seeing an increasing pile of customer complaints, they sought a technology solution and found us. The Client had an idea of developing a powerful admin panel for backend operations and a tablet app for their drivers. To strategize the appropriate solution, we discover the root causes of the Client's problems before anything.
In addition to the best fit solution, making it user-friendly and accessible for even non-techie people was the Client's objective. So, tech geeks at Techtic kept all the problems and goals of the Client in mind. And created both admin and driver apps with helpful functionality that would help the Client achieve their business goals efficiently.
Features Of Tablet App for Driver
Features Of Super Admin Panel
There will be multiple accounts of the staff to manage the end-to-end service in different areas. Therefore, every custom admin will have to authorize their profile first.
Problem
The topmost priority of the Client was to build a dynamic system that fills the gap between collecting bins and driver shift management. The increasing customer base made it difficult for the Client to manage drivers and trucks and ensure the collection without missing any garbage bins.
In addition, inefficient routes and shift management raised the number of complaints about the delay and not collecting their bins. So, before the customers would start to sway away, the Client wanted a dynamic management system and an app to stay connected with their drivers.
Challenges
There were no significant challenges as the Techtic team has delivered a similar project with more complex functionalities. However, we had to take account of the client preferences for the frontend, specifically, which included;
Ensuring both systems are user-friendly and highly interactive;
Create an engaging and effortless experience for their team;
Provide custom navigations that blend well with the whole UI/UX design;
A dynamic application that simplifies their operations and data flow;
Easy-to-use functionalities for admin panel and driver apps that non-technical people can quickly access without any difficulty.
Result
With our talent and smart work, the solutions we delivered not only won over the Client but also their customers and drivers. Besides being intuitive and handy, we provided a guaranteed admin panel and driver app to manage every aspect of their service. The admin panel enables adding new and managing all trucks, drivers, and customers quickly. On the other hand, drivers can use the tablet app to check their daily routes and collect garbage bins without missing any.
As every functionality is built on top of the secured and advanced technology, the Client doesn't have to worry about performance and data security. Whether it is driver shift, scheduling time of collection, guiding drivers with optimized routes, or real-time service status, the Client can now handle everything hassle-free.
Client Says

"Thanks to Techtic Solutions Inc's work, we have witnessed a three-fold increase in conversion rates within the first six months. The team is very helpful, quick, and agile. Communication is thorough and efficient via email and Slack."
-Amanda S, Growth Director
@Mission MightyMe


-Daniel Protz,CEO
@Flavorwiki

"Techtic Solutions provides services fairly and at a great price. Both knowledgeable and communicative, the team strives for success and takes accountability for all their actions. Reports are timely and they manage the language barrier and some challenges in an effective manner."
-Kevin Garofalo, Chief Executive Officer
@Digital Marketing Agency

"The new site was completed successfully and has led to an improvement in the number of users reaching it as a result. The team managed the work effectively and maintained an excellent, personalized level of service throughout."
-Melissa Van Hise, CEO
@Iconic Pineapple

"The team provides responsive service and functional websites with high quality code. They are always available to communicate or make quick fixes. Customers can expect a great partnership and excellent results."
-Pete P, CEO
@Marketing & Seo Firm

"We have been using Techtic for over a year now, at multiple entities. I treat them as developers apart of my team and we have the ability to scale up in a few days if needed. They have been very receptive to feedback and the team stays the same."
-Hesom Parhizkar, Chief Technology Officer
@Wela

"The platform has received positive feedback for its performance and versatility. The team is innovative and well-suited for long-term partnerships. Coding is stable and deliveries are timely. They use a wide range of communication tools to keep the partnership effective."
-Hashem Omran, Co-founder
@Widelinked

"They are the best I've come across. The team stayed in constant communication while supplying deliverables in a timely manner. Their customer service exceeded expectations, providing great value for cost. The company's support has generated business growth and new opportunities for app. developers."
-Danny Salomon, CEO
@United Holdings Group

"The new functionality gives the app more potential and users are satisfied with the improvements. Techtic is trustworthy and has a good understanding of the technological tools available. They bring good ideas to projects and are supportive collaborators."
-Marcelo C, Founder
@Agohra
We Follow Agile
We encourage candid discussions and would be happy to offer consultation to understand and address your pain areas.
Read More