How Much Time Does it Take to Develop an eCommerce Website Portal?
Sector: Digital Commerce
Author: Nisarg Mehta
Date Published: 01/27/2022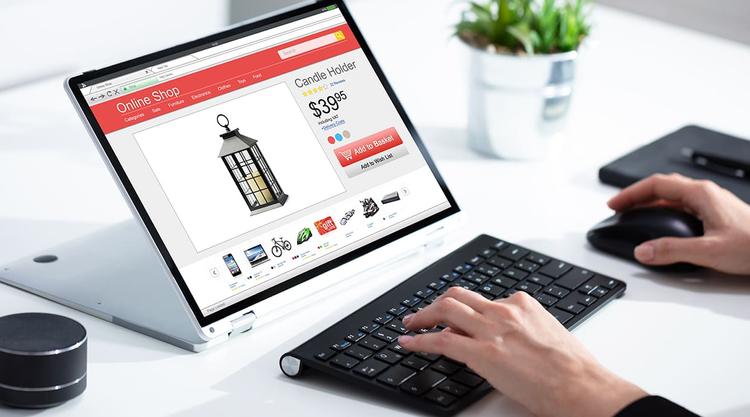 Creating an eCommerce website can be challenging, from the design of the portal to the functionality of the shopping cart, whether you're starting with your new online store or taking your offline one to the digital storefront.
Irrespective of your scenario, the most crucial question is-
How much time does it take to create a successful eCommerce website?
Time-to-market matters the most as you have your marketing and sales targets to be matched this year.
In this blog post, we'll explore the development timeline for developing an eCommerce website and offer some tips on making the process smooth.
Requisites While developing an eCommerce Website
Before we explore how much time it takes to develop an eCommerce site. Let us take a look at what are the requisites while crafting an eCommerce website.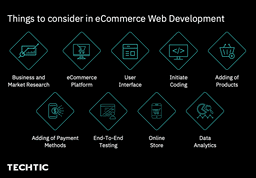 A) Business and Market Research
Beforehand you start your eCommerce journey, you require to invest sufficient time in business and market research. As a company, you need to understand your targeted marketplace and competition.
By researching specific products and product categories to sell, you can streamline your business offerings. Further, it would be best to discover a gap in the market that your product offerings can occupy.
You can utilize a diversity of market and business research tools to find out if your offerings are trending digitally. For instance, Google trends assist you in identifying the digital market growth in your business. It gives you an awareness of what your customers are precisely searching online.
B) Selecting the eCommerce Platform
When it comes to selecting the best platform for your eCommerce website, you will have a lot of choices to pick from for your business. Moreover, if you are developing your online store on a more customizable platform, it will take less time.
Some of the most prevalent eCommerce platform selections comprise:
Magento
Shopify
WooCommerce
Shopware
At Techtic, we work with Magento, Shopify, WooCommerce, Shopware, and we can also custom code digital platforms for you. All these platform selections rely on your business size, purpose, and scale. Magento and Shopify both support a tailored Content Management System (CMS) that enables better handling of your website operations.
All these eCommerce platforms are influential and provide you with more possibilities for developing custom features within your online store. Custom stores enable more scalability and can be crafted specifically to the consumer demands with significantly fewer technical restrictions. You can even explore and select from other eCommerce platforms that businesses trust.
C) Finalize User Interface
Select the website theme and color scheme once the eCommerce platform selection is made. Ask your designing professional to provide a diverse range of UI templates so that you can choose one for your site. Once this is executed, you can better go to the coding stage.
D) Initiate Coding
Code diverse pages distinctly and in categorization. A landing page is the most significant. You require to invest more time to decide the precise layout. This layout should fit with the website theme to move forward.
E) Adding of Products
Once all these pages are executed, you can initiate adding products to your online store. The addition of products is a time and effort-consuming job.
You should invest more time adding and explicitly categorizing different products. They are the core crux of your eCommerce website.
F) Adding of Payment Methods
Now you require building a cart, diverse payment options, and web pages with multifaceted functions. They may take time but are vital for an online store.
Adding payment methods will be rough, and you would requisite to find a trustworthy source to receive digital payments timely.
G) End-To-End Testing
The eCommerce sites are the most crucial ones, and so you require to test them comprehensively. You have to check each angle of your eCommerce site and analyze all the involved development components.
In this stage, you may involve your technology partner, colleagues, and friends to test with dummy orders. This scenario is needed so that you may check the complete eCommerce website and then move forward.
H) Launching Plan for the Online Store
Once you have developed your eCommerce website, you can launch your online business. Launching your business online once it is completely operational and functional is essential.
You have one big promotional opening to make a compelling image and impression on your audiences. Before your website is going to final launch, invest efforts checking out each web page for possible typos and broken links or other challenges. Ensure that your online store is highly secure and assures customer satisfaction right from the launch plan.
I) The Setting of Data Analytics to Optimize Performance
Once your eCommerce site is ready and bringing online traffic, it is imperative to take time to comprehend how your visitors are engaging with your site. Some of the valuable data analytics to consider are:
Time invested by users on your site
The types of products and pages they explored
Conversion rates and overall cart value
Average customer acquisition costs
It will help if you look to advance these key metrics on your eCommerce site. By doing so, you can have a precise strategy for maximizing your revenue and business ROI through your website.
What Time and Tasks Will Be Needed to Personalize your eCommerce Store?
The challenge with this question is that eCommerce stores can have a single product or thousands of diverse products to display. So, the more online products you want to put for sales, the longer time it will take to personalize your eCommerce website.
Here, to personalize your eCommerce store, your development partner will feed your site's CMS with all the components that you require to showcase your website. This scenario will initiate updating the back-end of your eCommerce website. Below are the tasks that will be needed to personalize your eCommerce store.
1) Select Theme
The foremost stuff is the theme selection that fits your business and involves the story of your company brand. If you pick the specific target industry of your business, you will get the theme of your online store that matches your offerings.
It would be best if you kept in mind that your content may get impacted with respect to choosing the theme. So, it is suggested to select and finalize your eCommerce website theme for moving forward.
2) Website Feature Selection
You must have seen trends in site design such as animation, product previews, innovative filters, and advanced product search. However, trends don't promise business conversion rates. There are essential features that each eCommerce website should have to remain pertinent and viable.
The better website feature selection offers an enhanced user experience and initiates generating fantastic digital shopping experiences for you with time.
3) Update Product Catalog
Updating your product catalog can be a time taking task if you have numerous products to list on your eCommerce store. When updating your product catalog, add superior-quality pictures of the product.
Furthermore, be concise with the product title, description and update SEO parameters for every product listing. The choice of complementary products will be accommodating to up-sell your products online.
4) Categorize Products
You can manage, add and remove the product categories as per your business strategies. These categories will assist you in handling the product pages across your online store.
It will support your customers to search for a specific type to buy products of a similar class. Thus, it will simplify the online shopping experiences of your consumers.
5) Add Taxation Rules
The automation of this task can save your efforts and time of physically generating taxes for your product categories. You can build custom and tailored tax classes to enable your eCommerce business effortlessly.
6) Blend Payment Gateway
If you don't blend the precise payment gateway into your eCommerce store, you will not be able to accept payments for your online orders timely.
In the payment section, you can facilitate diverse payment modes and update your account credentials. The cart and checkout settings can even be updated in this phase.
7) Integrate Shipping Partner
From the sales segment of your online store builder, you can update the shipping partner and facilitate at your eCommerce store. In the attendance of your integrated shipping partner, you can easily manage the online shipping status of your eCommerce business.
8) Enable Settings
By enabling the settings in your eCommerce store, you can manage involved online transactions. You can list the contact information needed to handle the orders from the customer side. One of the simplest examples of enabling eCommerce business settings is to record the working hours of your store. You can even update contact timings for a swift response.
How can you Set your eCommerce Store Ready to Launch?
When launching an eCommerce portal for your company, it is significant to keep a narrow focus. Please remember that your complete catalog or all the website pages don't have to be online right from the initiation. Let's discuss the essential website pages you will require to set during the launch.
A. Home Page
It is the front face of your online business and will be accountable for displaying your initial impression during the launch. A modern-day website editor facilitates making live alterations in the online store. You can add any of the product sections on the home page, such as 'trending products' or 'best buys,' to update your online store.
B. Product Pages
Adding product pages to the eCommerce store is really a significant task. It will help if you put enough time into adding and categorizing products, as these are the principal part of the website.
C. Static Pages
The static pages of your eCommerce website comprise About Us, Contact Page, 404 error page, and FAQ pages. The content on these pages would impact your brand value during the launch and in the far ahead operational stages.
D. Policy Pages
The policy pages comprise payment terms & conditions, returns, refunds, order cancellations, and inclusive services you provide through your online store. It would be best to keep these policies posted as per your consumer needs. They will assist you in managing any online mishaps and so are vital while setting your eCommerce portal for launch.
E. Dynamic Pages
All of the product information and category pages are dynamic pages for your online store. You need to update them during your business launch and even later to enable consistent product sales.
What are the Projected Time Frames Needed to Create an eCommerce Site?
It is vital to ensure that you consider all the key parameters when building an eCommerce site. The certainty is that the more organized you are, the quicker the development will be in the current industry scenario. To assist you to understand why timeframes are needed, here is an approximate summary:
a)Simple eCommerce Portal with up to 20 or 25 Products: 4 Weeks
b) Semi-Complex eCommerce Site with Numerous Products: 6 Weeks
c) Comprehensive, Composite, and Tailored eCommerce Site: 16 Weeks
However, developing a customized and advanced eCommerce website may take more time and effort. So, only a professional eCommerce development company will be able to guide you on the precise timeline matching your eCommerce site expectations.
Moving Forward: How can Techtic Assist in Developing your eCommerce Website
The more user-base you reach online, the better are your opportunities to have more customers. With an eCommerce site, you have the opening to sell your products comprehensively – 24 hours a day.
At Techtic, we can assist you in your subsequent project with eCommerce strategy, business consulting, eCommerce-storefront design, and custom eCommerce development.
Our dedicated teams also have proficiency in custom shopping cart development, CMS development, and third-party integrations. So, feel free to contact us with your eCommerce website development and design requirements.