Oscar Health Insurance App: Benefits, Business Model, How to Build?
Sector: Digital Product
Author: Sweta Patel
Date Published: 06/03/2021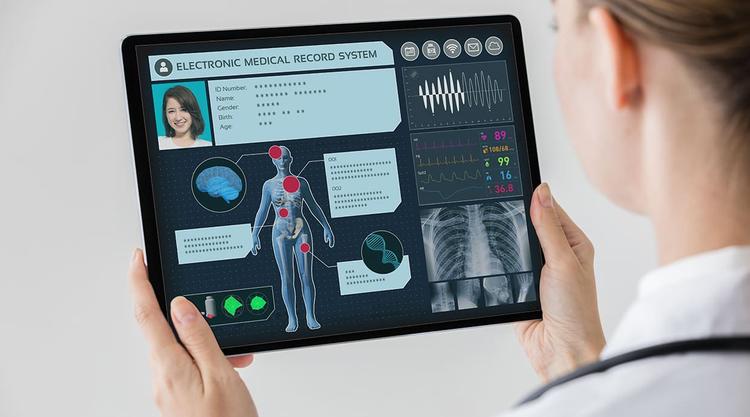 The healthcare industry has come a long way from requiring the patient to be physically present to allowing remote access to consultation. Quantifically speaking, the telemedicine market is burgeoning to record over 170bn by 2026.
Growing at such a speed, it is natural for the telemedicine industry to attract budding entrepreneurs and business aspirants. One such disruptive healthcare insurance app in recent times is Oscar Health.
Oscar Health is a virtual care experience for patients to access consultation from home, work, or other places, through video-calling. Oscar Health offers Virtual Urgent Care and Virtual Primary Care to patients along with insurance plans for numerous stakeholders.
If you want to develop a healthcare app like Oscar Health, read on to the benefits of creating a healthcare insurance app like Oscar Health.
Business Model of Oscar Health
Oscar Health leverages technology to help users find medical professionals for consultations, preventive care, and afford drugs prescriptions. It provides robust member benefits–doctor on demand, health incentives, cash rewards, and concierge assistance.
Patients can avail themselves of healthcare using the app or the website for accessing insurance products and healthcare services. The company provides custom quotes for insurance through sales representatives.
Oscar Health also offers the technology to users for tracking activity as well as viewing health performance using the mobile app. Besides this, the app users can also contact qualified doctors and medical practitioners. The company intends to simplify the complicated process of health insurance.
Oscar Health makes money through the following sources:
While the other healthcare insurance applications charge based on the commission from the consultations, Oscar Health is different. It offers an online consultation or appointment booking without any charge. The revenue influx actually comes in from its premium. Oscar Health sells premium plans to its members or to the Centers for Medicare & Medicaid Services (CMS) for the advanced premium tax credits.
What are the top benefits of health insurance app like Oscar Health?
Oscar Health has comprehensive features for its users that bring great benefits:
1. Easy Access to Suitable Plans
The app provides an easy and concise way for patients to look for insurance plans and select a suitable plan for receiving health insurance policies and coverage. Users can use their smartphone or desktop to access the mobile app or website and view the insurance plans.
2. Short Consultation Window
Unlike appointment booking in hospitals and clinics, it becomes easier for patients to book an appointment using such an app. Users don't have to wait in a long queue to seek consultation. They can instantly contact the doctors or their preferred medical practitioners and avail of consultation without having to wait.
3. Quick Search
Patients can look up doctors and medical practitioners from the mobile app or website to get proper medical guidance. Users can view the list of doctors on the basis of the specialty, symptoms, experience, language, and location.
4. Free Consultations
The app offers the option to receive a free consultation on some of their conditions. Conditions such as rashes, eye conditions, flu, fever, etc., are eligible for free consultations for users.
5. 24X7 Availability
Since such healthcare insurance apps need to be comprehensive in nature, users often tend to get stuck and find it difficult to access the next step. In such a case, the portal offers 24X7 support for users to get their queries resolved easily. Users can contact the support team at any point in time and ask questions pertaining to policies, benefits, claims, etc.
6. Preferred Doctor
Since it becomes too tedious to wait for an appointment from the preferred doctor, the app promotes easy appointment booking and teleconsultations from the chosen doctor using the app. Users can check the availability of their preferred doctors and book a convenient slot from the available ones.
7. Medical Claims
In most cases, it becomes difficult for users to receive claims for their healthcare expenditures. As a result, they have to make out-of-the-pocket payments. However, the Oscar Health app sets the tone for the digital health systems of today and the future. It enables the saving of the patients' history, which can help them get their claims.
8. Covered Prescription Drugs
Oscar Health is mostly about insurance. Hence, in order to be as patient-centric as possible, the healthcare insurance app must collaborate with multiple pharmacies for enabling patients to search for the drugs that can be insured. Using this functionality, users can avoid making payments from their pockets and cover their expenses using the insurance plans.
9. Easy Access to Previous Reports and Prescriptions
It is often seen that users have difficulty to store their healthcare reports and prescriptions. In order to enhance the customer experience from the portal, a medical app like Oscar Health must offer easy access to the dashboard that helps them to store important reports and prescriptions.
Patients can show these prescriptions to the pharmacists to get the medicines, or they can even seek consultation from other doctors by showing their previous healthcare reports.
10. Automatic Reminders
In the fast-tracked lifestyle, it becomes challenging for users to stay on top of everything on their own. As a result, technology can help them bridge the gaps. The Oscar Health app facilitates users to remember important aspects of their healthcare. Users can get updates and notifications regarding their doctors' availability, insurance expiry dates, and appointments. The app triggers a notification and automates the reminder for users.
11. Multiple Insurance Plans
Usually, when it comes to insurance plans, users do not have a lot of options or knowledge about them. Hence, using a healthcare insurance app like Oscar Health, patients can scroll through the insurance plans as per their identity. The portal offers various types of insurance plans for families, individuals, entrepreneurs, and small businesses. These stakeholders can view different plans and select the one that resonates with them the most.
12. Immediate Healthcare Attention
In numerous cases, it becomes difficult for users to receive immediate healthcare attention given the long-awaited appointment booking. In such a case, users can use such a healthcare insurance app to avail Virtual Urgent Care for seeking immediate consultation. Early intervention by an expert medical practitioner can help patients receive proper treatment.
13. USD 3 Prescription
Given the expensiveness of the medicines, the Oscar Health app enables users to pull the list of the USD 3 prescription. When a doctor offers a new medication, users can ask the doctors to review the USD 3 option list to turn the expensive medicines affordable. In order to find these USD 3 medicines, users have to access the portal and download the list from it.
14. Refills Made Easy
It becomes difficult for users to get the same medicines as per their prescriptions. Patients can use the Oscar Health app to refill the medicines. They don't have to undergo the pain to find the prescription and upload it to order their medicines. They can simply opt for the request for refill option and place the order for their medicines on the go.
15. Dashboard Accessibility
Doctors, insurance service providers, members, etc., have their own dashboard on the Oscar Health app. Using this portal, it becomes easy for users to access features from the dashboard and resume where they left from. All the stakeholders have different logins and sign-ups to access the dashboard.
Detailed SWOT analysis and porter's five forces law for Oscar Health
In order to create a health insurance app like Oscar Health, you need to disrupt the existing ecosystem. For this purpose, it is essential for you to know all the dimensions of Oscar Health in order to outperform it. We have compiled thorough research for you to analyze the strengths, weaknesses, threats, and opportunities from the SWOT analysis of Oscar Health.
Strengths
A comprehensive platform like Oscar Health can act as a huge umbrella for multiple healthcare needs of patients.
Since there are numerous patient-centric features, it becomes easy to attract multiple users.
Weaknesses
It is operational in only 18 countries, thereby available to only a limited set of users.
Oscar Health offers a free consultation, which can be turned into a secondary revenue source.
Threats
New healthcare and telemedicine apps developed with the latest technology are a threat to the Oscar Health portal.
The focus of Oscar Health is primarily on pushing the insurance premiums, which can be a major turn-off for most of the users.
Opportunities
With the growing penetration of smartphones in developing as well as underdeveloped countries, Oscar Health now has the right opportunity to expand its base in overseas territories as well.
Since most of the users and businesses are now online, it is easier to attract the service providers as well as the users.
Our research does not end here. In order to help you develop a sustainable health insurance application, we also have Porter's Five Forces analysis for Oscar Health.
1. Supplier Power
Doctors and medical practitioners have robust power, which could lead to forward integration in the healthcare market, thereby posing a threat to apps like Oscar Health.
2. Threat of Supplier
Given the influence of pandemic, users have adopted or are adopting digital behavior, which can push Oscar Health-like apps to the forefront.
3. Degree of Rivalry
The competition in the healthcare and telemedicine landscape is quite fierce, given the profitability label that the industry wears on its sleeves. The competitors are striving to achieve a consolidated position in the market by offering better features and more accessibility.
5. Barriers to Entry
Extremely low barriers to entry. As the digital health or telemedicine market is growing, it is, in turn, taking the IT industry as well. This means that technology is catapulting the leap of the healthcare industry for the better. Hence, it has become easier to enter into a niche with little or no expertise.
Fixed price or dedicated resource - what should be your call?
It is the next obvious question since you are serious about your entrepreneurial goals. You might have done your research and made calculations for both the engagement models. However, it is crucial for you to dive deep into the offerings.
For instance, when you have a clear set of business models and app flow in mind, you can opt for a fixed time and budget engagement model. However, if you want to experiment with the app and want it to be more comprehensive, you should opt for a dedicated resources engagement model.